Do you like camping trips? What if you can enjoy a nature retreat from the comfort of your home? Well, not home, but the home-like experience for sure. Though there's nothing wrong with traditional camping, however, for something new, one can try glamping. Try glamping- in Ontario.
What exactly is glamping? Glamping is defined as glamorous-ly camping outdoor with luxurious facilities and stuff.
Similar to a luxurious hotel, glamping is the elevated version of traditional camping; a glamping camp is equipped with all kinds of facilities a hotel has to offer, be it A.C, carpets, electricity, and most importantly, a comfy bed – that is the most missed item during conventional camping.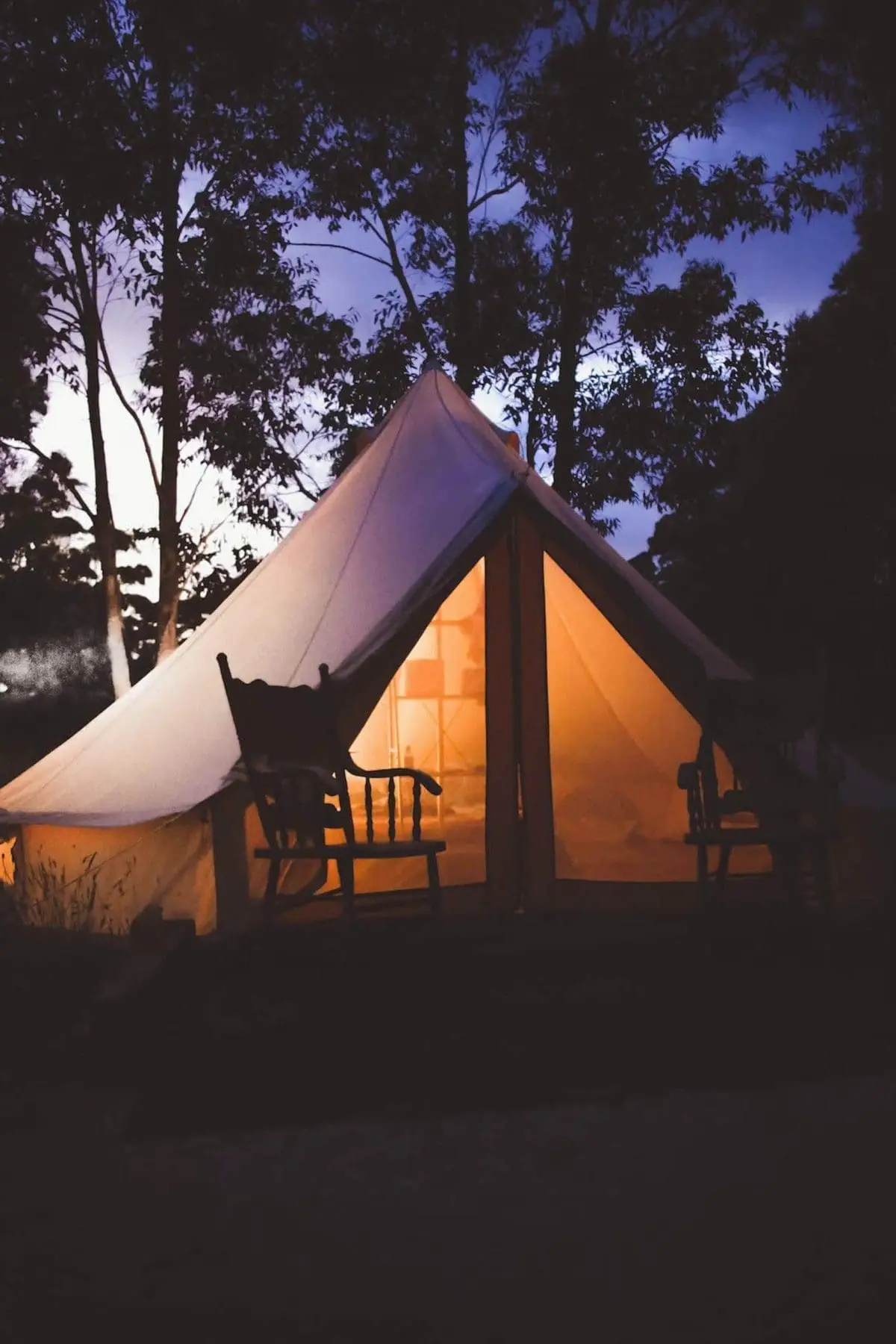 Glamping Ontario – Glamping, a modern amplified version of camping, is something you should try when vacationing in Canada. The shining lakes, tall trees so dense, birds singing – all this is possible when you glamp.
If you are skeptical about your camping trip, then this is your time to try out glamping. A great way to explore the outdoors without missing home. With the growing popularity of glamping, it's time to discover the best glamping places in Ontario.
Benefits Of Luxury Camping – Glamping Ontario
1. No compromising on comfort –
Experience luxury camping without leaving your comfort zone. Most of us love camping, yet not many people are fond of it or agree to camp easily. Coming after a long and tiring day, it gets really difficult to sleep in sleeping bags, or if the season is summer, the difficulty gets heightened.
Can you relate? If yes, then see these glamping sites – glamping Ontario, as your savior. You can stay in fully furnished tents, be it bell tents, yurt, or canvas tents.
2. Make yourself at home –
Glamping Ontario – glamping sites are emerging as a popular vacation attraction. Your comfort is a priority to them; it has become a great way to spend time with nature. Camping is associated with being tired and devoid of luxurious elements. For comfortable sleeping, luxury glamping accommodations are perfect for weekend getaways.
Each room has a king-sized or queen bed, a mini-fridge, coffee maker, outdoor shower, outdoor kitchen, dining room, lounge area.
Though the facilities vary from place to place, basic luxurious items like bed, bedding, mini-fridge, or coffee maker are mostly provided at the site; some offer kits. Many offer an electric blanket for winter, a personal lounge, fire pit, and picnic table.
3. Delicious meals and freshly prepared meals –
Glamping Ontario – At some glamping sites, the meal is prepared locally, so you don't have to worry about buying and cooking meals; however, if you want to cook, you can cook in a private kitchen in your room has, and at many glamping sites, the butlers are there sometimes the food is cooked outside where can see your food being cooked.
Enjoy deluxe breakfast and locally prepared meals. You can also order from restaurants too at some places.
4. Experience wildlife –
It's the perfect time to do earthing activities, heal, meditate, rejuvenate in nature with priceless lake views, and transport yourself to the higher luxury in nature's wilderness. Refresh yourself mentally and physically, and if you are traveling solo, you will love the idea of quiet time away from your busy life. Meditating amidst the forest, lakes, and mountains might be an outstanding idea.
Dive into the great outdoors at many of these glamping sites – glamping Ontario in Ontario includes cooking, reading, and some other activities hiking, baiting, fishing, snowshoeing, spa sauna, yoga; indulge in the activities if you want.
What is glamping? 
You can give glamping a try if you love camping; glamping can be a great option one want to take a break or take a holiday or some time away from a busy life to spend time and nature.
Canada is a marvelous place to start glamping if you love nature, as Canada has lots of adventurous and traveling spots that are all about nature. Mostly the activities around these areas are plentiful.
The services will leave you in awe – like sauna, hot tubs, trekking, hiking, and a lot more all of these activities can be done at a single glamping site.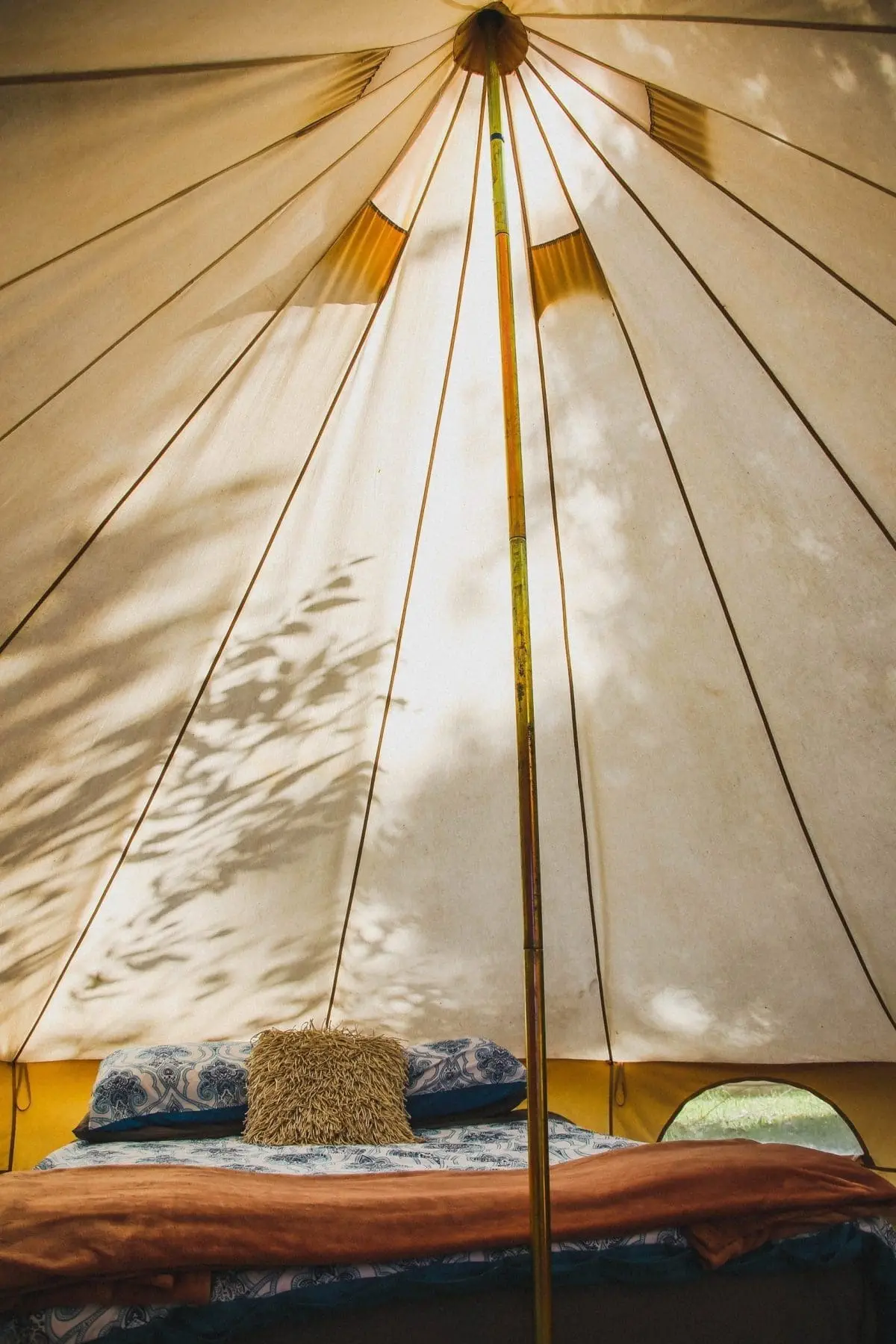 Camping sometimes makes us think about compromising with our comforts or fear of a disoriented schedule due to lack of facilities. Suppose you are working while traveling and without electricity, it might get challenging. Plus, you don't need to think about the elements like what if it rains or gets cloudy.
You need to worry about putting up a tent and then gathering it again if it rains. In such scenarios, glamping gets the upper hand. You can find various types of glamping – such as yurt, canopy, bell tent, wooden camp, cabins, even treehouses its totally upon you which one suits you the best.
15 Glamping sites to unearth in Ontario: Glamping Ontario
1. Northern edge
This jaw-dropping glamping site located near Algonquin provincial park is serene. You can choose between a double bed or a bunk bed with fully furnished beds. Both are available here. An excellent way to indulge in nature without compromising on your comfort.
Choose a little bit of modernity with lots of rurality.
Here you will experience a peaceful environment. If you haven't yet tried glamping, then you can start with Northern edge, which takes all your camping worries and lets you have a wonderful glamping experience in nature. Feel close to nature.
2. Oakwood escape
This jaw-dropping view of the forest makes oakwood escape an extremely unordinary place to be. Hear the sound of the forest immerse into the wild scenic view.
For one- of- a kind experience, do stay here and enjoy the view and stay comfy. As for the furniture, don't forget to notice the hand-painted bed and meeting nature in its rawest and rarest form.
The forest and trees with greenery all around will amaze you. The decorations are beautifully done here – everything looks so put together and clean.
3. Bartlett Lodge – Algonquin provincial park
Bartlett lodge offers multiple activities to enjoy here that lets you connect to nature. Also, this chic glamping site has a lodge dining room, truly comfy bedding, and pillows.
Here you will also find cedar-lined outdoor showers. Be in the present moment here as much as you can while enjoying canoeing, hiking, trekking. The lodge provides breakfast. The rustic tents and cabins are worth staying at. Each room has a queen bed, outdoor deck, or private deck.
4. Whispering springs wilderness retreat – Colborne
Fan of nature? Plan a get-together with nature at whispering springs wilderness retreat. Spread across 200 acres, it's a perfect place to kick off your Ontario vacations. The best part about luxury camping here is that you might not want to come out of luxury tented camp.
If you are vacating with family, you can pause here while still enjoying nature's excellence. Here you get a private deck, private coffee maker, spa, lounge, electricity, safari tents, and much more.
Moreover, a hot tub, king and queen-size bed, towels, robes, luxurious linens, and mini-fridge are all included here.
You will find hiking trails, a private fire pit, and rustic-chic tents. Yeah! that's too much amazing stuff. This place is inspired by family connection, and therefore, the rooms are spacious – reunite with your family with nature. You can enjoy small meals and evening snacks on your private deck without interruptions.
5. Wild exodus travel – Timmins
Want a perfect glamping experience? If this is your first time experiencing glamping, explore Canada's boreal forest in Timmins. Wild exodus provides next-level glamping facilities from fishing to a home-cooked meal.
Get carried away – as the food here is locally prepared and is delicious. Kenogamissi lake offers trapper hiking and a picturesque lakefront view.
Wild exodus in Timmins is a tourist attraction, and this place is situated amidst Canada's wilderness for you to explore. The best facilities are provided like comfortable bedding, a queen bed, electricity, furniture, and more.
6. Long point eco-adventures – St. Williams
Long point eco-adventures understands you – no wonder more and more people are finding it a cool place to stay.
They have their camping ground particularly for fun activities if you are going here with kids they will love it, and kids can enjoy here the atmosphere, while for adults, adventures like fishing canoeing. Mountain, biking, and ziplining is there.
7. Northridge inn and resort
This luxurious place has a private deck and other basic amenities, breakfast, or dining. It even has a BBQ, fire pit, and electricity – You will get views of lake bernard and lake Ontario on your way here. Electricity is provided for air conditioners. Every basic amenities are met.
8. Outpost Co. luxury – Temagami
Visiting Georgian bay? Stop by outpost co luxury camping – perfect place if you want a break or need some quality time. It has a wooden queen-sized pillows bed with Egyptian cotton sheets and a private lounge.
The boat ride can be done here. The view from here is gorgeously unrealistic. Make sure you capture it all in your eyes.
9. Natures harmony ecolodge – Mattawa
If mountains and valleys capture your attention, this place is natural harmony for you. Be in harmony with nature here and allow yourself to feel the breeze coming through the mountains and enjoy the view of Laurentian mountain.
Here you will get yurt tents BBQ, a bed with proper pillows and blankets., woodstoves, and a canvas tent.
10. Luxury tented camps
Take your glamping experience up to several notches with luxury tented camps. Ideal for a romantic getaway. Live a rom-com life just like in movies. You can sense the luxury in pristine wilderness suites, which is worth trying. Here the fresh forest air will take all your stress away. De-stress in the natural world.
This is a secluded place located in Parry Sound. This place has a kitchen, dining area, and a place to relax in a hammock. Moreover, it has a canvas tent composting toilet, fire pit, butler services king, queen, or double bed. You can go biking, and walk here.
11. Fonterra farm camp
This heritage waterfront farm has a subtle farmhouse vibe. Glamping at Fonterra farm is closely related to real camping because it has farm views all around it and the good part is that the use of woodland camp gives it a rural atmosphere that you will love. The earthy aesthetics and rustic blends are worth visiting.
Hardwood floors give it a unique look. The suite provides a private outdoor kitchen and a king-size bed and fire pit. Other facilities – canvas tents, a kitchen with cookware and glassware. Previously, this property was owned by Best Malting Barley title winners.
12. Cozy luxury yurt
When looking for luxury camping – comfortable is the word that comes to our mind. When it comes to comfort, the more, the merrier, and these glamping sites provide just that each room has a double bed, coffee maker, and mini-fridge.
Enjoy the view of Lake Washagami. Great place for someone who needs no distraction.
13. Harmony outdoor inn
Activities in nature are a great way to spend time with nature and get to know it. Spend your leisure time discovering and trying new hiking, swimming, and walking activities.
A mere walk in nature holds a lot of power to heal us naturally and uplift our mood naturally to deal with anxiety and stress. You can do yoga and meditation here.
14. Elements luxury tented camp
The peaceful environment here inspires us to indulge in more sports activities and moments of introspection. You can go glamping in Ontario at this place for a romantic getaway; wants to treasure rustic luxury camping no need to carry sleeping bags as the glamping tent has it all.
Immerse in nature. For someone who finds natural sites, compelling glamping is a marvelous idea for holidays in summer and fall. A great way to spend time with family, friends, and nature.
15. Hideaway hills
Want to admire forest beauty? Hideaway Hills is set amidst the Carolinian forest that offers an abundance of opportunities to adore the forest and scenic beauty.
This place is quiet and peaceful, so if you want to finish some office work or do something that requires complete focus, this place can be your true friend. Situated in Norfolk county, you can explore around Norfolk county if you visit here.
The bedroom, outdoor deck, and dining room are included in accommodations.
Bring out your best backpack and get ready for the adventure:
Glamping Ontario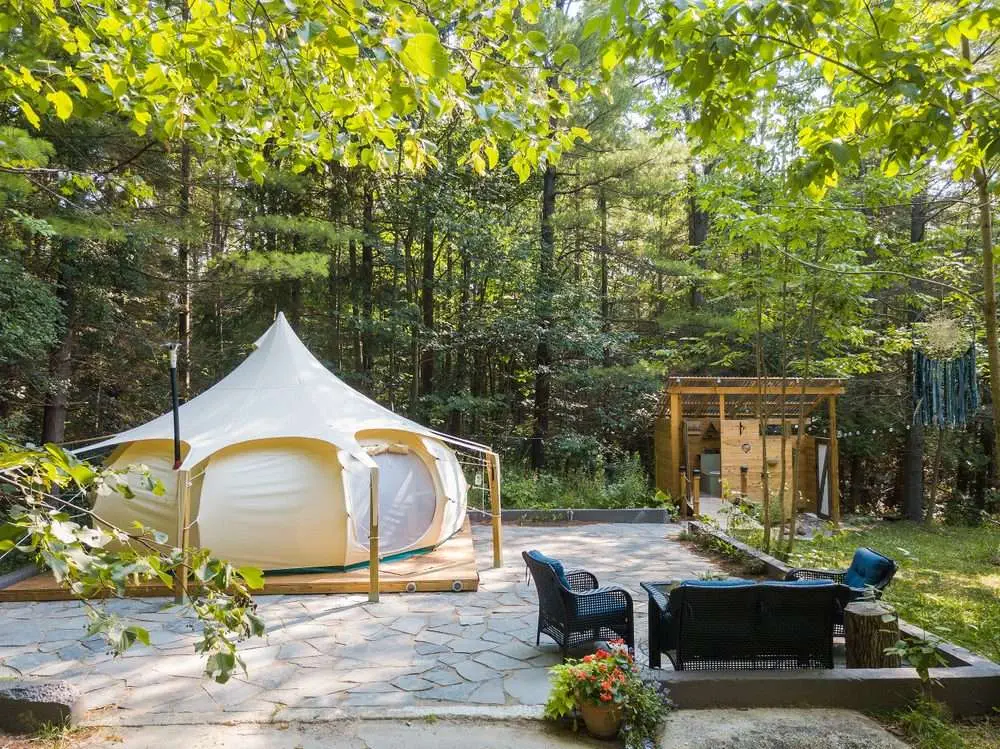 What can you expect from glamping in Ontario?
One of the glamping sites also provides BBQ so that you can throw a little BBQ party or get-together. Glamping provides hotel-like services amid the wilderness.
If everything is provided at your location, you can also pack light, and that can be an advantage cause heavy backpacks can pull you back from further explorations. Breathe the fresh air and set out for an adventure.
Activities you can do here: Glamping Ontario
Hiking, walking, swimming, cooking, reading, and a lot more…one might get tired, but the list won't end. Ontario has adventurous places; one of them is glamping sites. You can do glamping in Ontario to achieve a new experience. Workshops are also held here, and you can choose workshops based on your interests.
Some of them require bringing your essentials kit, while some glamping places provide the kit, or at some places, you don't need these basic amenities and kits – it all depends and varies from place to place.
You can check out other places: moonlight glamping, and Ontario parks for weekend getaways and holidays.
Are you ready to do glamping? – Glamping Ontario
These are the places you can go glamping in Ontario. Other than these, there are so many places you can visit. Full of activities, adventures, and facilities, one can comfortably explore nature and adventurous sites without worrying about the weather and food.
Glamping Ontario – These camping places are decorated amazingly, giving rustic, chic, elegant looks. Some wooden glamping sites give us nostalgia and imagine a movie scene, sitting by a fireplace with tea in hand or looking outside the window.
All you will see is the shining lake upon which the sun rays bounce off your window – yes, it is just like a movie!
Suggested Reads