Vancouver is one of the best cities located in British Columbia, Canada. It is well renowned for its scenic views, pleasant climate, friendly people, and calm atmosphere. There are numerous places to visit in Vancouver.
Vancouver is a coastal, seaport city bounded to the west Vancouver and north by English Bay and is considered the best place to live in.
List of 10 Popular Places to Visit in Vancouver
Vancouver is celebrated for its breathtaking natural beauty. One can find numerous places to visit in Vancouver right from sandy beaches to rainforests to humungous mountains this city of British Columbia has it all in it.
1. Stanley Park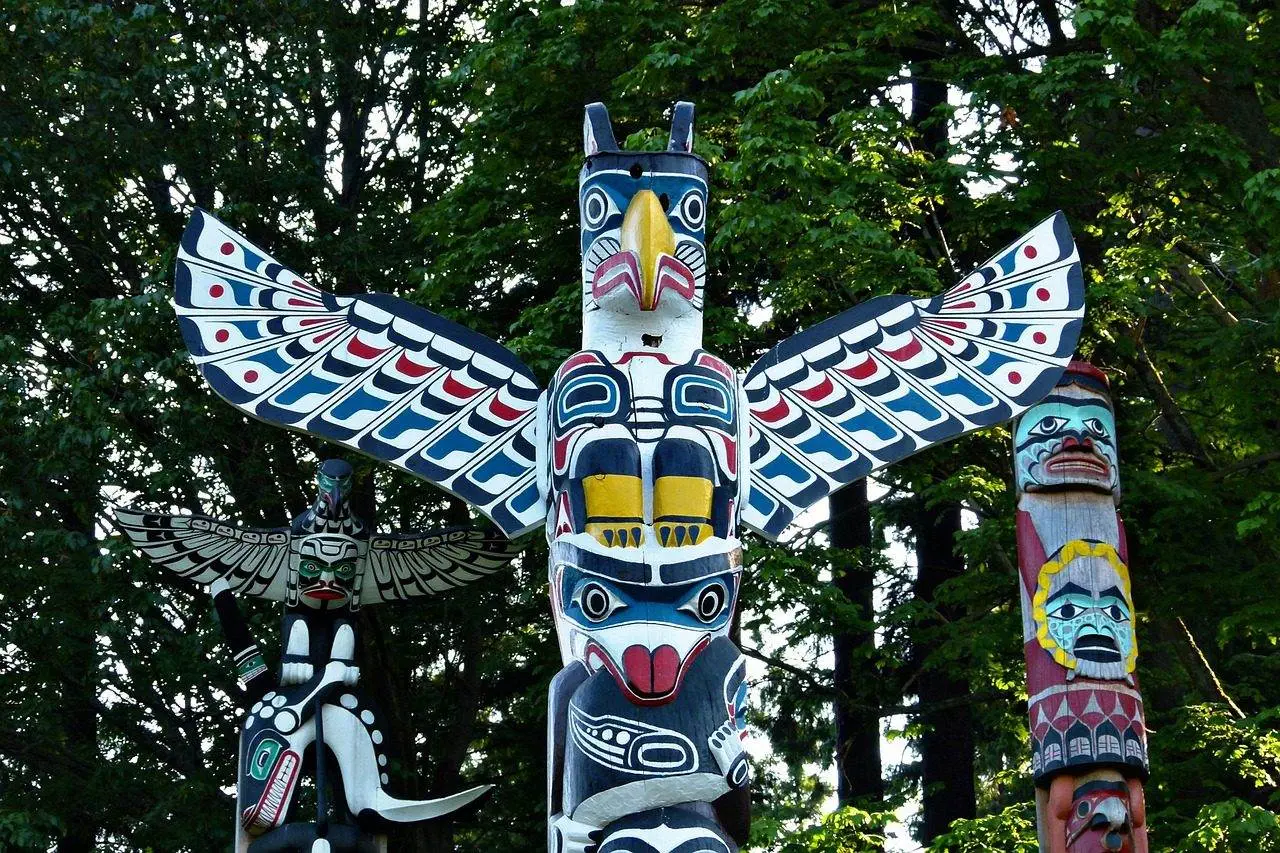 Location – Vancouver, BC V6G 1Z4, Canada.
Stanley Park is a heaven for nature lovers wherein one can explore this 400 hectors west coast rainforest and enjoy the beautiful scenery of water, mountains gulf islands, sky, and humongous trees. It also has its lovely beaches which are very clean. It is among the top destinations in Vancouver.
Transit – One can easily get there by bus, train, car, cycling, or even by walking as it's just 15 min away from downtown Vancouver.
1.1. Key Features
No entry fees are required to enjoy this beautiful part.
It allures a large number of tourists every year as this is one to-go spot. There are beaches, aquariums, floral gardens, wilderness forest floors, horse trails, and cycling trails under one park.
Stanley Park is full of well-maintained trails for walking, hiking, and cycling. Visitors can rent a bicycle.
This park is not only for adults but also provides entertainment factor for the kids in the form of a kid's pool, water park, toy trains along with other kid-friendly activities.
People who enjoy wildlife will be able to see various species of squirrels, birds, and Canadian geese.
The colours in the park are magnificent and lively.
It offers restaurants, mini golf, playgrounds, picnic spots, public washrooms, gift shops, and souvenir shops.
This place makes a single destination meet all the requirements of a perfect day out with friends and family.
1.2. Highlights of Stanley Park
1.2.1. Vancouver Aquarium
Vancouver Aquarium is a public aquarium inside Stanley Park. This aquarium houses as many as 50,000 aquatic animals which makes it a hot spot for kids and with minimal charges anyone can visit.
This spot is of vital importance to oceanographers for their marine research, ocean literacy education, and other prime conservation efforts.
It can be easily called a learning institution for kids having an interest in marine life. Children can visually see many aqua species. Here both adults and kids can enjoy. Dolphin shows, whale watching, sea lion shows, and sea otter shows are held from time to time.
1.2.2. Stanley Park Seawall
The Stanley Park seawall is termed as an outdoor gym due to its longest waterfront path where one can enjoy walking, hiking, cycling, and running while enjoying nature to its fullest. The Seawall The 17.5-mile paved pathway starts at the Vancouver Convention Centre.
2. Capilano Suspension Bridge Park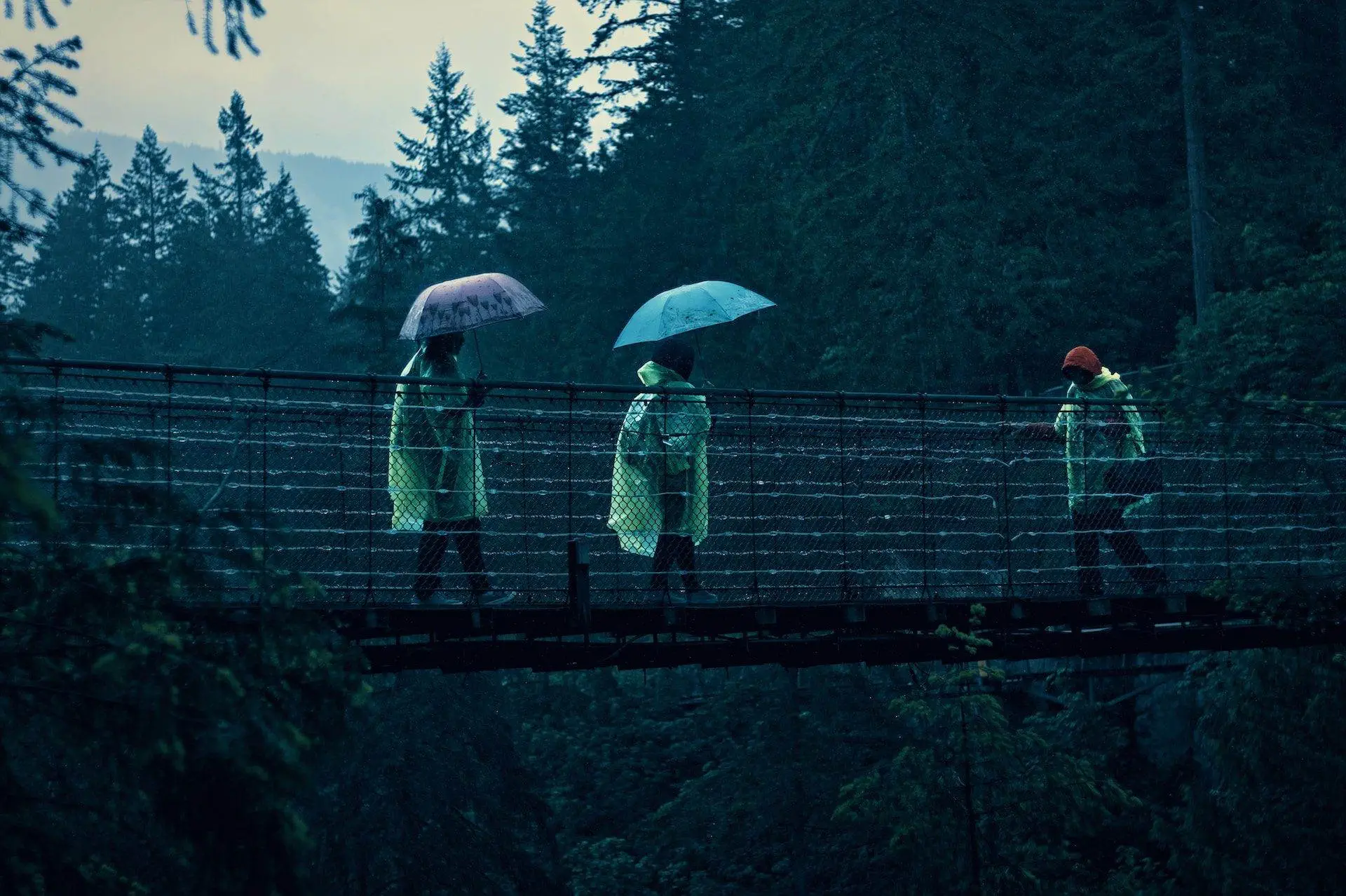 Location- 3735 Capilano Rd, North Vancouver, BC V7R 4J1, Canada.
Capilano River suspension bridge is a former suspension bridge that is built 70 meters above the Capilano River and is 140 meters long in distance. It is one of the top tourist attractions in Vancouver.
Transit- It is located just north of Stanley Park which is approximately 20 minutes away from the center of the downtown peninsula of the city.
2.1. Key Features
One is sure to feel an adrenaline rush while crossing the Capilano Suspension bridge which can be quite a daunting experience due to its height and surrounding rainforest.
The bridges attract millions of tourists every year who are nature admirers looking for some outdoor adventure.
Capilano Suspension Bridge Park is considered best for sightseeing as one can experience nature in its best form with numerous trees in the surrounding while crossing the bridge.
It's a paradise for photographers as they can capture beautiful scenic views of mountains, waterfalls, and other natural beauty.
It is also host to various species of birds hence attracting several bird watchers throughout the year.
There are other adventures for everyone at the lighthouse park, cliff walking, and the story center along with others.
One can also enjoy life-size photomurals, artifacts, and antiques.
2.2. Major Highlights
2.2.1. Kia'Palano
Part of Capilano's captivating story involves the tradition of placing nine totem poles. These totem poles were carved on the grounds at Capilano Suspension Bridge Park. Tourists can get an inside view into the lives of British Columbia's First Nations people at Kia'palano.
2.2.2. Treetops Adventure
This park offers its tourists Treetops Adventure which gives squirrels an eye view of the thriving coastal rainforest. This place uses an innovative compression system. There is not a single bolt or nail is used in securing the viewing platforms and seven suspension bridges to the trees.
2.2.3. Rainforest Explorers Program
The park's Rainforest Explorers Program is an interactive guide. One can explore the rainforest while learning about the West Coast rainforest with the help of signs.
3. Grouse Mountain
Location- North Vancouver, BC V7K 1X8, Canada.
One can visit this beautiful grouse mountain for a short day trip, located near Vancouver's downtown core, to rejuvenate one's soul with natural beauty.
Transit- To reach the top of the grouse mountain one can take an adventurous sky ride in a gondola with minimal charges and on the way up can enjoy the aesthetics of nature.
3.1. Key Features
Grouse Mountain can be visited throughout the year.
In summer one can enjoy hiking mountains, biking trails, walking on trails, and cycling. There are additional alternatives for winter activities like skiing and skating. It is also admiringly called Mother Nature's Stairmaster.
It is considered a super friendly family destination as it serves people of all ages.
There are various eatables on the mountain wherein one can enjoy snacks with panoramic views of the surrounding mountains.
3.2. Highlights of Grouse Mountain
Occasionally there are shows, cultural activities, and education programs being conducted along with other adventurous activities to keep the crowd entertained. Animal lovers can visit the wildlife refuge.
In December, Grouse Mountain has the celebratory look of Christmas. Santa Claus makes an unexpected appearance, among many other surprises.
4. Museum of Anthropology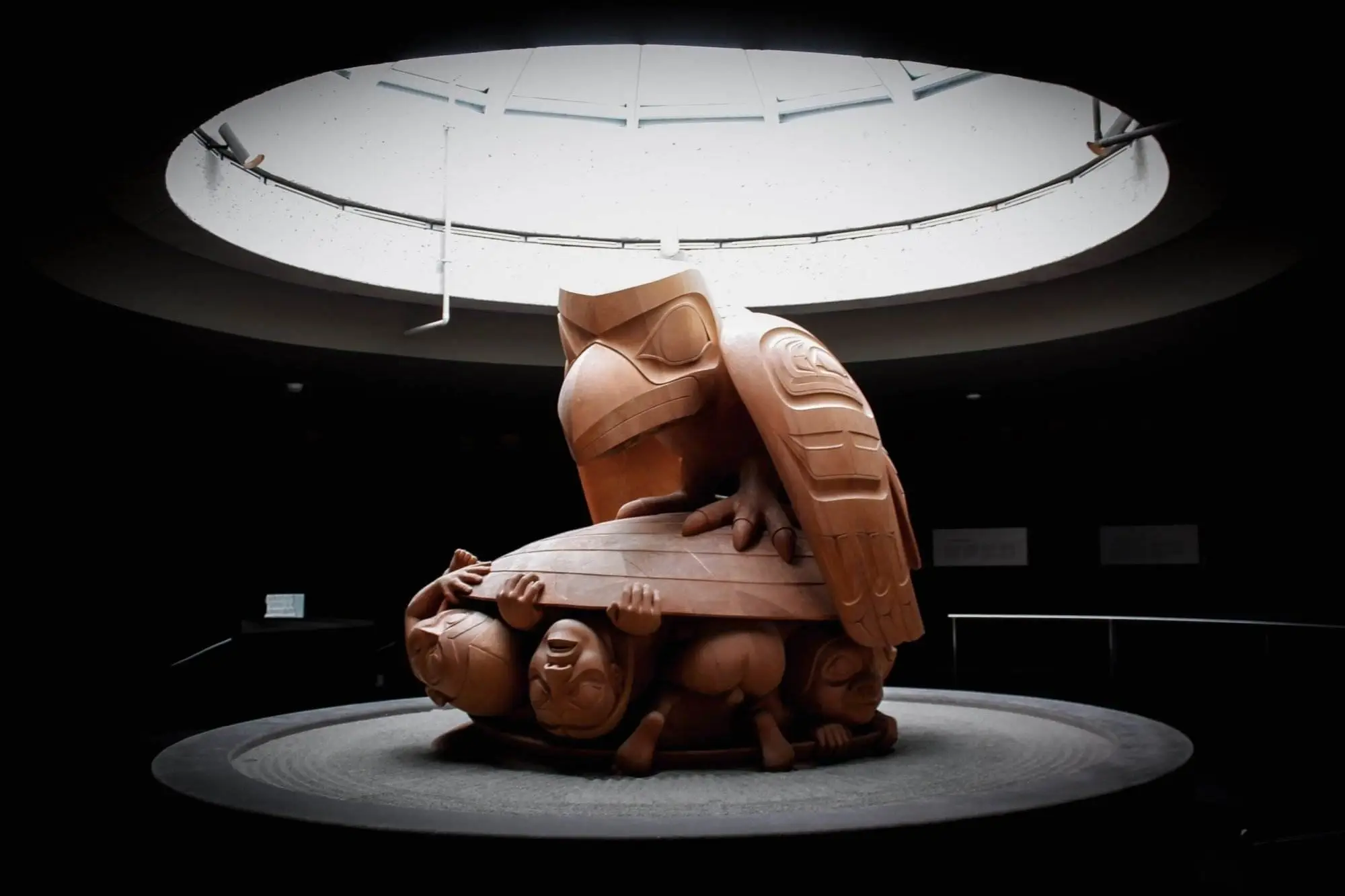 Location – 6393 NW Marine Dr, Vancouver, BC V6T 1Z2, Canada.
Located at the University of British Columbia, this Museum of Anthropology is for history, art, and culture lovers. One can find multiple exhibits of artifacts and treasures in different forms of ceramics, totem poles, and other types of carvings.
Transit- Reaching this tourist place is no big deal as one can opt for a bus, taxi, private car, or simply walk to this destination.
4.1. Key Features
Below each masterpiece, there is a detailed explanation as to its significance and other important details for better understanding.
One can also explore traditional as well as modern art from across the world in this museum.
At the Museum of Anthropology, travellers can witness contemporary art galleries with life-size cravings, and weavings.
There are also events being held to keep the admirers engaged.
It also has a gift shop where one can find a wide range of merchandise, indigenous artworks, and unique jewelry along with other interesting items.
4.2. Highlights of the Museum of Anthropology
There are a few highlights which include the yellow cedar sculpture, Raven and the First Men by Bill Reid, and Bear and Wasco (Sea Wolf) sculptures.
There is also Musqueam artifacts, Totem poles from Haida and other First Nations village, Haida houses and Musqueam house.
5. Queen Elizabeth Park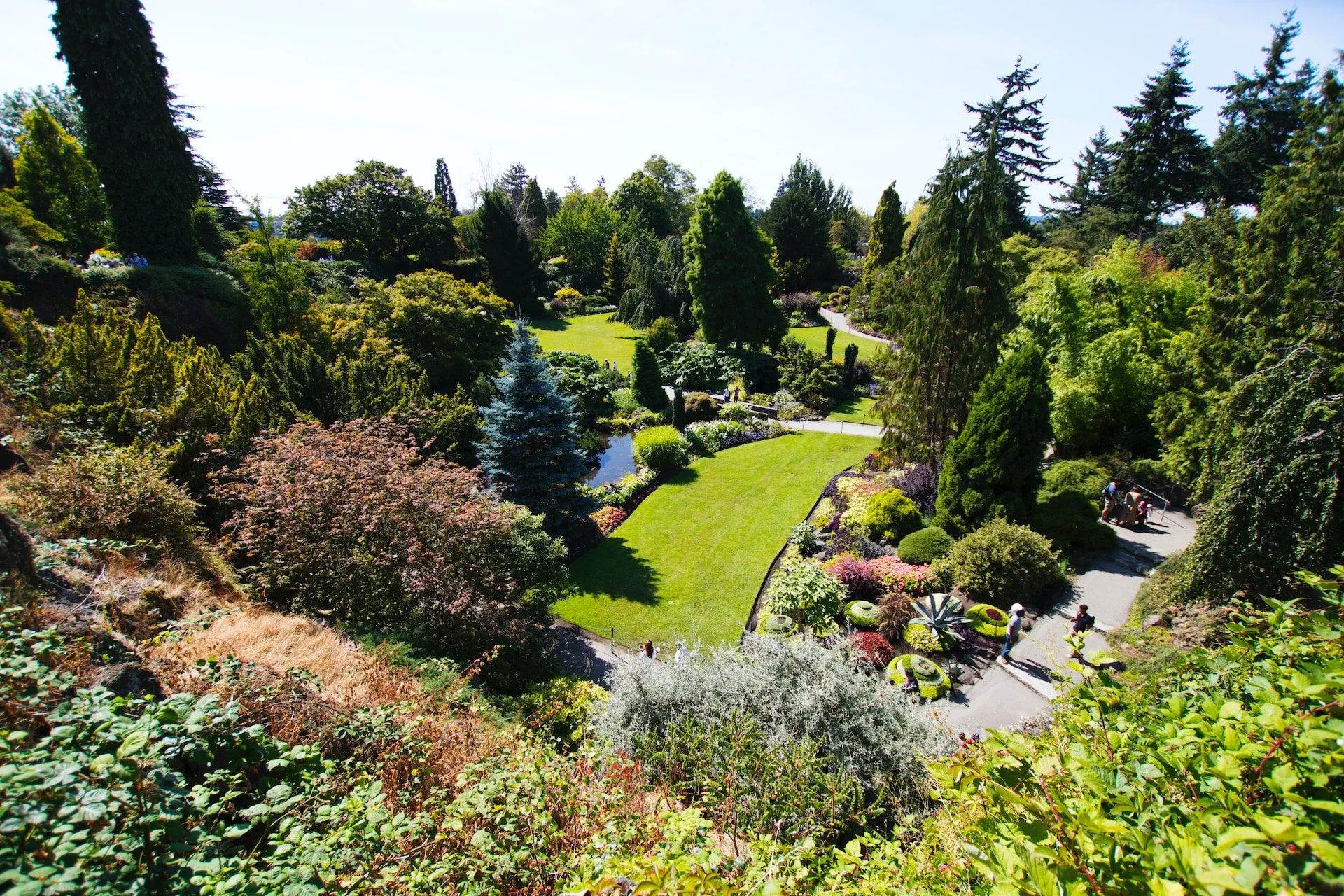 Location- 4600 Cambie St, Vancouver, BC V5Z 2Z1, Canada.
Queen Elizabeth Park is located atop a 130-acre municipal forest floor and park situated on a small peak at 125 m above sea level. Entry to this park is free. This park offers an enormous amount of floral displays and is also considered a horticultural jewel.
Transit- It is in the geographical heart of the city center and one can reach here by either public transit or private car.
5.1. Key Features
One can visit Queen Elizabeth Park in any season be it autumn, spring, rainy or summer.
This Park is a combination of art with the scenic beauty of the garden.
It has a Quarry garden, rose garden, arboretum, fountains, and plazas and is a dream of every gardener.
One can find exotic trees, shrubs, plants, and various species of roses which also makes it home to varied types of birds.
Queen Elizabeth Park offers just the right place for a picnic, outdoor activities like golf, tennis, volleyball courts lawn bowling, stargazing at night, or fine outdoor dining.
If nothing else, one can easily go hiking, dog walking, cycling or simply walking and admiring nature.
5.2. Highlights of Queen Elizabeth Park
5.2.1. Celebration Pavilion
It has a Celebration pavilion wherein one can conduct a wedding ceremony or birthday party or get together in any form to make an entire day or the event even more memorable.
5.2.2. Bloedel Conservatory
One can also visit Bloedel Conservatory which is located inside Queen Elizabeth Park with small admission fees. One can enjoy almost 500 species of plants along with other exotic and native trees.
There are also sculptures including one by internationally renowned artist Henry Moore. There are many recreational activities which include tennis, lawn bowling, pitch and go, pitch and putt golf along with many others.
5.2.3. Riley Park Farmers Market
Queen Elizabeth Park has a weekly Farmers market which takes place occasionally in either the parking lot of Nat Bailey Stadium or at Riley Park. Here fresh items can be purchased directly from its source.
6. Science World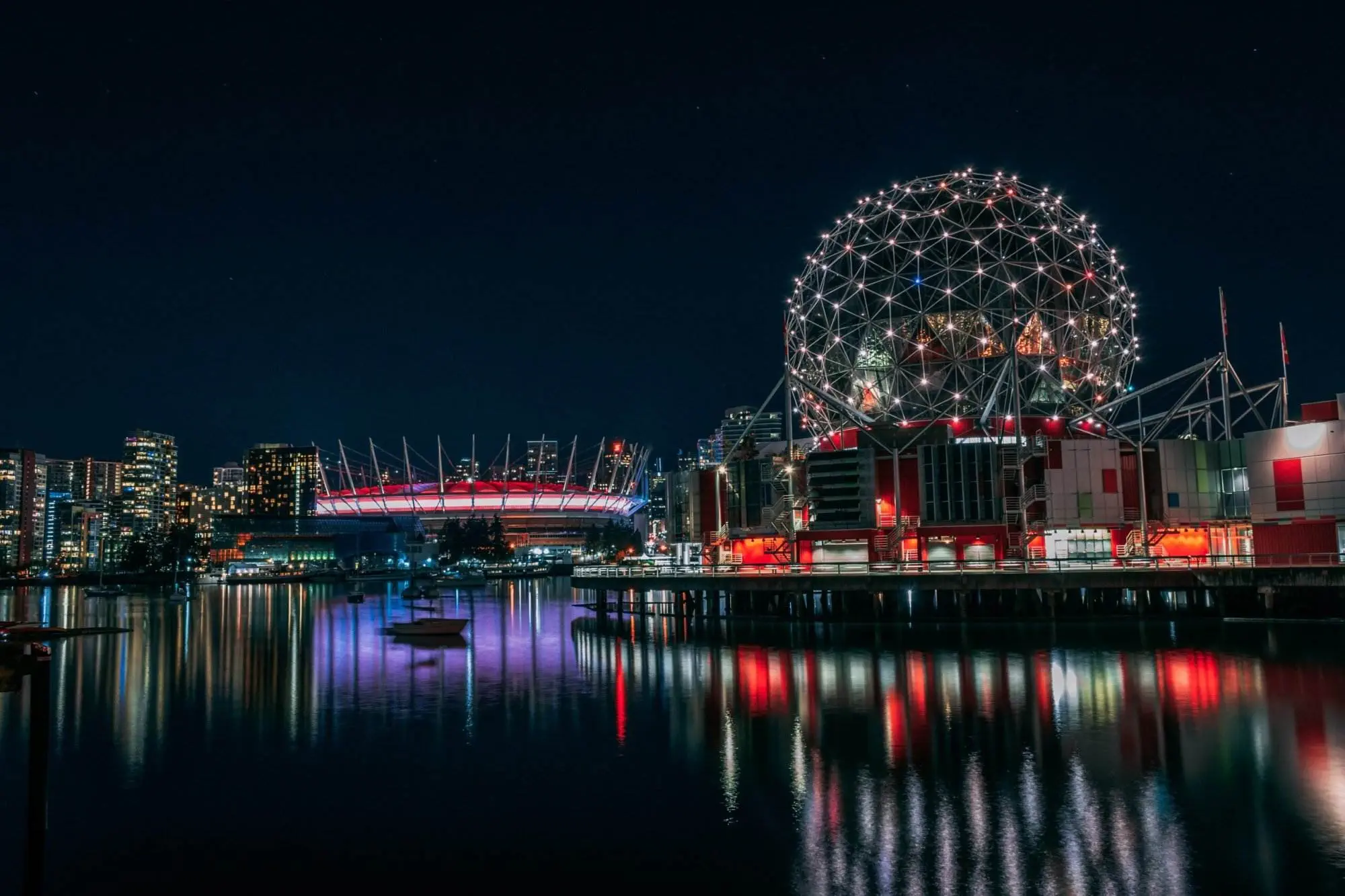 Location- 1455 Quebec St, Vancouver, BC V6A 3Z7, Canada.
Science World also known as the science museum was established in the year 1989. It is run by ASTC Science World Society which is a non-profit organization that is one of the most preferred places to visit in Vancouver.
6.1. Key Features
It is located at the end of western False Creek. One of its main characteristics is interactive exhibits and displays. Again, reaching this popular place is no big deal with public transport in line.
This particular museum and green space attract and engages learners and budding scientists. This Museum looks like a giant ball and more than adults you will find a young crowd here.
There are numerous interactive galleries to keep you engaged. It includes a Bodywork exhibit displaying human organs. Eureka gallery for kids where they can launch parachutes, play humungous keyboard and different activities to be carried out.
Special programs are also held for kids and teenagers wherein they can learn about computers, how animation works, and where they can ignite their imagination. Gaining practical experience is strongly advised for families with younger children, especially those with kids in nursery and middle school.
Live educational science performances are presented all day long on Science World's Family Centre Stage. There are kid-friendly presentations that are very visual and frequently incorporate audience involvement.
In Science World, the Science Museum also boasts an Omni Max theatre with towering screens that broadcast instructional films, documentaries, and 3D films.
7. VanDusen Botanical Garden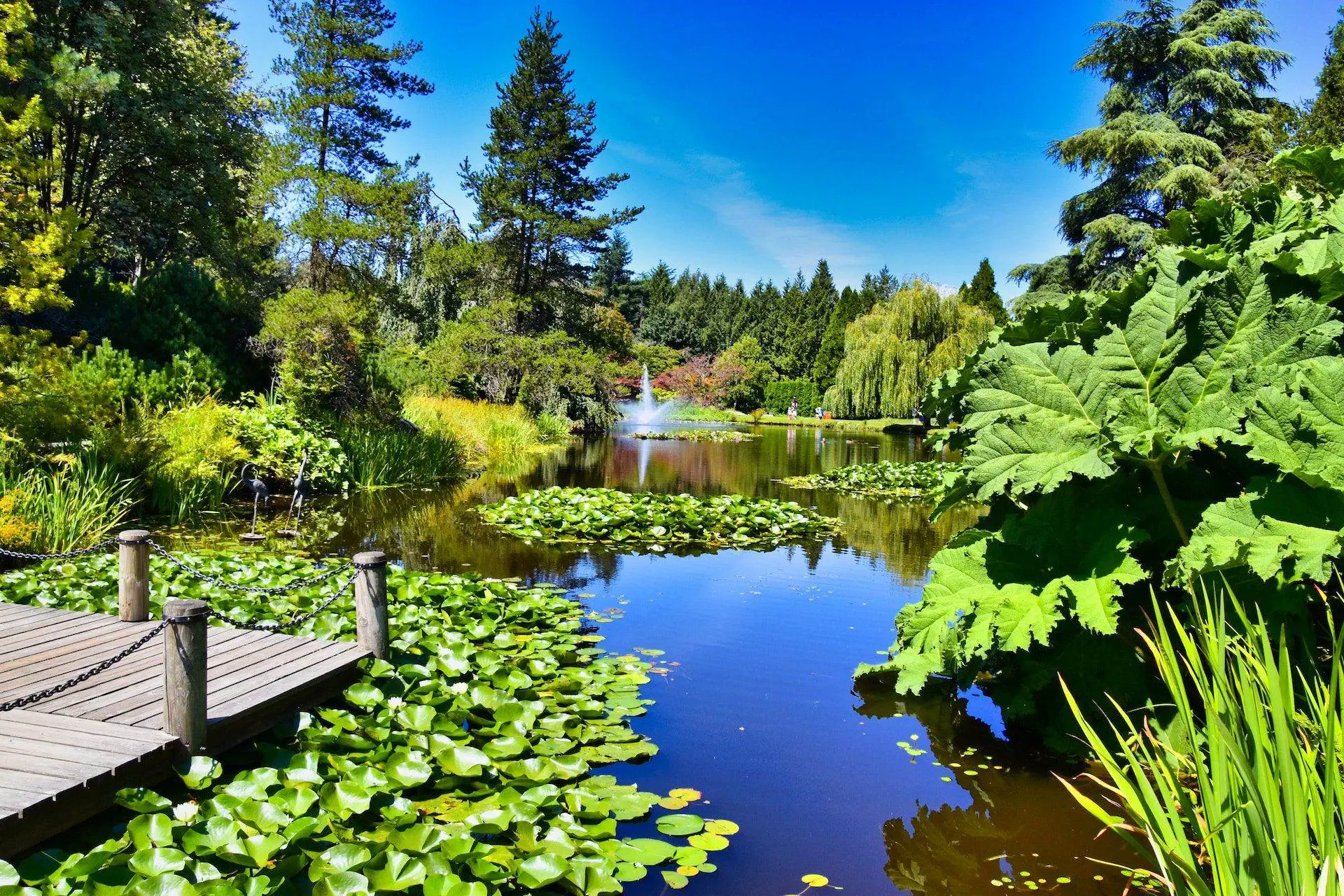 Location- 5251 Oak St, Vancouver, BC V6M 4H1, Canada.
VanDusen botanical garden is spread across 55 acres of land and located in the heart of downtown Vancouver, British Columbia with approximately 7,500 species of plants. This botanical garden has something to offer to everyone and can be visited throughout the year, one can visit here by public transport or private car.
7.1. Major Highlights
Its tourist attractions include a bush maze, flower gardens with paved paths, beautiful landscapes, varieties of temperate trees, shrubs and vines, native plants, herbs, and vegetables.
There are also events being held occasionally for instance light shows are conducted during the light festivals. It also attracts numerous wildlife photographers to capture the local wildlife.
There are also cafes inside the VanDusen Botanical Garden which provide a variety of refreshments which is perfect for dates and casual meet-ups.
There are forest trails, biking trails, and hiking trails for fitness enthusiasts. One can simply take a walk and admire the beauty of this garden. An optimal ecology for birds and bees is found at VanDusen Botanical Garden.
VanDusen botanical garden also offers private tours with payment of generous fees. This tour is given by highly knowledgeable staff so that travellers can have a complete understanding of this garden.
It offers a wide range of diverse habitats for urban wildlife. The Garden is the ideal habitat for animals like squirrels, turtles, fish, coyotes, and insects since it provides them with an abundance of food and shelter.
8. Granville Island Public Market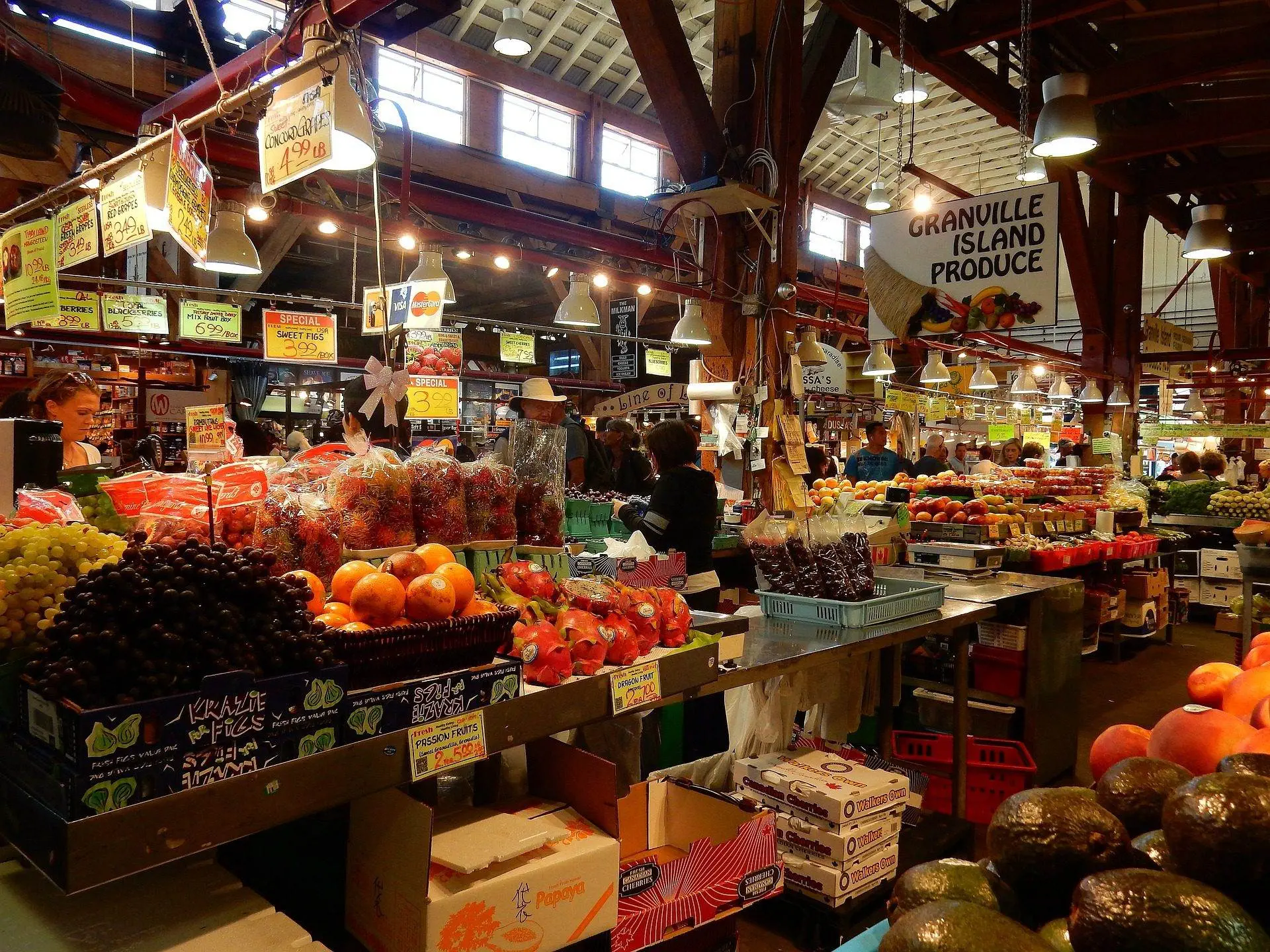 Location- 1689 Johnston St, Vancouver, BC V6H 3R9, Canada.
Built in 1979 this island indoor market, great hall and city and convention center are located on the south side of the false creek in downtown Vancouver. It is a great location to go to where one can indulge in a variety of foods and go shopping sphere.
Transit – There are various modes of transportation to reach this destination. There are mini Barbour ferries that make a regular stop at the waterfront station Granville Island. One can also opt for a public bus or Sky train station.
8.1. More about Granville Island Public Market
This place offers various restaurants, bars, cafes, and gourmet food stalls where one can relish its soul. There is fresh seafood, bakery products, deli foods, a local delicacy, and a variety of Mexican and Asian ethnic food available along with other extensive options to choose from. It is indeed foodie heaven.
Although there are many other items, food is undoubtedly the Public Market's main focus. In addition to shopping, visitors come here to have the experience of a lifetime.
There is also a wide range of fresh fruits, veggies, and other market goods which can be purchased directly from the farmers in the weekly Granville Island farmers market.
The boutiques, artisan stores, and market booths on Granville Island offer some of the best shopping in all of Vancouver. One can discover regional artwork, handcrafted artisan goods, and unique presents.
Other tourist attractions in Granville Island's public market includes Artisan boutique, Theater art studios where one can meet local artist. Also, events such as international boat shows, push festival shows, lateen city activities, and live music keep people of all ages engaged.
Outside the market, there are picnic tables by the waterfront restaurants wherein one can enjoy delicacies in the fresh air and lovely view. There are also shops selling souvenirs from which a range of items can be bought.
Following a visit to the market, one can stroll around the side streets before stopping at Granville Island Brewery for a sample of one of their well-known brews. Visitors who want to learn more can sign up for the Granville Island Public Market Food Walking Tour.
9. Kitsilano Beach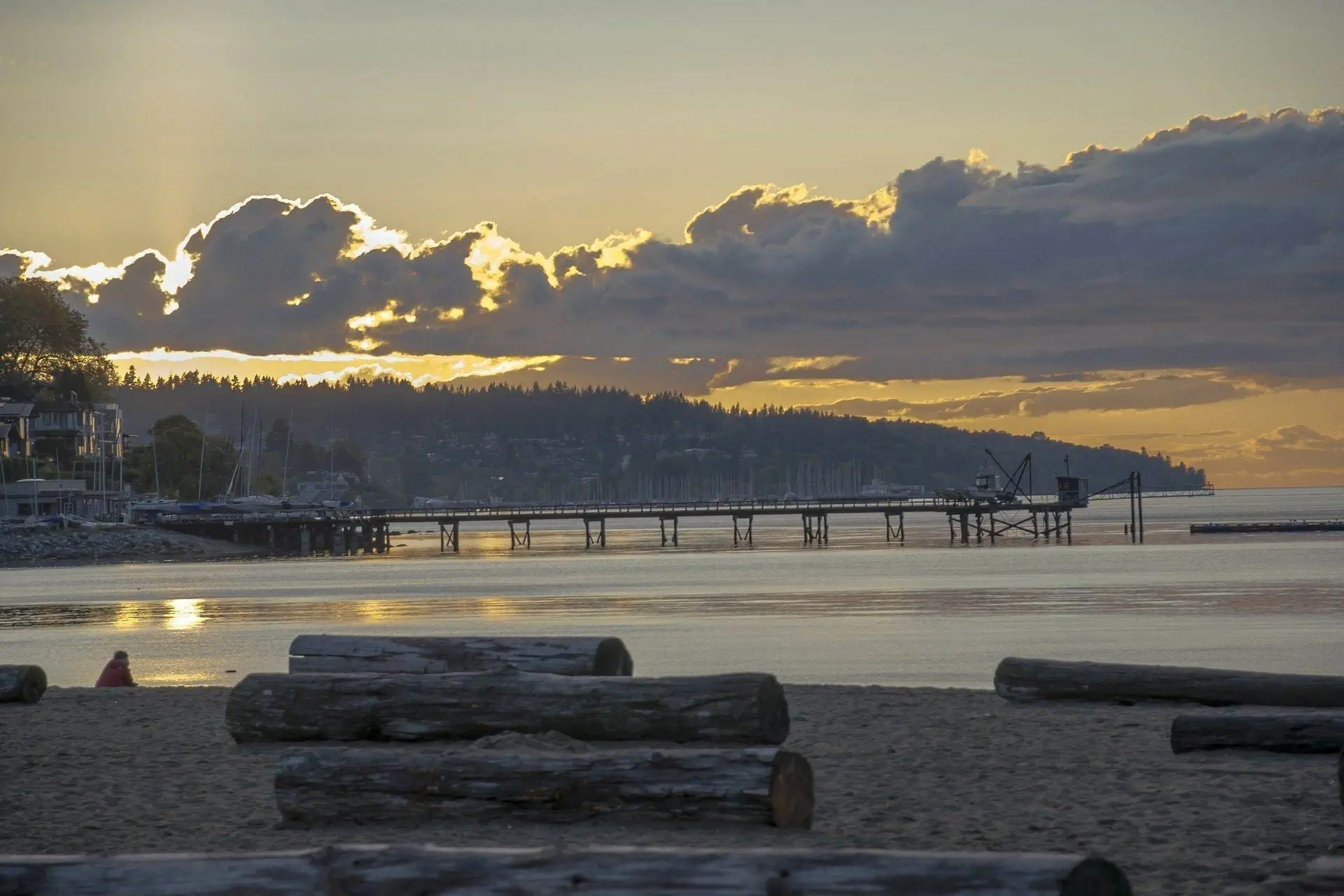 Location- 1499 Arbutus St, Vancouver – Waze.
Kitsilano Beach is locally referred to as Kits Beach located at the north edge of the Kitsilano neighborhood, the beach faces out onto English Bay. During the hot summer months, this beach is among the busiest beaches in the heart of the city.
9.1. Key Features
If you are a water baby this beach should be on your list.
Water Enthusiasts people can enjoy various water sports ranging from water aerobics to kayaking or can simply sunbathe.
Here are sections specially designated for swimming enthusiasts, so one doesn't have to worry about colliding with kayaks or boats.
Kitsilano Beach offers a view of English bay beach, north shore mountains, and lovely sandy beaches which will give you a relaxed atmosphere.
9.2. Activities on the Kitsilano Beach
There are outdoor activities like a basketball court, tennis court, volleyball court and kids' playground. Also, there is kits outdoor pool which is the city center's only saltwater swimming pool that keeps people of all ages engrossed. One can either engage in these sports or can simply relax, swim, and exercise.
This beach is animal friendly. It favourite spot for dog owners as many other dogs can be found on this beach. For nature lovers kits beach offers beautiful sunsets.
Every summer, Kitsilano Beach hosts the famed Shakespeare Festival, which includes performances as well as workshops in the arts and culture.
There are many eateries on wreck beach wherein one can indulge in varied cuisines. This beach also provides various amenities like clean public washrooms, water wheelchair assistance, and a lifeguard which makes it unique and one of a kind.
Kitsilano farmers market is a weekly market conducted by local farmers where customers can directly purchase farm fresh products.
One can rent cycle experience the area by starting the journey at Kits Beach and making its way across the hip Kitsilano quarter to popular Granville Island or False Creek.
10. Canada Place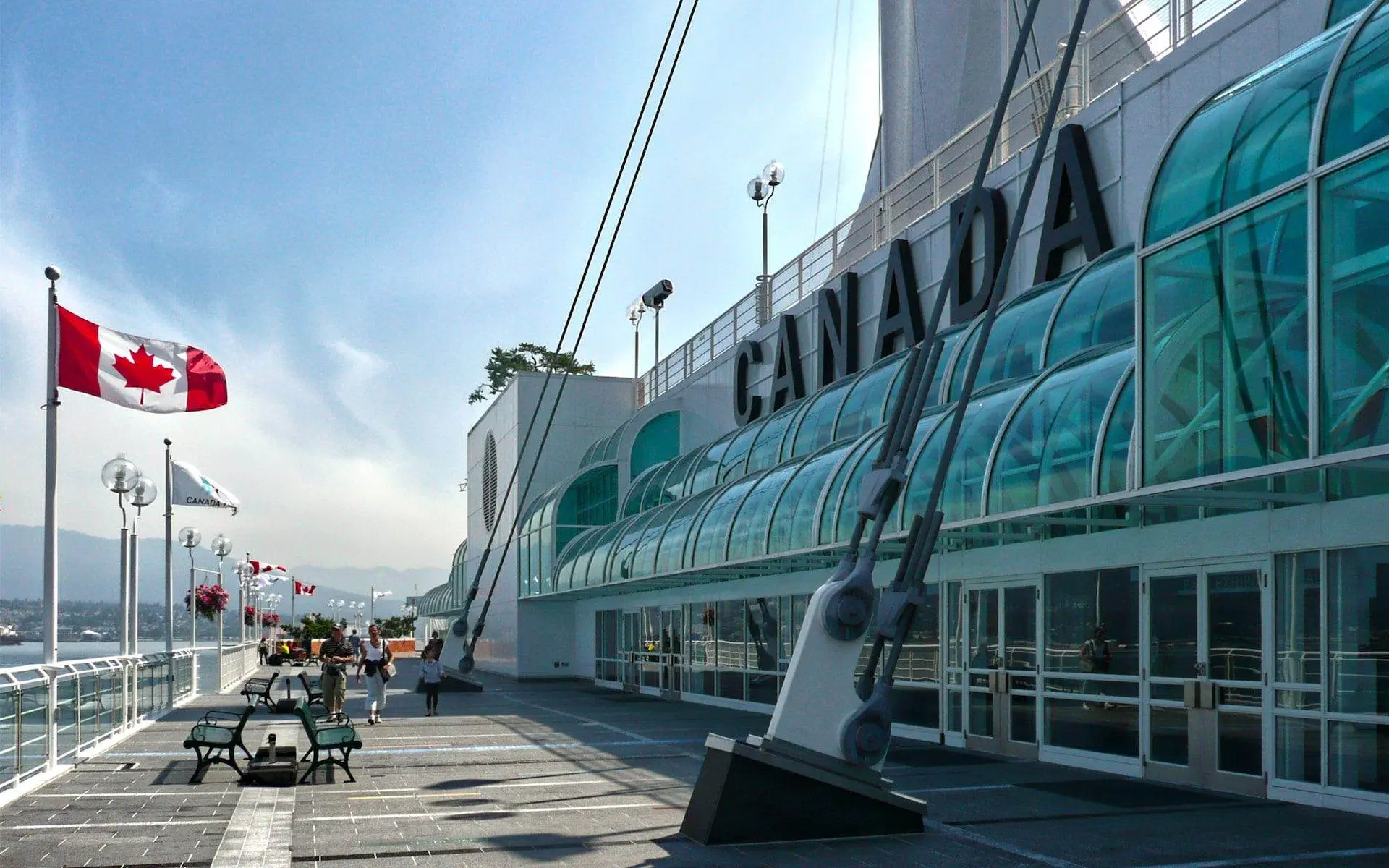 Location- 999 Canada Place Vancouver, B.C. Canada
Canada Place is one of the best places to visit in Vancouver as it serves three major purposes – magnificent view, impressive architecture, and convenient location. Canada Place is part of Vancouver's convention center and makes it the most favoured Vancouver sightseeing destination.
Canada Place is designed in the form of a giant sailing ship and served as the Canadian Pavilion during the 1986 World's Fair
Transit-Located by the Convention Centre about a 5-minute walk west of Waterfront Station in the heart of downtown Vancouver.
10.1. Highlights of Canada Place
Several events are held in Canada place such as International Festival Tastings, and Vancouver International wine tasting to name a few.
The Flyover film experience is one of Canada Place's main attractions.
Visitors can view an informative pre-show film about Canada at this multi-sensory theatre. After that, they fasten their seatbelts and embark on an exciting flight throughout Canada's entire country.
Its unique design makes it a great place for pictures and selfies. If one wants to enjoy some quiet time there is a Lovely Harbor front walk with a beautiful view. Additionally, there are many bars and restaurants to satisfy hunger pans.
There are also highly knowledgeable and helpful volunteers to give you support in a great place.
One is to find Pan Pacific Hotel, Port Metro Vancouver cruise ship terminal, World Trade Centre office tower, and VINCI Park Parkade in Canada place.
Conclusion
In short, to wind up there are beautiful places to visit in Vancouver which are situated around the downtown. One can visit Vancouver throughout the year. This city serves every type of tourist personality having varied options to choose from.
One is surely to submerge in the natural beauty of this city not only during daytime but Vancouver nightlife is also quite happening. One can choose from various options like Gorg-O-Mish Dance Club, Fivesixty, Celebrities Nightclub, The Cobalt, The Fortune Sound along with others.
Click here to read more.