Are you planning to visit Long Beach Tofino? Don't worry; we have mentioned everything that you should know about the Long Beach Tofino!
The long beach Tofino is one place in Canada that needs no introduction. The city of Tofino is famous for its surfing beaches, and among many others, Long Beach Tofino is one place that is the largest and remains crowded throughout the year.
Also known as the surfer's paradise, Long Beach Tofino is a place that you need to visit once in your lifetime, and it doesn't matter if you are a surfer or just a spectator. The views of the long beach won't disappoint you.
If you plan to visit Long Beach Tofino, here are a few things you need to know before heading out.
Long Beach Tofino: 8 Things to Know!
Here are 8 interesting things that you need to know about Long Beach Tofino.
1. Where Exactly Is It?
Long Beach Tofino is one beautiful beach located in the outer area of the Pacific Rim National Park Reserve. It is the largest and longest beach, which is located on the west coast of Vancouver Island.
You can see that it is somewhere between Wickaninnish beach and Tofino-Ucluelet, a district municipality.
There is a Tofino-Ucluelet highway that goes parallel to the beach, so reaching the coast is not a difficult task. You can have a great view of the Pacific Ocean while you drive around the beach.
Long Beach is one of the first locations where surfing was practiced in the early days and has remained one popular location to date.
Even if you plan to visit the Pacific Rim National Park, you can still have a great opportunity of having a site of this iconic beach.
2. What Makes It Unique?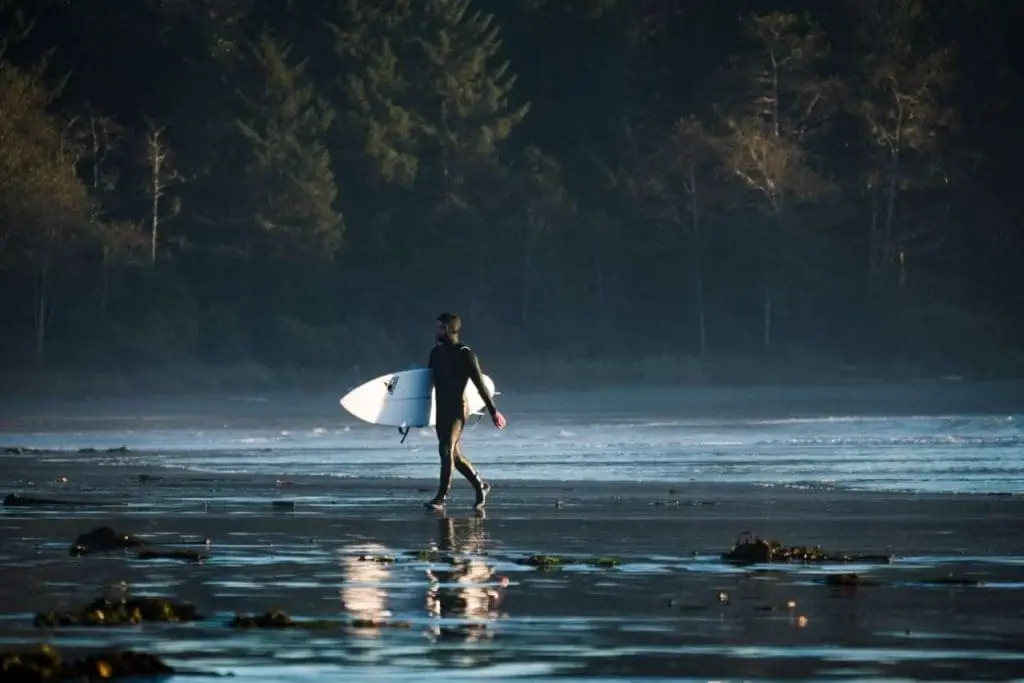 Long Beach Tofino is unique in one or two aspects, but many other factors are responsible for its popularity.
It is already the most extensive and longest beach present in the area of Tofino, but there's a lot more you need to know, so let's explore furthermore.
The long beach Tofino is 16 km long seems like it justifies its name. The beach is known for its surfing and immense marine life presence; the beach has a rocky appearance, but the sands are fine and soft.
Don't worry. You will find a few parking lots on the beach for your vehicle parking, and you need to pay a few bucks for the beach access.
Canada is already very popular for its cold winters, and the temperature doesn't get warm here. So it must leave you thinking that surfing in this cold ocean water would be a suicidal decision for you, but unfortunately, you are wrong!
The water temperature on the Long Beach Tofino is mild, and it never gets too cold or hot here, which encourages surfing all around the year. With the water temperature range falling somewhere between 7 to 15 degrees Celsius, the water feels quite lovely.
Surfing gears and lessons
If a sudden plan has landed you on the Long Beach Tofino, and you really want to try or learn surfing, then it's not a problem. You can find everything related to surfing here.
May it be surfing gear or lessons, you can rent surfing boards and even take a surfing lesson under the guidance of expert surfers. You can also enroll yourself in any surfing school and learn the basics within a few hours.
3. What Are the Things to Do?
It's an obvious question to ask because Long beach Tofino is not a place of disappointment at all.
If you are not a surfer and have been a spectator for a long time, and now you are looking for some other fun thing to do around the beach, then you can indulge yourself in:
You wouldn't want to miss the sight of whales, and hence whale watching is a must for you. You have chances of watching humpback whales, grey whales, orcas, sea lions, otters, etc. You gain complete information about whale watching here!
Storm watching is one of those wonders of nature that you won't witness every day in your life.
To experience storm watching on the long beach of Tofino, you can visit here during late fall and early winter, as this is the storm season here.
You can witness the ocean waves reaching a height of 20 feet, and the waves remain active from November to February.
The storm season attracts adventured souls, photographers, and surfers, but you will not find any snow here, even during the winters.
If you are traveling around in your RV and want to camp around in Tofino, you can park and enjoy Crystal Cave Resort, Bella Pacifica Campground, and Surf Grove. After all, there's nothing better than spending the night with your friends while camping in some beautiful places.
After your tiring journey at the Long Beach Tofino, your body demands good relaxation, and for that, you have Hot spring cove in Tofino. What can be better than this?
There's a hot spring cove in Maquinna Marine Provincial Park. For reaching here, you need to go by charter boat or float plane.
Hiking is another fun thing to do in Tofino; as you are already in Pacific Rim National Park, you have several choices as several hiking trails are present in and around the area.
Kayak around Clayoquot Sound
Kayaking is one peaceful experience, so try kayaking in the Clayoquot Sound area of Tofino without missing this fantastic opportunity. You will roam around Meares Island and have incredible views of the Big Tree Trail.
Canada's black bears are found in large numbers in Tofino, so if you are visiting for the first time and then having an experience of bear watching is something you shouldn't miss.
Visiting Competitor beaches
There are many great beaches in Tofino apart from Long Beach. Some other famous beaches in Tofino are Cox Bay, Mackenzie beach, and North Chesterman.
4. How to Reach?
For reaching Tofino, you have lots of options, and it also depends on where you are coming from. If you are from some other continent, then fly to Vancouver first. There are two airports on the Vancouver Islands named Nanaimo and Comox.
From here, you can drive around for 3 to 4 hours, and you will reach Tofino. You can also avail of the bus facility that starts from different parts of British Columbia like Vancouver and Victoria.
The best views of any city can be experienced from a road trip, and it is recommended that you rent a vehicle and start your Tofino trip because it's more convenient and a better option if you are with 3-4 people.
For more adventure, year-round ferry services are available for visitors from different bays of British Columbia.
5. Best Time to Visit!
It is said that there is no bad time or season to visit Long Beach Tofino. Every season has its beauty that never fails to entice people. And every season encourages different activities so make sure you choose the right season and activity that goes along with each other.
The weather is pleasant and more favorable, which attracts lots of people. The sunset and clear skies are something you will witness here during summer, and surfing is actively practiced. The ocean waves are mild and are the best time for beginners to learn surfing.
This is when actual surfing happens because the storm seasons are here, and the waves rise high and remain aggressive, which is an ideal scenario for surfing.
It is also considered off-season, and that means better and cheaper accommodation. Visiting a hot spring will give you a better feel than in the summer.
6. Things to Bring Along!
You can bring whatever you want, but there are a few things that you should bring along with you while visiting Long Beach Tofino.
You are visiting beach areas, and hence little waterproof stuff would do no harm and won't increase the weight of your luggage for sure. And don't forget your camera because that will help you in keeping the memories alive!
You are visiting a place where forest covers are present in abundance, and it can rain any time without warnings, and if you have plans of hiking or kayaking, a small space for rain cover won't do any harm.
Drybag is a must because more activities in Tofino revolve around water, like surfing, kayaking, boating, and even hiking because you never know when it'll start raining. Bring a waterproof bag along to keep your stuff dry.
Waterproof shoes or boots
Having a dry foot can enhance your experience ultimately because wet shoes and feet will give you this uncomfortable feeling that can ruin your happy tour. So, bring a waterproof boot along with you as it will also give you full freedom to roam freely on the sands beach.
7. Where to stay?
Staying in Tofino is not a problem at all, as you can find several hotels, lodges, and resorts nearby Long Beach Tofino.  You can book a waterfront cottage via Airbnb or even offline.
But in case you are going in the peak season, then book your rooms in advance would be best suggested.
There are numerous places for you to stay, but one is the most visited and reviewed place in Tofino, Long Beach Lodge Resort. This resort is so famous in Tofino that you can learn about it while you are doing your research before the trip or even on the way to Tofino.
The Long Beach Lodge Resort is a vast resort with twenty two-bedroom rainforest cottages and over forty luxury rooms on the beachfront.
The resort is full of natural colors and feels; it has a bar, restaurant, spa, fitness center, and all kinds of basic amenities.
You can enjoy the wild Pacific Ocean views from your bed along with sandy beaches just from your bedrooms.
You can even get beach access from your room; what else can someone ask for? You can get all kinds of information about surfing here; they also provide surf lessons apart from renting surfboards and gear.
8. Weird Things to Witness
Long Beach Tofino is a beautiful place and attracts many people every year despite having a meager population of fewer than 2,000 people. But in Tofino, you can also witness some of the weird things one body would have told you.
There are chances of witnessing seafoam; it will appear like a giant foam but would be a foul-smelling lather.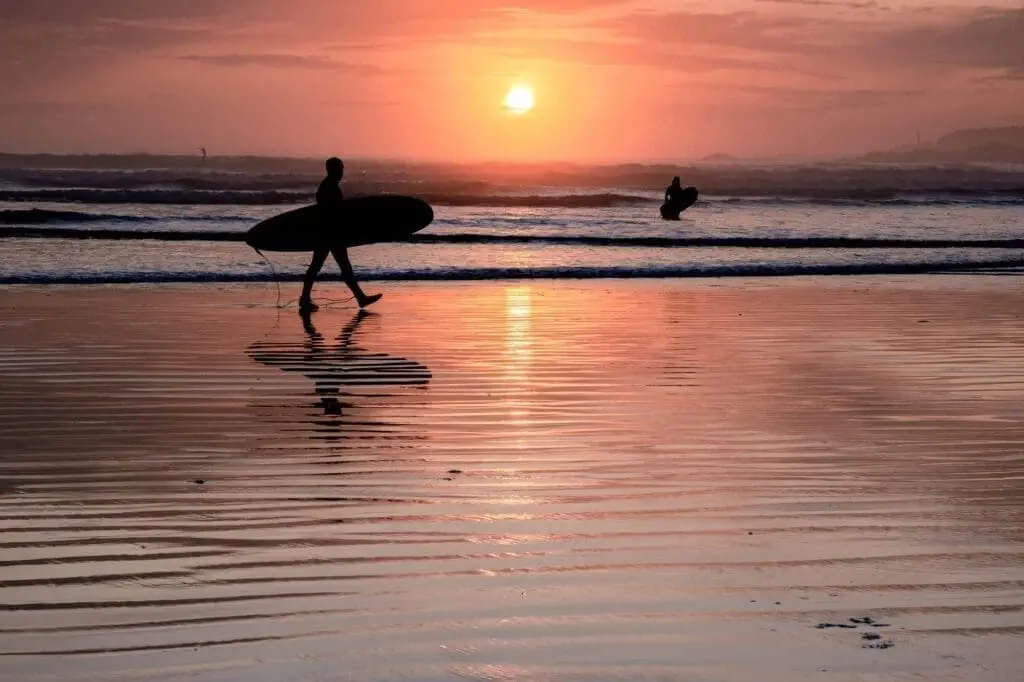 Next, you can find an item known as mermaid's purses: pouch lookalike items that carry shark eggs; and lots of surprising elements on the Long Beach Tofino.
For more information about the weird natural phenomenon you can witness around Long Beach Tofino, you can click here!
These were a few things that you should know before beginning your memorable trip to the Long Beach Tofino. It is one of the best places you may visit while you are in British Columbia. The surfer's paradise has impressive ocean views and calmness amidst the crowd.
And while you are in Tofino, learning to surf is something you should at least try once.
You can pay a visit to the Surf Sisters, a surfing school on the beaches of Tofino. It is also one of the places in Canada where the number of female surfers is relatively high and impressive.
The Long Beach Tofino has lots of other things to offer other than its high waves during winter. If you consider yourself an expert in surfing, then this is the beach that can challenge you while enhancing and sharpening your skills.
This was an article on 'Long Beach Tofino: 8 Interesting Things to Know!' if you have anything to add, please feel free to share your thoughts with us!