The Pinnacle Hotel Vancouver is one of the most prominent luxury hotels owned and run by Pinnacle international. Pinnacle international is a massive hospitality company in Canada that has been contributing to the country's infrastructure, hotel chains, and luxurious rooms for the last three decades.
The Pinnacle Hotel Vancouver is the most beautiful hotel in the heart of Vancouver, and it is none other than in the city center of downtown Vancouver. What could be any best place to open the craziest Pinnacle Hotel franchise than in Vancouver downtown.
Talking about the location in more detail, then the hotel is at 1133 West Hastings Street, Vancouver, BC V6E 3T3, Canada, to be exact. Set this location in google maps, and you are good to go.
The hotel is also named Vancouver Harbourside. It was built back in 1975, and renovations have been taking place since then to maintain the beauty and standard room service. Vancouver hotel amenities are mind-blowing as the Pinnacle Hotel is pretty famous for its world-class signature amenities.
Before we come to countless amenities, let's talk about the city view.
What to explore near the Pinnacle Hotel Vancouver?
Vancouver convention center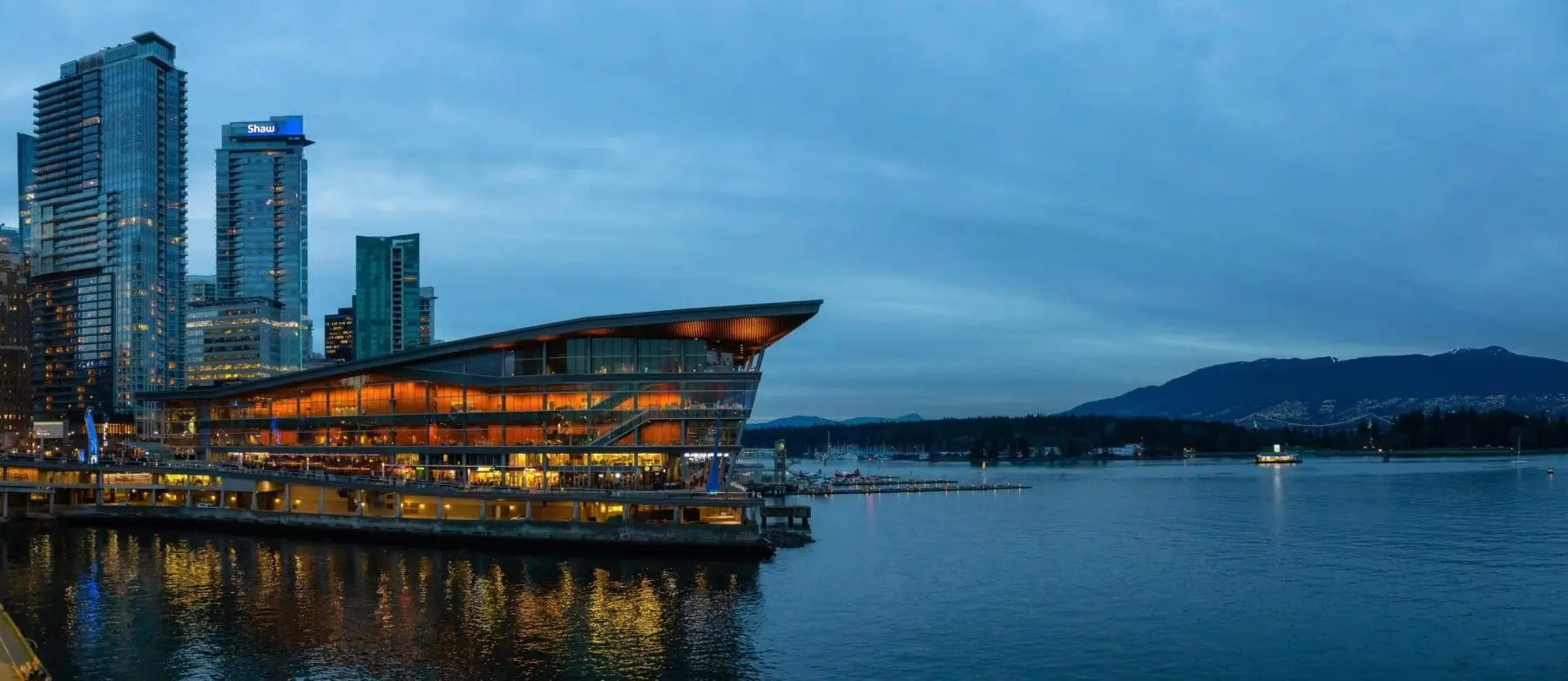 Pinnacle Hotel is in the heart of the Vancouver convention center of British Columbia. You can enjoy the north shore mountains as the hotel Vancouver is within walking distance from the Vancouver waterfront.
Vancouver Aquarium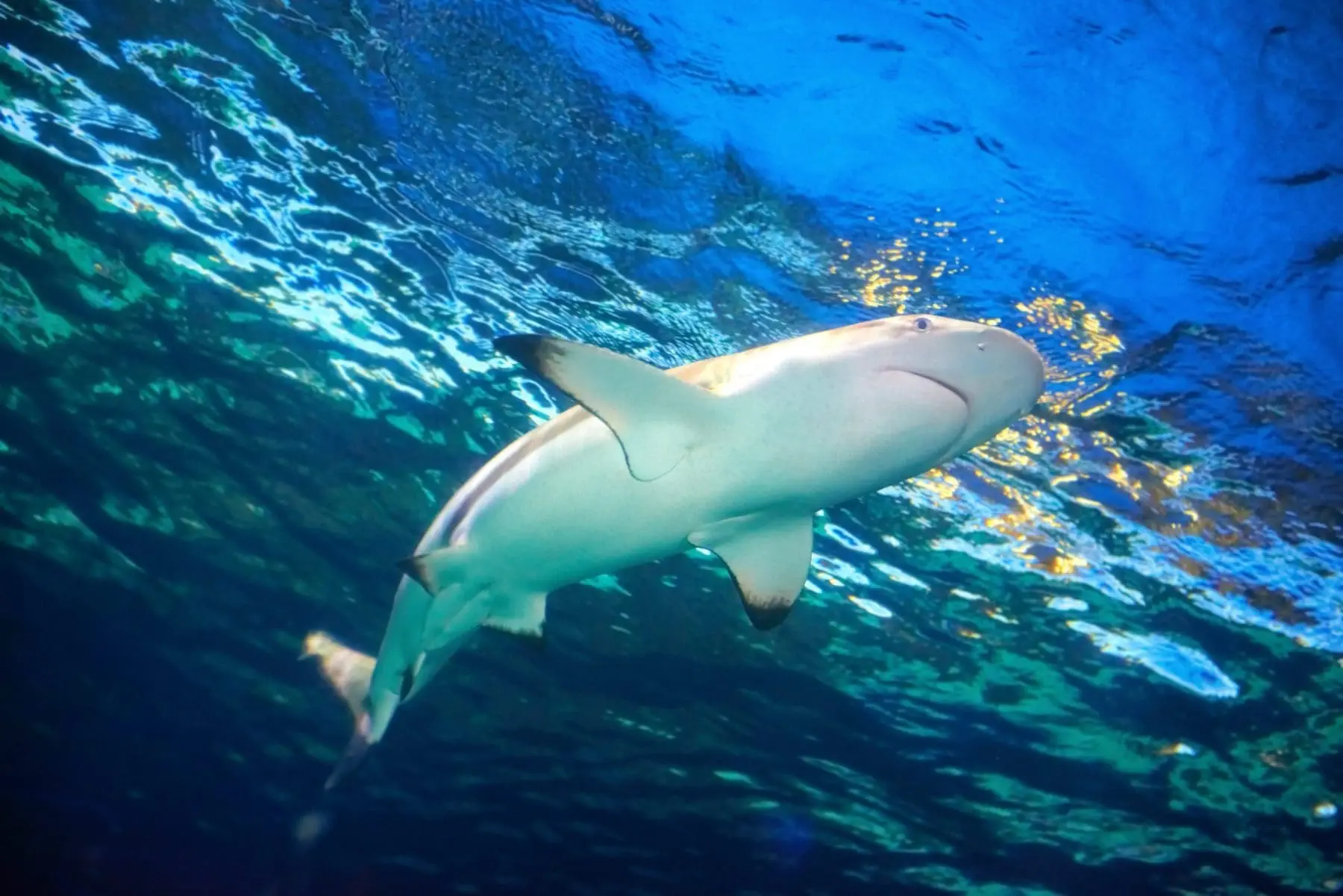 The Vancouver aquarium of very famous among tourists and is nearest to the Pinnacle Hotel. You can enjoy the harbor view and the local economy if you are from a business background.
The nearest airport and the Stanley park
The Greensboro airport is the nearest airport to the Pinnacle Hotel Vancouver. Overall I can say that downtown Vancouver is the best location for the Vancouver Harbourfront Pinnacle Hotel.
Vancouver's silver lining is that Stanley Park is also very close to the hotel Harbourfront, making it more location-friendly for tourists around the world.
Harbour green park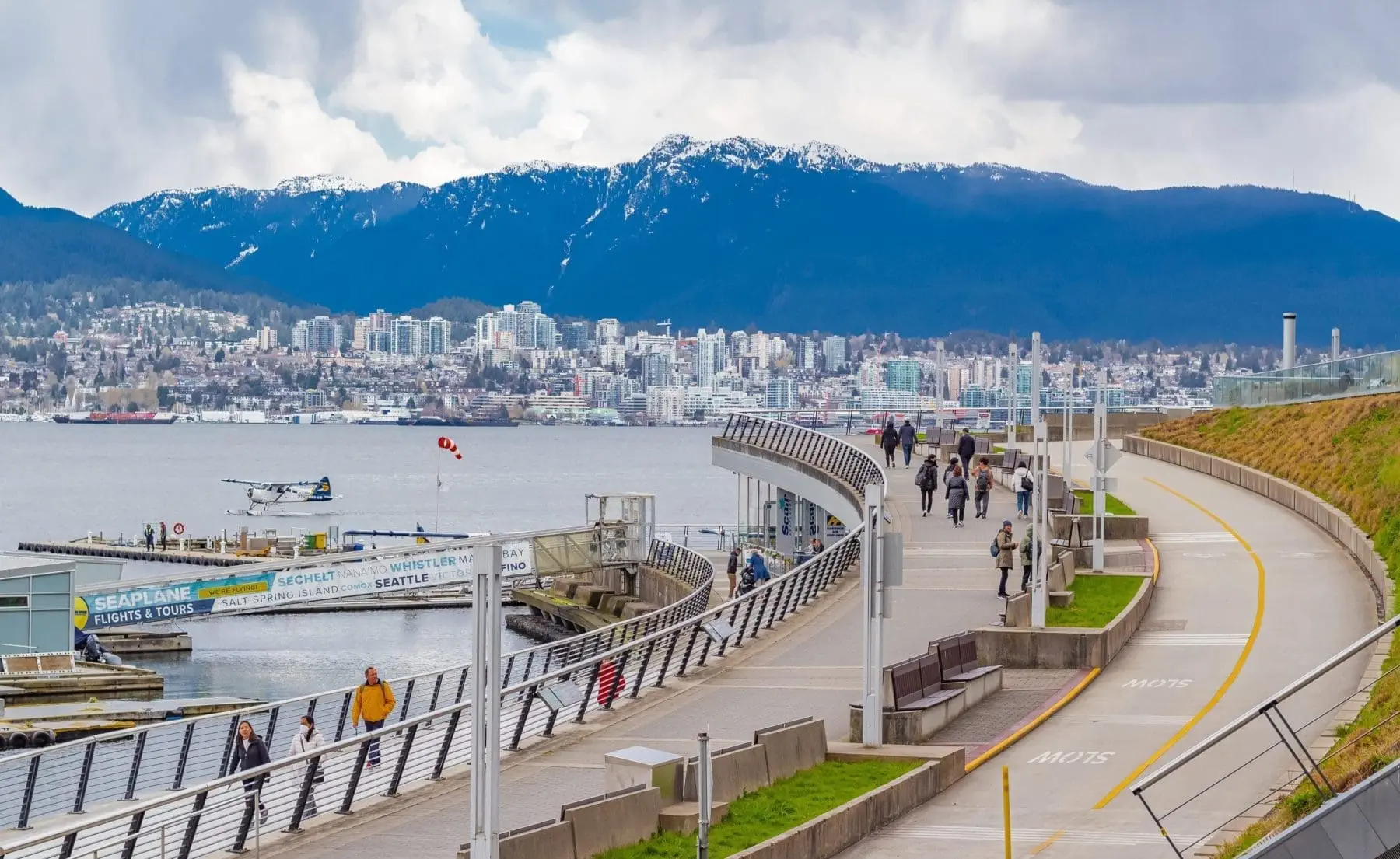 Can you believe that the harbor park is just 0.2km away from the Pinnacle Hotel Vancouver?
And for those who don't know about the green park, let me tell you guys that it's a beautiful green space with waterfall walls, lawns, and a splash pad based on the season.
Art gallery of Vancouver
Are you an art admirer? Because this art gallery is on 4min walking distance from the Pinnacle Hotel Vancouver. You don't even need to take your vehicle out and can enjoy this mesmerizing bill Reid gallery is something you should not miss.
The art gallery is filled with sculptures, statues, arts, and northwest coast art by various artists.

Even the Vancouver art gallery is just 3 min away from the bill Reid gallery, so you can cover a lot in a single day if you are staying at the hotel Harbourfront.
Canada place
If you are in Vancouver, you cannot miss Canada place because it is the heart and soul of Vancouver.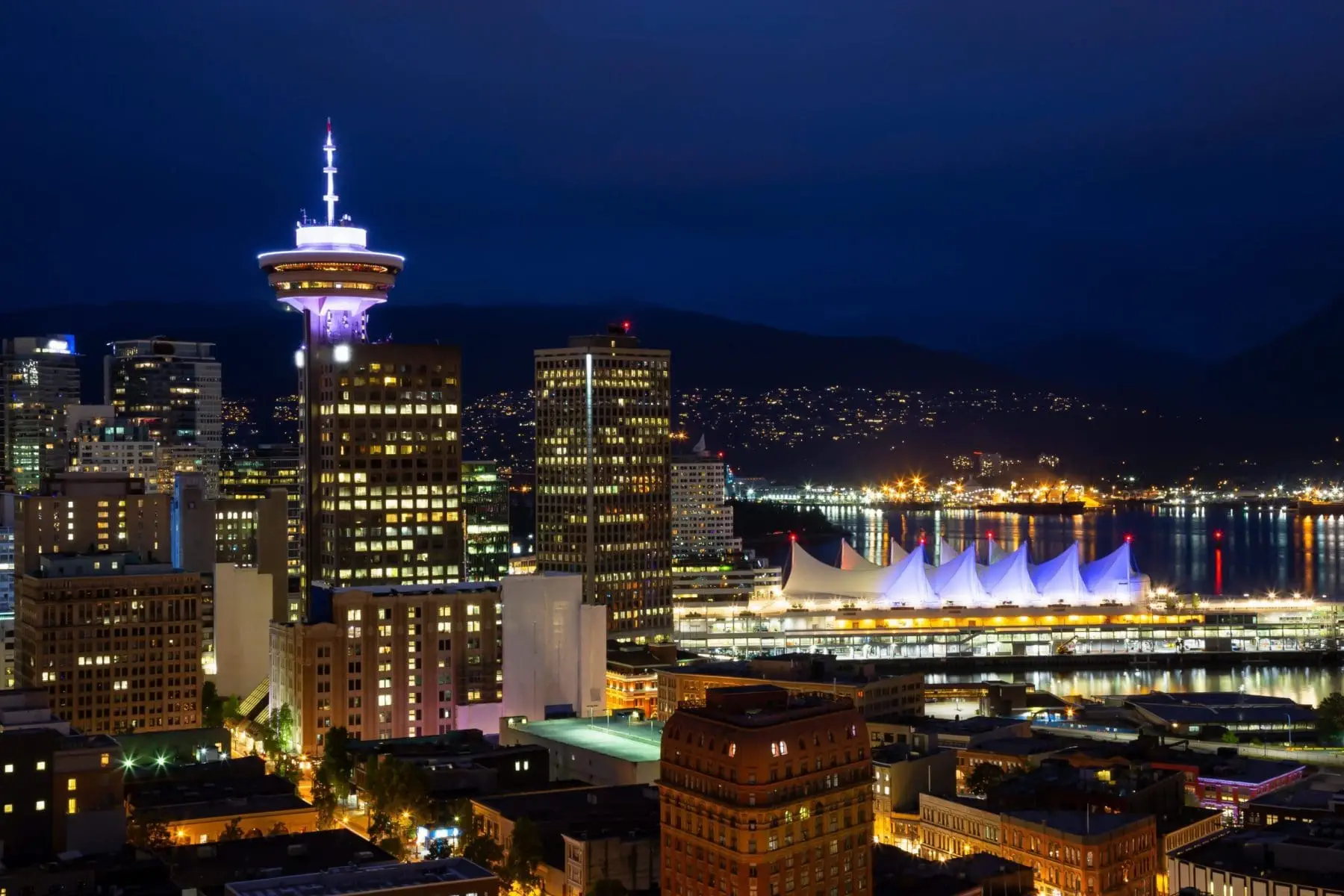 Canada place is a fantastic building that consists of:
Vancouver convention center
Vancouver world trade center
Breathtaking pan pacific hotel
Marine Building
Have you heard about the marine building in downtown Vancouver? Because if you haven't, then you should continue reading this. The building is the tallest skyscraper in Vancouver and also the most fantastic building so far.
The marine building is stunning, beautifully built with heart-dropping architecture and a killing interior.

Design is top class; the interior will win your heart. It's a worth exploring trip, and you must go there because it's just 1 minute away from the pinnacle hotel harbourfront.
Cross country skiing
Yes, you can enjoy cross-country skiing easily if you stay at Pinnacle Hotel Vancouver because the nearest skiing area, i.e., the grouse mountain, is 17min away from Pinnacle Hotel Vancouver.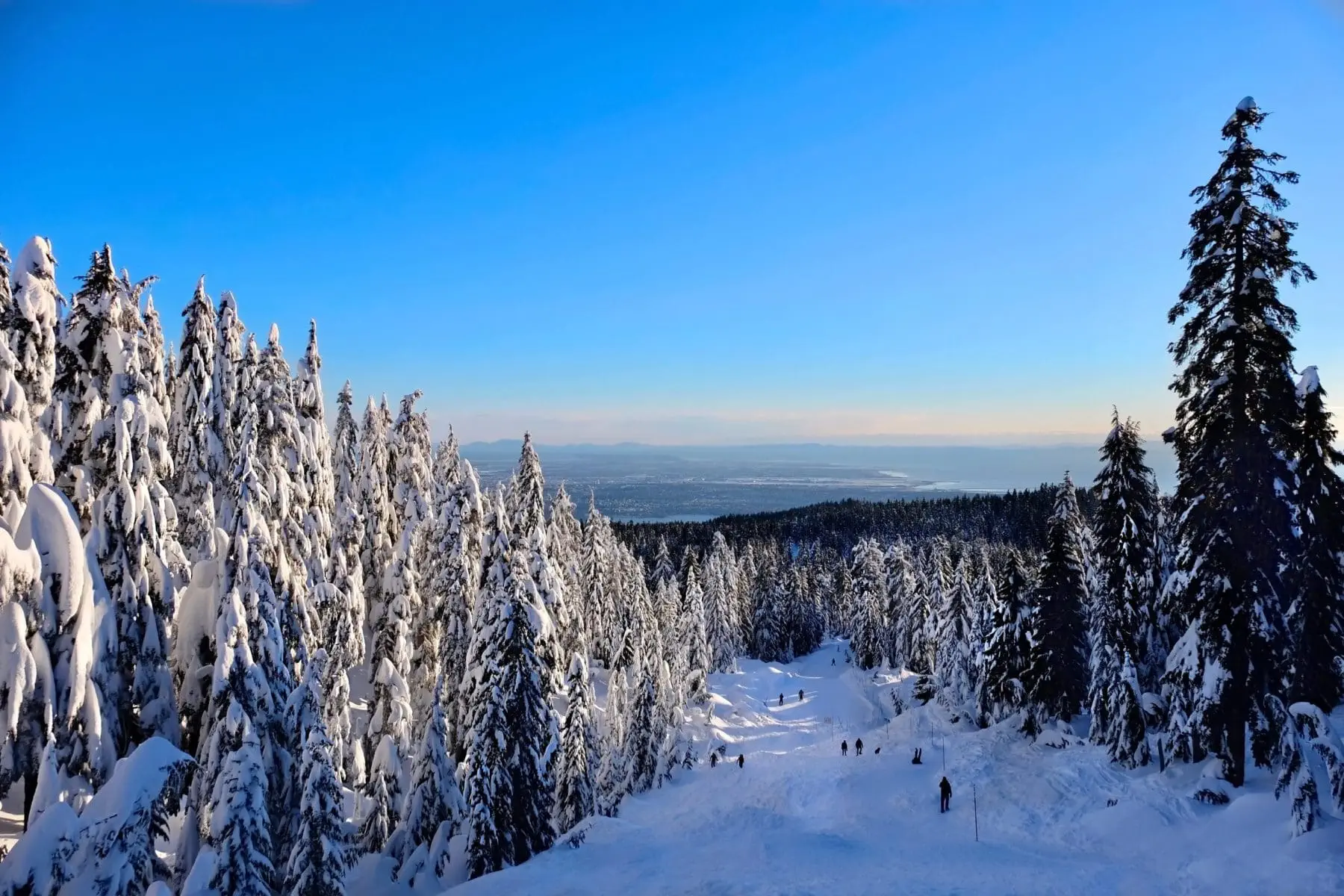 One of Vancouver's most famous and biggest skiing resorts is the Whistler Blackcomb.

I am sure if you are staying at Pinnacle Hotel Vancouver, then you definitely won't miss this resort for the best ever skiing, which is just 121km away from the Hotel Vancouver.

You can opt for the rental car facility to reach the destination or book your tickets via train, car, or even bus. Don't forget to check out the tickets online.
Let's have a deep dive into the Pinnacle Hotel Harbourfront experience.
How about we start from the typical hotel routine and what pinnacle difference this hotel owns from the rest. Pinnacle Hotel Vancouver's features are enormous and yet countless amenities.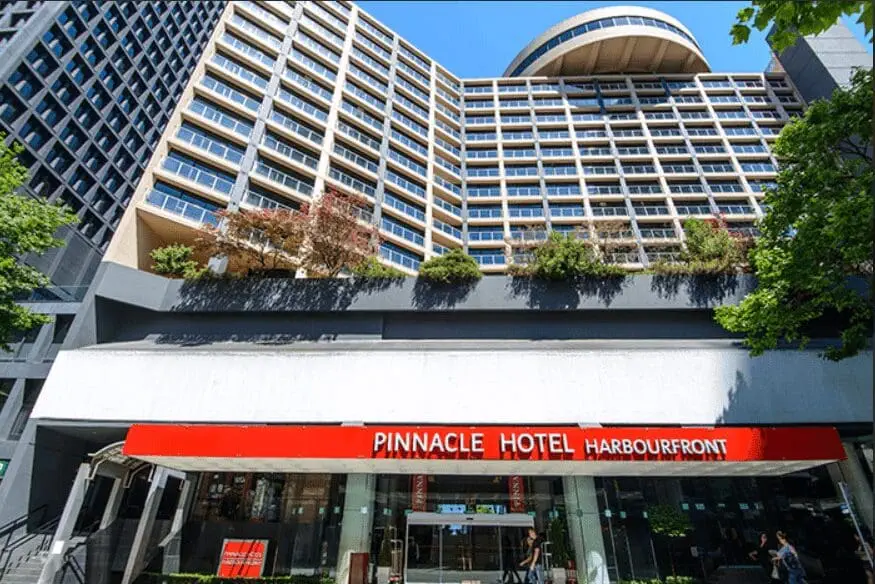 But don't worry, as I am here to bring everything about the Pinnacle Hotel Vancouver in a single article, so keep reading, readers!!
1. World-class luxury room service
What makes the Pinnacle Hotel Vancouver different is the mesmerizing dining rooms that will blow your mind in terms of interior or comfort or the royal vibe it gives.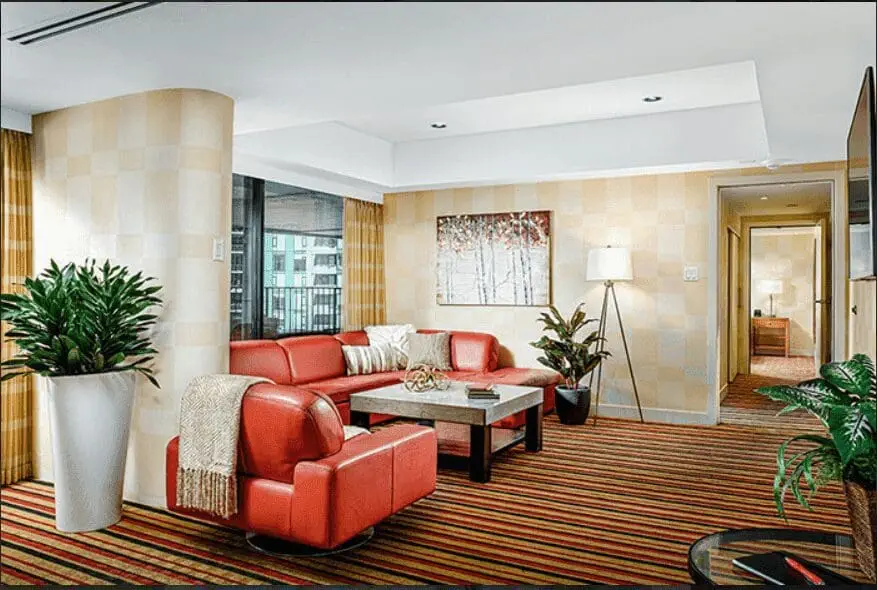 The city room is also the highlight of the Pinnacle Hotel Vancouver because the rooms are along the cityside, making it more realistic and rich.
What will you get in city rooms?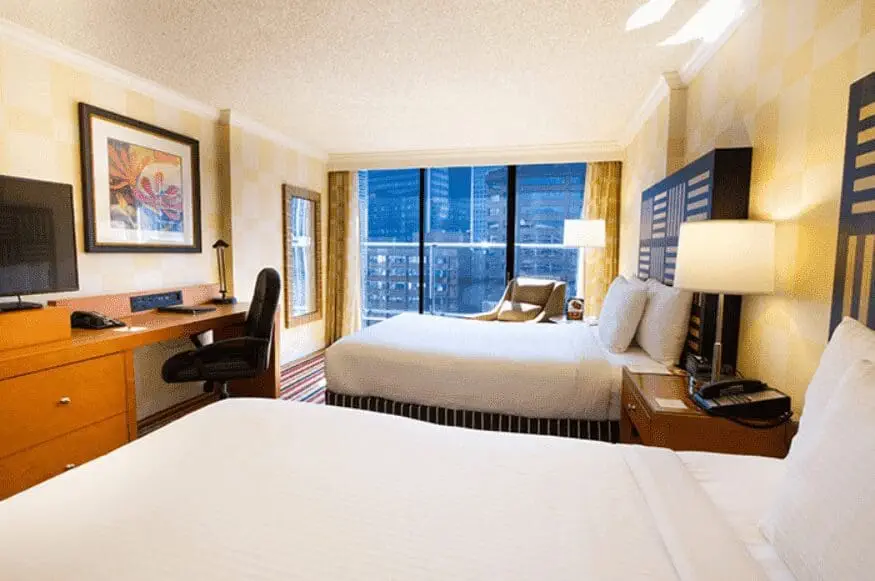 A king-size bed is perfect for three people and everything you need, from basic food and water bowls to personalized service.
Other rooms Pinnacle Hotel Vancouver hotel offers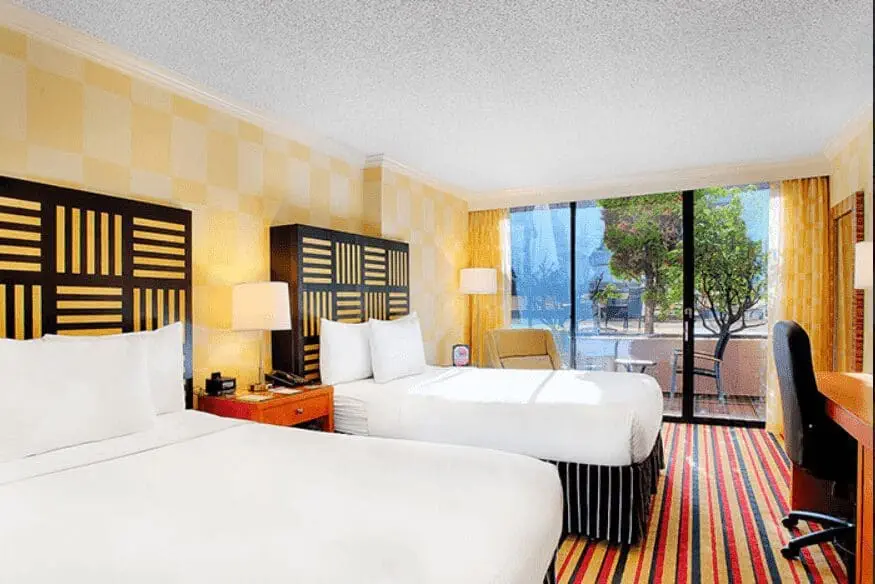 There are standard rooms, harbor view rooms, partial harbor view rooms, and the list goes on.
From Expedia's official website,  you can check out everything about the premium room and premium room services.
The Pinnacle Hotel Vancouver greets guests in the best way possible, and then you can check in. While check-in your room, you can go through hotel Harbourfront hotel details like;
Asking for extra beds
If you need room service
room food details
private bathroom and accessible bathroom
flat screen tv
Free cancellation
The Pinnacle Hotel Vancouver has set the benchmark for winning the hearts of the consumers by offering to cancel the booking free of cost.
The consumers feel no pressure and save a lot of money, which encourages them to book at pinnacle hotel as they have built goodwill with the people and in the fantastic city.
Non-smoking rooms
A very professional step taken by the hotel is to keep or provide non-smoking rooms for people or families who do not smoke.
So, if you don't smoke, you don't even need to see an ashtray in your room because you book a non-smoking room at the time of check-in.
Sanitary facilities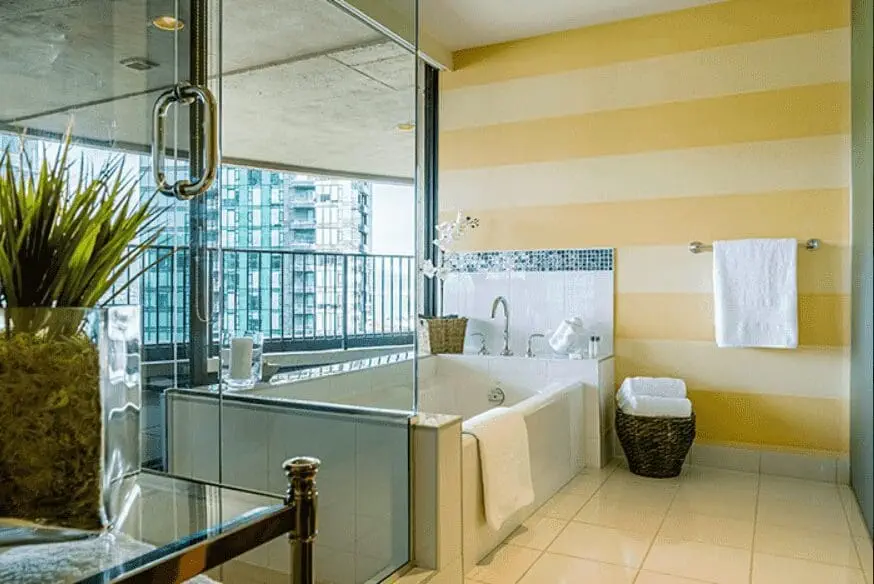 The sanitary or bathroom facilities provided by Pinnacle Hotel Harbourfront are top-class and trustworthy. Everything is well. Maintained and cleansed.
Bathrooms
Well-designed bathrooms with disinfected cleanliness are provided to the guests. The toiletries are up to date and of modern design that will match everyone's standards and expectations.
There are private bathrooms because the hotel cares for your privacy.
Other amenities
You will get a hairdryer in your bathroom no matter which suite you book. The shower or bath systems are installed in the bathrooms and also towels which are very new and clean.
Hair dryer
Every room has complimentary hair dryers that you can use without any additional charges. It is entirely free to use. 
Hand sanitizer 
All the rooms and guests' meeting or waiting areas have a proper sanitization system so that everybody's safety is ensured. 
Room Service 
Pinnacle Hotel has achieved the best reviews for its room services and never fails to meet the expectations of the guests. The room service is available 24/7, so if you are a night owl or early bird, you can order anything anytime.
2. Complimentary high-speed Wi-fi
Yes, you read right, pinnacle hotel Vancouver has complimentary high-speed wi-fi for their guests, which is an excellent reason for the popularity of pinnacle hotel Vancouver.
Every guest expects free wi-fi, and pinnacle has made it real by providing free wi-fi right from the time of check-in to the check-out times.
Guest reviews are critical in such a situation, so I advise you to go through the review written by the guests of the hotel Harbourfront before check-in. And I am sure they will be positive and yet informative.
Phone charging station
The Pinnacle Hotel in Vancouver is equally advanced in terms of technology and has won the hearts of its guests by installing phone charging stations everywhere in the hotel.
The Pinnacle Hotel is not only advanced in hotel amenities but has also technologically developed to provide high-class services to its guests.
3. The Pinnacle Hotel Vancouver's in-out privileges
S0, in-out facilities are something guests crave because they want their cars to travel around the city, but because of paying for parking, again and again, they can't do that.
But, the Pinnacle Hotel Vancouver has made things easy for their customers because with this feature now, you can take your vehicle in and out without paying every time.
You just need to pay once for the parking, and you are good to go anywhere and come back to the hotel. To know about parking costs and van parking check out their official website (scroll down to parking subhead) and get insights.
4. Get the indoor pool access
A hotel becomes more beautiful when there is an indoor pool for the guests, and the Pinnacle Hotel Vancouver has the best pool in Vancouver downtown. The Pinnacle Hotel amenities are worth experiencing.
The pool gives very luxurious vibes and satisfaction at the same time. The pool has the best harbor view and is children-friendly with its shallow water facility.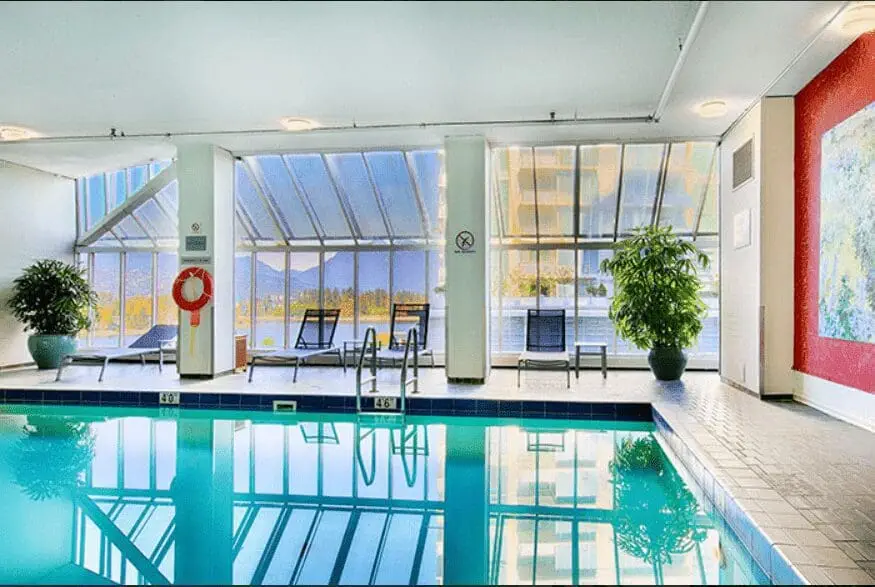 The Pinnacle Hotel Vancouver also provides personal protective equipment, which is an essential element, and that is how the pinnacle wins the heart of its guests.
You can also have access to the hot tub of the hotel Harbourfront; trust me, it's the best feeling about staying in the Hotel Vancouver.
5. Be the first to taste the first-class cuisine
The Pinnacle Hotel Vancouver is not only famous for its spectacular desk staff and personalized services but also quite famous for its first-class cuisine.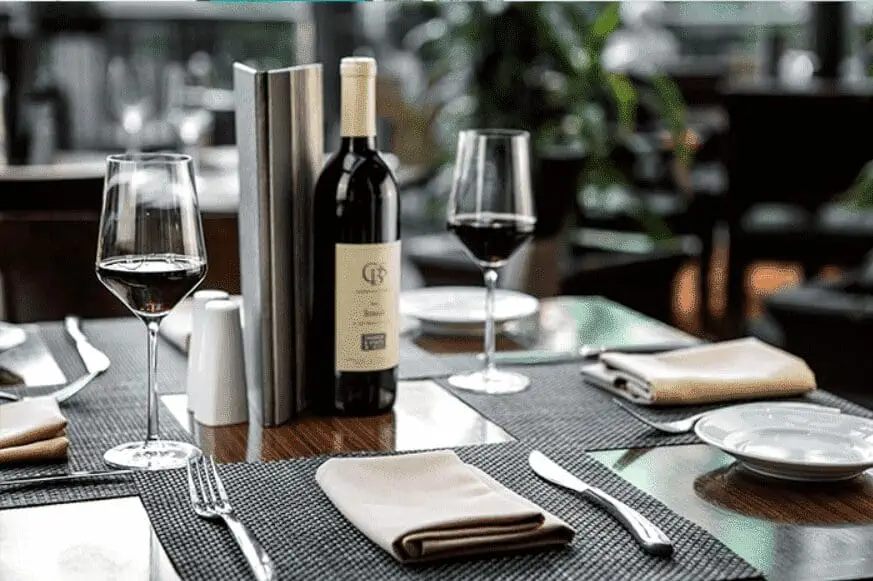 When you get your room, you will be offered complimentary breakfast every morning until your stay is completed. 24/7 room service is available, which guests can use anytime.
Other than this, Pinnacle Hotel Vancouver owns a beautiful restaurant, a bar, and a common coffee area available for everyone staying in the hotel.
On-site restaurant
The hotel is incomplete without the on-site restaurants, but the Pinnacle Hotel in Vancouver has passed this too with an on-site restaurant. So everything is made under the premises, which enhances the hotel amenities.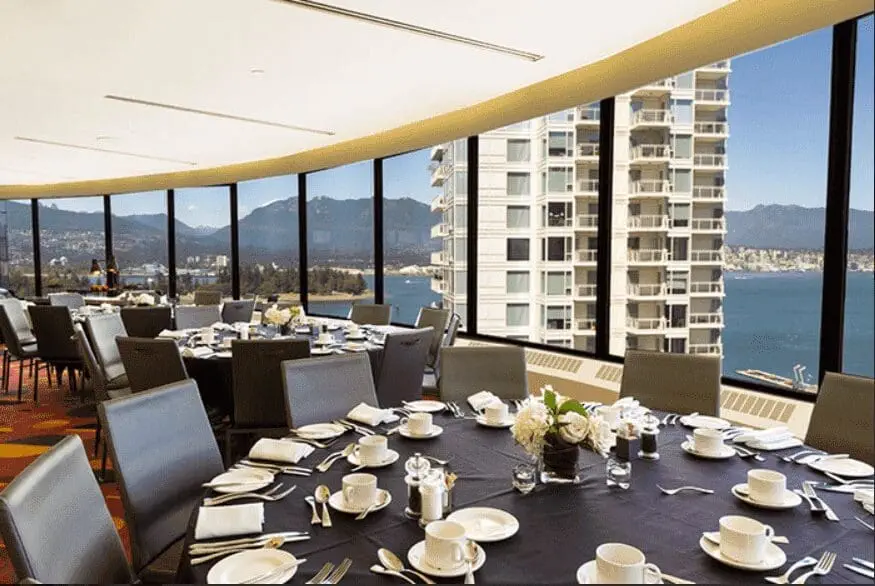 Pinnacle Hotel Vancouver owns an on-site restaurant that excites the guests in terms of interior, extensive menu, best American cuisine you could ever taste, and a fantastic buffet.
The restaurant will give a really authentic and natural taste as everything is built within the hotel's kitchen. You can trust the taste of everything cooked here, and it's a scarce experience to have once you are in the Vancouver harbourfront hotel.
P2b bistro bar
One of the famous places to dine is the p2b bistro of Pinnacle Hotel Vancouver. The bistro bar is famous for its fantastic cuisine offered by it in all breakfast, lunch, and dinner.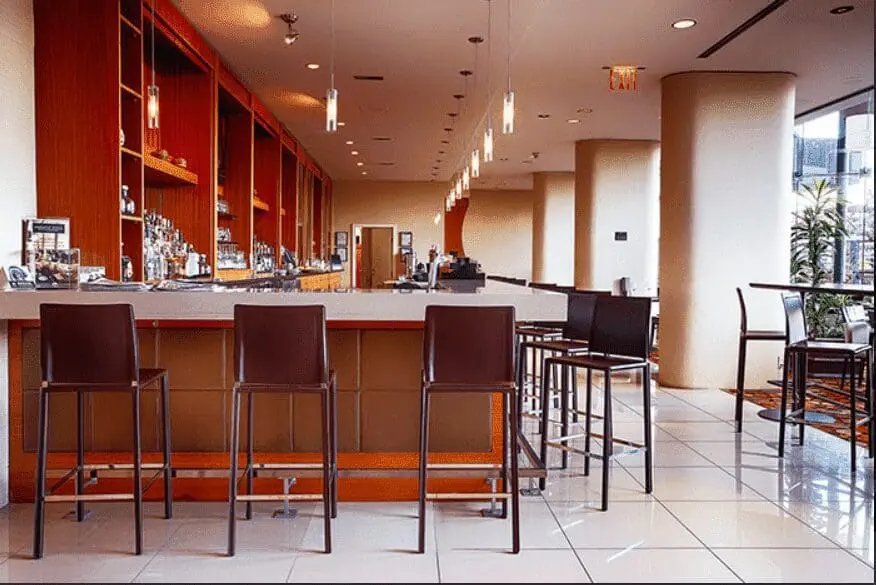 Pinnacle Hotel Vancouver owns the bistro bar, and it is the hotel's silver lining because of the natural yet local ingredients used by the kitchen and the beautifully presented simple menu.
The p2b restaurant is inspired by the Westcoast taste and food, which can be a different experience but definitely worth trying. Book your table in advance online through their website to avoid last-minute stress.
6. Pinnacle cares about your fitness
A hotel's amenities are incomplete if there is not a standard gym that not only offers a professional fitness center but also up to the guests' high expectations.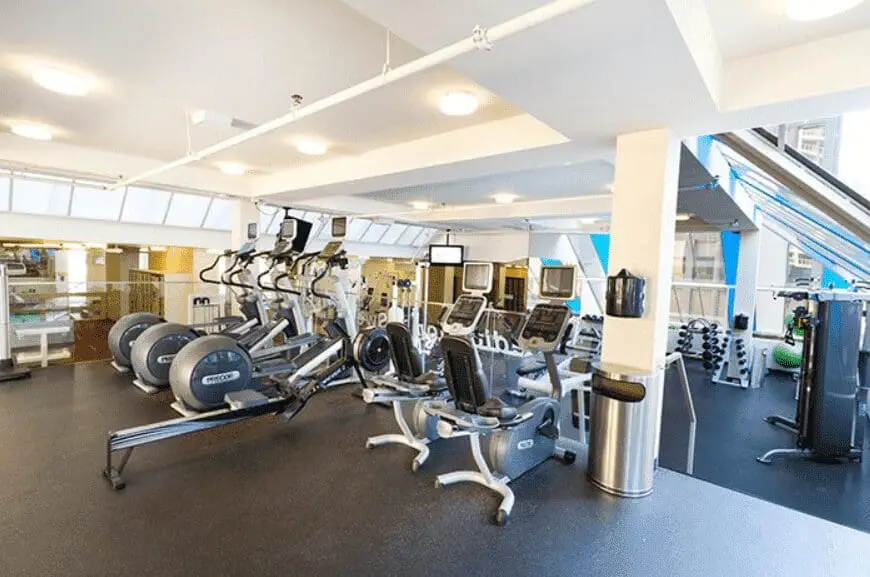 The Pinnacle Hotel harbourfront fitness center is everything a fitness freak person needs. The gym provides onsite fitness training according to your requirement.
Their fitness center is well maintained with high-quality equipment like;
Stretching balls
Treadmills according to your convenience
stationary bikes
warmup areas
The gym is open from 5 am till 11 pm, so do your workout early in the morning or late at night. It's all perfect.
Health and fitness center
The hotel's 4th floor is dedicated to a health and fitness area where you can do all sorts of exercises and training.
It includes cardio tools, treadmills, and professional trainers, which will guide you throughout the workout. It isn't a fun experience to have with the beautiful view of the Vancouver convention center.
7. Pinnacle Hotel Vancouver is pet-friendly
How many hotels do you know that are pet friendly? I am sure there are not many, but the Pinnacle Hotel Vancouver is for sure pet friendly. Yes, that means that you take your lovable pets with you to the hotel.
They not just allow you to take your pets with you but also offers pet amenities for your cute little pets. The hotel charges fees for letting pets in.
The facilities the hotel offers include
A comfortable bed

Food bowls

Cleaning facility for pets
The amenities given are based on availability, so inform the hotel about your pet before your arrival or check-in so that the staff gets ready to service animals and welcomes your pet and your family equally.
8. Payment facilities of Pinnacle Hotel Harbourfront
Let's start with the minimum age of check-in at the hotel, and it is 19years, so if you are 19 or above, you can stay at the hotel and enjoy the amenities offered.
Now, the hotel, or you say property accepts credit cards, so you don't have to bring cash everywhere.
There is an on-site ATM in the Pinnacle Hotel Harbourfront for the convenience of the guests. Guests do not have to go out and look for ATMs outside since the hotel has an inbuilt ATM facility in-house.
Don't worry if you don't have Canadian dollars because the Pinnacle Hotel Harbourfront also has a currency exchange facility for their guests. It is a massive help for tourists who come here to stay.
9. Car rental facility
Most of the tourists come from really far places, and therefore they find it difficult to get cars to rent to travel around the fantastic city, but you won't face such a problem if you stay at the Pinnacle Hotel Harbourfront.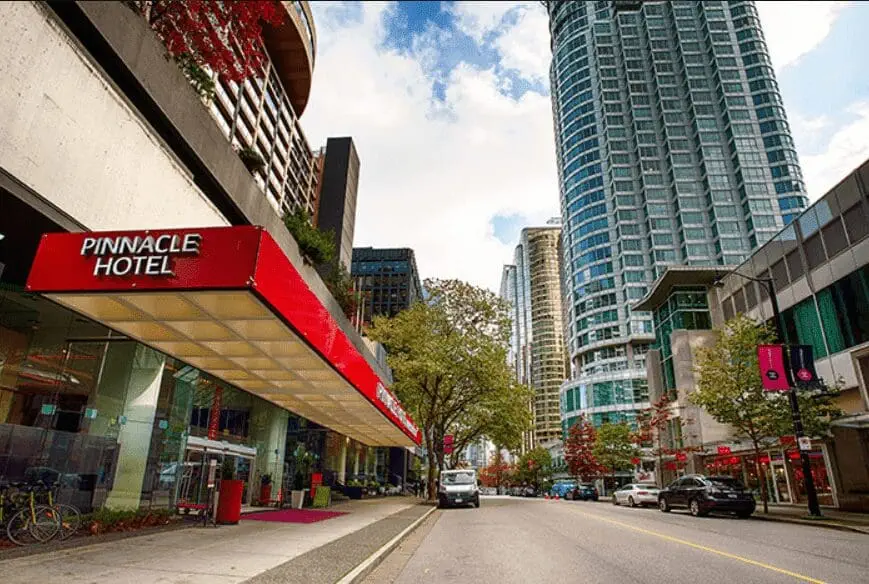 scroll down to the classique car rental subhead and get every information you need about renting out a car from the hotel without any hustle.
10. Electric bikes at the rental lobby
If you want to feel the fresh air and enjoy the open sky, you should try the rental electric bikes facility offered by the Pinnacle Hotel Harborfront.
You can book your ride through this link which is official, and you are all set to explore the nearby places like Stanley park or the beaches of downtown Vancouver.
11. Special guest service
The Pinnacle Hotel  Harbourfront will never disappoint you in any way, and here it is with an exceptional amenity for their guests, i.e., guest service.
You can contact the staff here while booking your stay, and they will help you with everything right from selecting the rooms to finding places to;
shop

travel

explore nearby places

transportation

dine in
Don't forget to inform them in advance or contact them beforehand because all the arrangements take time.
12. Business-related amenities
The Pinnacle is best if you want a professional meeting to be held or organize an important meeting.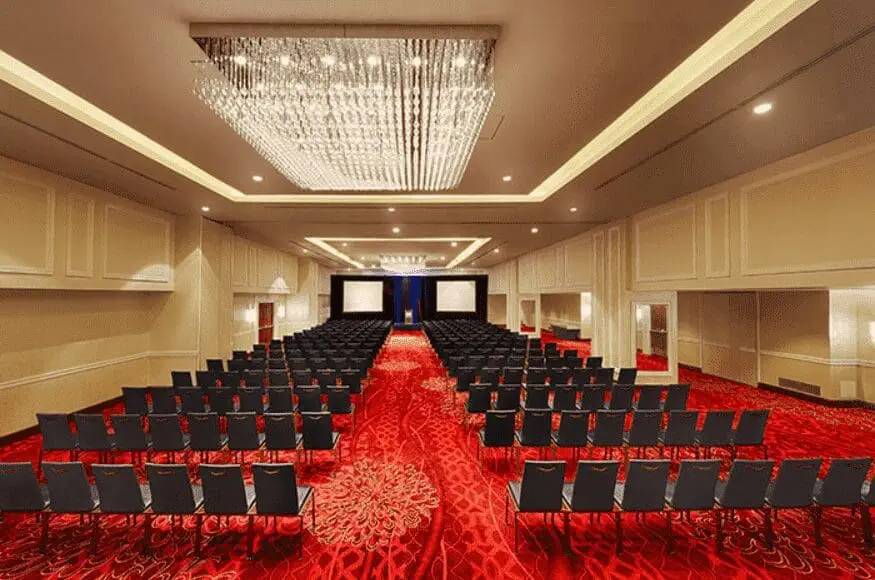 It got really big and well-designed conference rooms and meeting areas where many business deals take place every day and end successfully.
The rooms and the conference meeting halls are soundproof, a professional and efficient amenity offered by the Pinnacle Hotel.
13. Other services offered by the Pinnacle Hotel Harbourfront
The services and amenities the pinnacle offers are never-ending, as you think of something that should be there and it will be there in the hotel amenities.
Luggage and laundry service
There will be luggage storerooms for your bags and all-important stuff, which the staff will take care of, and you don't need to worry about your stuff.
When are you on vacation or traveling? Who wants to do the laundry? Right.
Therefore, the hotel amenities also include laundry services, especially for the guests, which are worth spending money on.
Dry cleaning and housekeeping are done every day.
If you are conscious about your clothes, then the dry cleaning service is also given by the hotel, which you can utilize efficiently.
Moreover, to maintain hygiene and cleanliness, housekeeping is done every day. So, the hotel is entirely trustworthy in terms of hygiene and cleanliness.
Wedding services are offered too.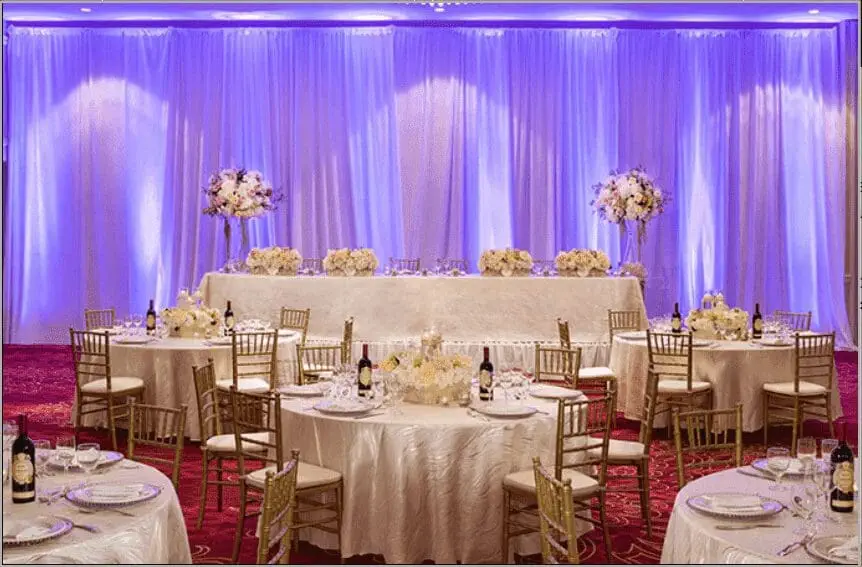 The Pinnacle Hotel is very famous for big lavish weddings because of its fantastic interior and decorations, including the services provided by the hotel and staff.
24/7 hour desk service is provided
Any big hotel needs to provide desk service to its customers anytime they need it. The Pinnacle Hotel harbourfront has never failed to provide you with top-class service at any time of your arrival.
Staff is Multilingual
When there are customers from around the world, it is essential that the hotel has the required staff, the Pinnacle Hotel has multilingual staff, so if you are here next time, maybe you get a person talking in your native language among the staff.
It isn't easy to find all the essential information in one place, and therefore I came up with this article. I hope you find everything you need to know about the Pinnacle Hotel Vancouver. Do share your thoughts or any other facility you know.
If you like this article, then here is a link to a similar article you might like.
Suggested Reads
If you loved his article and you want to read similar articles here's a link for you to explore, read, and enjoy Best Luxury Car Rental Vancouver.