Tofino BC is one of the most favored tourist spots in Canada. It is a small isolated coastal community on Vancouver Island. Its vast beaches, temperate weather, and laid-back atmosphere make it one of the most popular places in British Columbia without a doubt.
This place deserves a special mention for a lot of things. If you are someone who hates the chaotic city life and desperately needs a break- Tofino BC is the perfect ocean getaway for your weekend.
Located on Vancouver island's west coast, Tofino is a secluded place where people mainly come to sit back, relax, and unwind themselves in the Pacific Rim National Park. Simple things like experiencing the majestic sunset on the various beaches or surfing on the waves are bound to give you immense joy!
It is a tiny town, and there is just one main road, and the shops are lined along both sides of the way. The local food scene of Tofino BC is worth mentioning too!
Since this place is on a peninsula- there is water everywhere. The town mainly thrives on tourism and water activities like surfing, kayaking, or a boat trip.
Most Canadians choose Tofino as a weekend getaway trip. So I'd recommend giving this short trip a minimum of 2-3 days so you can explore and get to know the scenic beauty at a whole new level.
Today I will give you a detailed guide to Tofino BC. So let's get started!
How to go to Tofino BC
The two nearest airports to Tofino are in Nanaimo and Comox. Tofino is about 3 to 4 hours drive from these two airports. You will be able to find a lot of car rental companies just outside the airports.
There are daily flights to Nanaimo from both Calgary and Vancouver. You will be able to find flights to Comox from Edmonton.
Daily bus services to Tofino are readily available from the capital city of Vancouver and most of the Vancouver Island community for that matter of fact.
The direct journey of Vancouver to Tofino takes around 6 hours. You need to take a ferry from Horseshoe Bay to Nanaimo. Then it is a 3-hour drive from Nanaimo to Tofino.
It will be best if you start from Qualicum near Nanaimo. It is indeed a remarkable journey through the Pacific Rim National highway, which is also known as Surf Highway of Canada.
The best time to visit Tofino BC
Tofino experiences quite pleasant weather all year around. The winters aren't too harsh compared to other parts of Canada. June to September is the peak season for a trip to Tofino. If you want to try out water activities like kayaking and surfing, then I'd recommend you to visit around July and August.
Winter here starts from November till April. Through Tofino can get a bit chilly at that time- it is the best time for storm and whale watching!
Where to stay in Tofino BC
There are a lot of cozy hotels in the heart of the town, but as you explore the place, you will discover some hotels on different beaches just 10-15 minutes away from the city center.
If you are okay with the money issue, you can go for Pacific Sands Beach Resort or Long Beach Lodge Resort. Both of these properties are lovely, standing on the beach. These are indeed the best if you want the ocean to be on your doorstep or just want to watch the sunset on the dock.
If you are traveling on a budget, Cox Bay Beach Resort is an incredibly pleasant place with excellent views of the ocean. Apart from this, there are a lot of guesthouses where you can stay and enjoy this heavenly place in the same way!
Best things to do in Tofino BC
Located on the Pacific coast, Tofino is surrounded by temperate forests, coves, sunny beaches, and blue lakes. A weekend or just two days is the exact right amount for a Tofino BC trip.
1. Walk along the Long Beach
The Long Beach is a part of the Pacific Rim National Park and is the center of attraction of Tofino BC. This beach extends for 16kms and is incredibly wide when the tide is out. Go for a walk with your partner holding hands or just sit and watch the waves.
Also, Long Beach is an extremely famous spot for surfing as well as hiking. The Incinerator Rock, which is a huge rock island and a sightseeing spot, can be seen from a distance on this beach. You can find parking lot locations on the City of Long Beach website.
2. Go surfing
Tofino BC is known as the surfer's paradise. It is indeed the surf capital of Canada.
If you go to Tofino and come back without trying your luck at surfing, then you have committed a crime!
Chesterman Beach is the ideal beach to surf. Whether you are a newbie or an experienced surfer, the rolling yet gentle waves of this particular beach are for everyone. Even if you have never tried to surf before, you will find a lot of instructors giving lessons on the beach! Don't have a surfboard? Don't worry. Tofino has got you covered! You can rent them at the shops in the little town.
3. Go hiking
A lot of hiking trails are accessible from Tofino BC. The most prominent characteristic of the hiking trails of Tofino and Ucluelet is that they are comparatively shorter than the other trails of Canada.
Forests on all sides surround the place. Hiking through those old Western red cedars and Douglas Firs of these forests is indeed a once in a lifetime experience.
Some of the most famous trails of Tofino are South Beach Trail And Schooner Cove Trail.
4. Enjoy the food scenes of Tofino BC
There are a lot of good local foods to try out in Tofino. The first I'd suggest is Tacofino. Tacofino is a food truck located in the heart of the town. You must try out their fish tacos, which are a staple of Tofino and caesar salads!
Rhino cafe, which is located in the heart of the town, is a charming place to go for a date! Don't forget to grab the special doughnut of the day before you leave.
Other special mentions are Wolf in the Fog and The Hatch.
5. Try out Tofino Brewing Company
What can be more impressive than a place that offers handcrafted local beer? This brewing company is a local favorite that provides a lot of snacks and craft beer.
The different ales here are indeed a must-try.
6. Go on whale watching and bear watching tours!
Exploring the ocean is a big part of a Tofino trip. Whale watching tours are a highly rated activity in Tofino and continue from March till October. Jamie's whaling station is one such famous whale watching tour operator. You can see plenty of grey whales, sea lions, orcas, and even humpback whales in summer.
Similarly, bear-watching tours are a thing in Tofino BC, and you will find plenty of trip advisors offering you guided tours. The infamous black bears of Canada are found in plenty here.
Tip: The bear-watching tour is not an option if you visit in winter as bears go into hibernation.
7. Experience storm watching during the winter
One of the most remarkable things to do in Tofino BC is storm watching. This mainly takes place during the winter but can also occur in the late fall. It usually rains during winters in Tofino, which leads to storms frequently.
The wave can sometimes rise to 6 feet, and it shows us how powerful the Pacific Ocean can get. Get all cozy in your waterproof jackets and experience this pure bliss sitting on the docks of your hotel.
8. Enjoy sunset at Cox Bay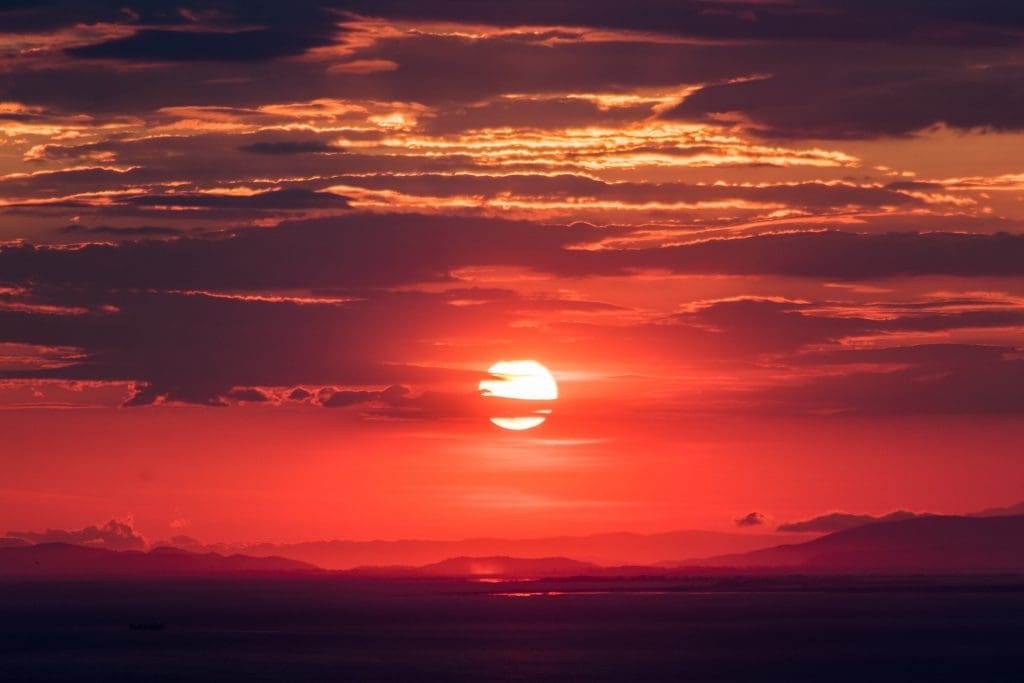 One of the best places to experience the mesmerizing sunset of Tofino is Cox Bay. There is even a secret trail that leads up to a hill and watching the sunset from up there can be a moment of sheer joy!
The sunsets of this place are epic and dramatic. Though every beach in Tofino BC offers fantastic sunsets, Long Beach and Cox Bay sunsets are highly recommended by tourists themselves.
You won't have a problem finding a parking lot at all. You will find not one parking lot, but many around the beach. The parking lot services are free. The parking lot on the northern end has washrooms and showers. The main parking lot is further down the highway to Maltby Road.
9. Relax at the Hot Springs Cove
Hot Spring Cove is a short trip away from Tofino. It is home to a lot of sea birds and whales as well. You hike through a rainforest trail of 1.5 km following the cedar blackwood. This path will take you to a series of enchanting hot springs. Soak yourself in the sun and enjoy the views of the cascading waterfalls and Pacific ocean.
Tip: Get a tour guide that will offer a combination of whale and bear watching tours along with the Hot springs cove. It will save you a great deal of money.
10. Explore Tofino's Botanical garden
Tofino Botanical gardens are a classic combination of nature and art!
The beautiful garden and parts of the forest are surrounded by precise artwork and woodwork. Some of these stand out to be unique, and others are so identical that they get blended into nature. The Spring season in this garden is fantastic as you can experience the different colored rhododendrons.
Visit this garden to get in touch with nature and also look into the vegetables, herbs, and flowers of Tofino.
11. Admire the works of Eagle Aerie Gallery
This gallery can be easily located on the main road of Tofino BC. It features intricate details and the colorful works of Roy Henry Vickers. Even if you don't want to buy anything, it won't be a problem. Just visit this place and gaze at the beautiful works of the artist. The jobs are all about the wildlife and the scenic beauty of the west coast.
11. Clayoquot Sound
Tofino is a major inlet for Clayoquot Sound. Clayoquot Sound is a beautiful body of water on the west coast of Vancouver Island. Clayoquot Sound has about twenty salmon farms. Clayoquot Sound is known for ecotourism in the surrounding rainforests.
12. Wild Pacific Trail
Wild Pacific Trail runs along the reefs of the Vancouver Islands. The Wild Pacific Trail has a loop starting near the lighthouse. It has another path 5 km north of Big Beach Park. Wild Pacific Trail is a great location to photograph the shipwrecks and vistas of the ocean. Wild Pacific Trail also has wheelchair access. Bird watchers, hikers and photographers love the Wild Pacific Trail.
13. Tofino Resort Marina
Tofino Resort Marina provides a waterfront hotel accommodation service. At Tofino Resort Marina, you can go paddling, surfing, and bathing in hot springs. The Tofino Resort Marina is the only one on the west coast of Vancouver. Executive chef Terry Somerville serves heavenly delicacies in the 1909 Kitchen at Tofino Resort Marina.
14. Mackenzie Beach
Mackenzie is a sheltered beach in Tofino. Mackenzie beach is quiet, tranquil, and great for family vacations. Cliffs and rocky headlands lie on both sides of Mackenzie beach. Mackenzie beach also has a small bay at the south end. Swimming and kayaking are some of the many fun activities to do on Mackenzie beach.
If you are a fan of quiet relaxation, you can stay in hotels known for having a hot tub and other luxuries. Hotel Zed Tofino, Ocean Village Beach Resort, and Bayshore Waterfront Inn are known for their hot tub service. Ocean Village Beach Resort has an indoor pool and hot tub. Hotel Zed Tofino has a hot tub and sauna nestled in the forest. Water's Edge Shoreside Suits also has a hot tub on the terrace.
Apart from all the things mentioned, there are still endless sights to see and things to enjoy. Embark on this journey of beauty and see for yourself how beautiful the place is!
What are your favorite places or things in Tofino BC? Let us know about your experience down in the comment!
Hey, wait!
Sign up to our newsletter and get exclusive discounts!
Want exclusive deals and discounts? We have just the list for you, from web hosting deals to your next Zara purchase.
Get how-to guides to shopping online, starting essentials to launch your business and general life hacks. And get additional discounts when you use our content writing services. Know more here. 
Enter your email address to sign up for our newsletter!