Wondering what amazing things to do in Tofino? How to spend your time there? Then seek no more, as we are here to save your day.
Tofino is a beautiful town on the west coast of Vancouver Island. Surrounded by unique natural beauties, oceans, old-growth forests, and abundant wildlife, Tofino is a popular tourist destination.
It is an all-season destination. It doesn't matter which season you choose to visit. Tofino will always be at its best, all bright and beautiful.
There are endless ways to explore this beautiful town. Whether you are feeling adventurous or not, Tofino has amazing things to do for every mood.
During the summers, people mostly visit to spend some soothing & relaxing time on the beaches (who wouldn't love oceanfront views?). And the winter, it's officially hiking time of the year, with less crowd. Most people also visit between fall & spring.
Speaking of things to do in Tofino, you can hike through the rainforest, go surfing, kayaking, or even camp in some campsites.
Or you can take a walk down the beaches and relax. Away from bustling city life, Tofino takes you on a different world detour. It is small enough to explore a lot in just over three-four days and big enough to keep you excited and entertained throughout.
There are plenty of things to choose from when you are going for outdoor adventures, as Tofino is all hearts for outdoorsy people. And it doesn't just stop at the epic activities. Tofino is also home to some of the great food places.
Recreational activities make Tofino so exciting, as it is also known as the "surf capital" of the country. There are never-ending ways for you to feel close to nature.
Tofino is a small community and is also rich in art and cultural heritage. Tofino Public Market is the best example to witness local talents and creations. The whole place has an artistic vibe. Every corner has something unusual.
It is an amazing place to discover. And when it's about travelling with learning and experience, Tofino is the right place to be in.
Directions: How to Reach the Surf Capital?
Getting to Tofino is not that hard. It's just a 6 hours drive from Vancouver. A trip to Tofino is so worth it that you won't even mind the journey. There are many ways to reach Tofino from Vancouver, such as:
i) Take a Flight
You can fly to Tofino Long Beach Aiport from Vancouver on regular flights or directly into the Tofino Harbour, but seasonally with Tofino Air.
ii) Take the Bus
You can surely take the bus if you aren't in the mood to fly over to Vancouver. Year-round bus services are available to Tofino from Vancouver or Victoria.
iii) Or Drive Yourself
It is a long road trip but assistance with ferries makes it somewhat comfortable.
Road trips from Vancouver to Tofino are, without a doubt one of the best British Columbia road trips.
To get better assistance with the directions to Tofino, click here.
10 Amazing Things To Do in Tofino
In this article, we will list the ten most exciting and amazing things to do in Tofino.
1. Go Surfing
You can't stop the waves, but you can always learn to surf your way out of them. Being the Surf Capital of Canada, surfing is the favourite activity and on the list of topmost things to do in Tofino.
So when in Tofino, surfing is a must-do activity. Whether you're a beginner or an advanced-level surfer, there's comfort for both.
Stretches of sandy beaches and majestic waves make Tofino a year-round surfing spot. And all you need is a pair of thick wetsuits.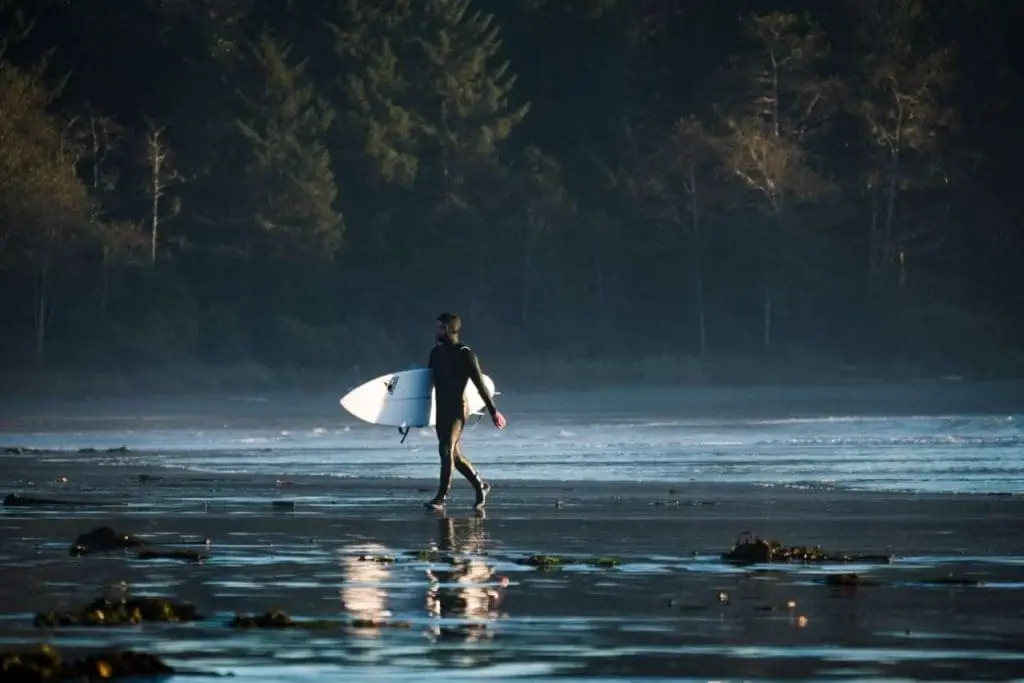 While surfing in Tofino, you should be aware of the best time to surf even tho it is a year-round surfing spot as the swell makes all the difference.
The spring season (March-May) is the best for intermediates as the waves start to lower by then.
However, for new learners, the perfect time is the summer. As with comparatively smaller waves and better conditions, it is the ideal situation.
You can surf at some of the most popular beaches around Tofino. The top three most visited surf beaches are:
1.1 Cox Bay Beach
As Canada's no. 1 surf beach, Cox Bay Beach is the favourite for various reasons. It is the largest in terms of area and carries waves of all sizes throughout the year.
Other than that, during the winters, when the waves are at their maximum, it offers great storm watching too.
1.2 North Chesterman Beach
Just next to Cox Bay is North Chesterman Beach in terms of popularity. It is more of a seasonal beach and offers the best swells and waves in the winter.
1.3 Mackenzie Beach
Delivering the best in winter, Mackenzie Beach is a very sheltered beach compared to Cox Bay and Chesterman. It isn't too big like the other two, but it is almost as favourite as theirs.
And if you want to try surfing for the first time for yourself, then Tofino has it all covered for you. There are some great gear rental and surfing schools available. You should check it out.
2. Storm Watching in the Winters
One of the most favourite and exciting things to do in Tofino is storm watching. Experience thrilling storms watching in the late winter.
Tofino has some great stretches of beaches, offering terrific storm-watching experiences.
Watch the majestic waves come crashing dramatically on the cliffside by visiting any beach in Tofino. Huge waves during this season often reach up to 20 feet, stunningly unveiling their power.
There are plenty of beaches you can visit for storm watching, but the best spots are:
2.1 Long beach lodge & resort at Cox Bay
In the mood for some gigantic waves? Then visit Cox Bay Beach, as it is popularly known to deliver the biggest waves. Watch the storm from a comfortable space inside the Long beach lodge & resort.
2.2 Tonquin Beach
Tonquin Beach, covered with rock cliffs and dense forests, offers a trail for awesome storm watching.
Tonquin beach trail approaching the third beach: this trail sits on the cliffside allowing stunning views of huge waves crashing against the rocks. You can feel the waves as if it's coming right through you.
2.3 Sunset point at Cox Bay
Walk into the sunset point at Cox Bay and watch majestic waves crash against the cliffs. You can sit near a cove and enjoy this thrilling view.
If not in the mood to sit and watch and want to get a little closer to the waves, then Cox Bay has that too.
3. Tour Hot Springs Cove
If you are looking for a unique and exciting experience, then a tour of Hot Springs Cove is a must on your list of things to do in Tofino.
Hot Springs Cove is a magical collection of geothermal rock pools in Maquina Marine Provincial Park, part of the Clayoquot Sound area.
The Hot Springs Cove is an exciting 6-hour tour where the guides put effort into wildlife sightings, including black bears, sea lions, seals, whales, and bald eagles.
The hot spring pools are at the end of a 30-minute hike along a cedar boardwalk through an old-growth rainforest. Besides the hot tubs, you will also experience a majestic waterfall and gorgeous Pacific Ocean views.
To get there, you can either take a guided boat trip or book a tour on a floatplane (if feeling more adventurous). The floatplane option is known as "Sea 2 Sky,"  which gives you a bird's eye view of Clayoquot Sound.
Enjoy the steaming pools!
4. Hiking
There are some amazing hiking trails in and around Tofino that need to be explored right away. Hike through the old-growth rain forests that end with beaches and waters.
Most of the trails are short but still, the elevations are exciting. The old-growth forest hikes take you across some of Canada's oldest trees, such as Douglas Firs and Western Red Cedars. Many of the hiking trails are easy and go well with any skill level.
And most of the hikes are either in the park or farther south near Ucluelet. Some of the most popular hiking trails in Tofino you can choose from are:
4.1 Schooner Cove Trail
In the Pacific Rim National Park Reserve, the Schooner Cove trail is the perfect nature lover trail. This trail takes you through mighty old trees down to a sandy stretch of a beautiful beach.
The hike is about a kilometre, but going through the dense rainforest gives a different feeling altogether.
4.2 Wild Pacific Trail, Ucluelet
Ucluelet is another famous hiking spot on Vancouver Island's west coast. The Wild Pacific Trail is a major highlight of this whole area. This trail is quite unusual compared to other coastal hiking trails.
The trail is divided into two sections, one that takes you straight to a lighthouse ( lighthouse loop trail) and the other that goes between Brown's Beach and the Rocky Bluff ( the Brown's Beach to Rocky Buff's Trail).
The lighthouse trail is the most hiked, as it offers views of the sea.
4.3 Tonquin Beach Trail
The best trail for wildlife lovers. It is an easy walking trail that takes you straight down to Tonquin Beach. It is one of the most beautiful trails and is about 2 miles that begins from the Tofino community hall.
5. Go Whale Watching
Next up on the list of amazing things to do in Tofino is none other than its most fun activity, Whale watching. If you want to explore Tofino and the waters, a whale-watching tour is a must.
Tofino's waters are filled with diversified marine wildlife. It's a treat to the eyes of those who love nature and wildlife at its best.
Along with Tofino's Shoreline, visitors can easily spot gray whales, and occasionally humpback whales and orcas are also seen. A whale-watching tour is the best way to experience oceanic wildlife.
The best time for whale watching in Tofino is between June and September; however, the watching season starts from February to October.
There are many tour operators in town you can choose from for your whale-watching activity. The most preferred and popular tour operators are Jamie's Whaling Station, Ocean Outfitters, Tofino Resort & Marina, and West Coast Aquatic Safaris.
These whale-watching tours offer amazing marine life sightings and offer great area and landscape views.
For a useful guide to the whale-watching tour, please, click here.
6. Visit Tofino Botanical Gardens
Experience the beautiful natural wonders inside Tofino Botanical Gardens. It's where nature meets art and creates beauty; you have never seen before. Tofino Botanical Garden covers forest areas and beautiful gardens.
It is a non-profit establishment. And it aims to create a picturesque space that blends well with nature.
The whole area is well decorated with simple wood carvings and art pieces that blend very well with the natural surroundings. Along with these, various trails lead you through the forest areas, herb gardens, and a duck pond.
The garden also displays a small section in memory of the 2011 Japan earthquake and tsunami. The section features various items from the time things got washed away post the Tsunami.
You can pick up a field guide who will guide your exploration. Do not miss out on the pocket gardens, which feature plants from all around the world. And the on-site cafe, Darwin's Cafe.
Taking a tour of the most attractive botanical garden is one of the most amazing things to do in Tofino.
7. Go for a Bear Watching Tour
Tofino is also well known for its diverse wildlife. And black bears, one of Tofino's favourite animals, are found in abundance in their natural habitat.
They are often seen around the waters looking for food, on Meares Island or other small islands around the Clayoquot area.
Clayoquot Sound is home to black bears that visit the beaches during low tides looking for sea delicacies such as starfish or rock crabs. The bear-watching tour takes visitors close enough to get good views and far enough to stay safe and sound.
Tours are mostly done in boats, and watching the bears is an absolute pleasure. This is why Bear Watching Tour is considered one of the most fun and exciting things to do in Tofino.
The tour timings depend on the tides, and the seasons are mostly after the bears' hibernation period. The season starts at the beginning of April and till the end of October.
Tip: October is also the best time for seeing bear cubs.
8. Take a Scenic Flight
This is where the adventure begins. To explore Tofino at its best and see the rugged mountains, beautiful coastlines, and lakes is no better way than seeing it from above the sky.
One of the best things to do in Tofino explores Tofino by the air. The Scenic Flight Tours are mostly done by helicopters or floatplanes and give you a tour of a minimum of 20 minutes to a maximum of 5 hours.
The Clayoquot Sound area is spectacular and offers abundant landscapes. Flying above this area gives you jaw-dropping views. These guided tours even explain to you all the geographical facts about the places.
You can ask the pilot to land you anywhere you want, either on a glacier or a beach. Exploring Tofino from the air is a different experience altogether as it provides you additional insights into the place.
"Atleo River Air Service" provides the best scenic tour and bird's eye view of Tofino.
9. Dive Into Unique Food and Drinks
Unique little Tofino is not just for nature and adventure lovers but also for foodies. Tofino has a diverse and unique range of food and drinks. You can find anything you want, from fine dining options to casual food trucks.
Tofino organizes the renowned feast, Feast Tofino. It is an annual fest that runs for three long weeks celebrating Tofino's great food scene. Attending Feast Tofino for sure is on the list of amazing things to do in Tofino.4
One of the best in Tofino's heart is Rhino Coffee House, and you can not choose to miss visiting this place. Rhino House Coffee is very popular among both locals and visitors, offering the best breakfast and lunch options.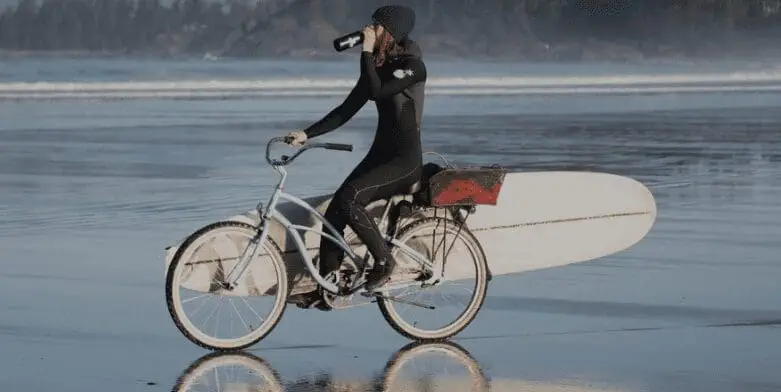 Tip: Try their bro nut, a delicious donut with a twist.
Here are some other great places to eat in Tofino:
9.1 Tocafino Truck
The Tofino trucks are well known in and around Tofino. It is the best casual outdoor eatery people enjoy. It is one of British Columbia's most loved and celebrated food trucks.
9.2 Wolf in the Fog
The best sea view is offering restaurants that serve locally sourced food and drinks. Inspired by Tofino's beautiful backdrop, Wolf in the fog offers fine fresh food and craft beer.
9.3 The Shelter
The shelter offers both inside and outside dining options.
10. Try Deep-Sea Fishing
Ever tried deep-sea fishing? If not, then that's what you need to try in Tofino's waters. Deep-sea fishing is the most loved activity among all the amazing things to do in Tofino.
The waters off Vancouver Island offer some of the best fishing opportunities. The best time for fishing is during the months of Mid-June to Mid-September.
Whether you like offshore fishing or inshore fishing, Tofino fishing adventures offer you both to choose from. And it doesn't matter whether you're up for the big Chinook or Halibut or in the mood for Coho Salmon and delicious Crabs. Both experiences are equally amazing.
Visitors worldwide mostly love fishing out in the open ocean, and the peak season for offshore fishing is between June-August. However, winters also provide great fishing opportunities.
Take a full-day fishing charter and enjoy the best of Tofino.
Conclusion
These are the most favourite activities or things to do in Tofino. All these fun activities are what make Tofino such a lovely town. It's so full of life, and the vibe you get while in Tofino is just unmatchable with anything else.
There is much more to name than these top 10 favourite or amazing things to do in Tofino. The list is pretty long: Kayaking, visiting the art galleries, golfing, canoeing, ziplining, or wildlife viewing.
There's just so much to see and do that you won't just get bored of visiting Tofino. Every time you visit Tofino, there still is something new for you to experience and explore.
Do try the above-listed activities on your next trip to Tofino. And if you have already, then share your experiences with us in the comment section.