Canada is the second largest country in the world. All that space is occupied by sparkling snow-clad mountains, shimmering blue and green lakes, blindingly-high towers in modern cities, rich cultural towns, delicious food restaurants, and much more, making it one of the best vacation destinations.
With Canada's magnificent beauty, choosing which places to visit can be overwhelming. We have made it a little easier for you by narrowing down the 10 most scenic places to spend your vacations in Canada. Here are the best Canada vacation packages you should consider booking the next time you tour the country.
Canada Vacation Packages
1. Banff, Alberta
Banff is a tourist spot in Banff National Park in Alberta. Calgary surrounds it in the west and Lake Louise in the east. It is one of Canada's most popular destinations. Aurora borealis, the northern lights, can be seen in Banff during the winter months of December to February when the night sky is the darkest, and the lights shine the brightest.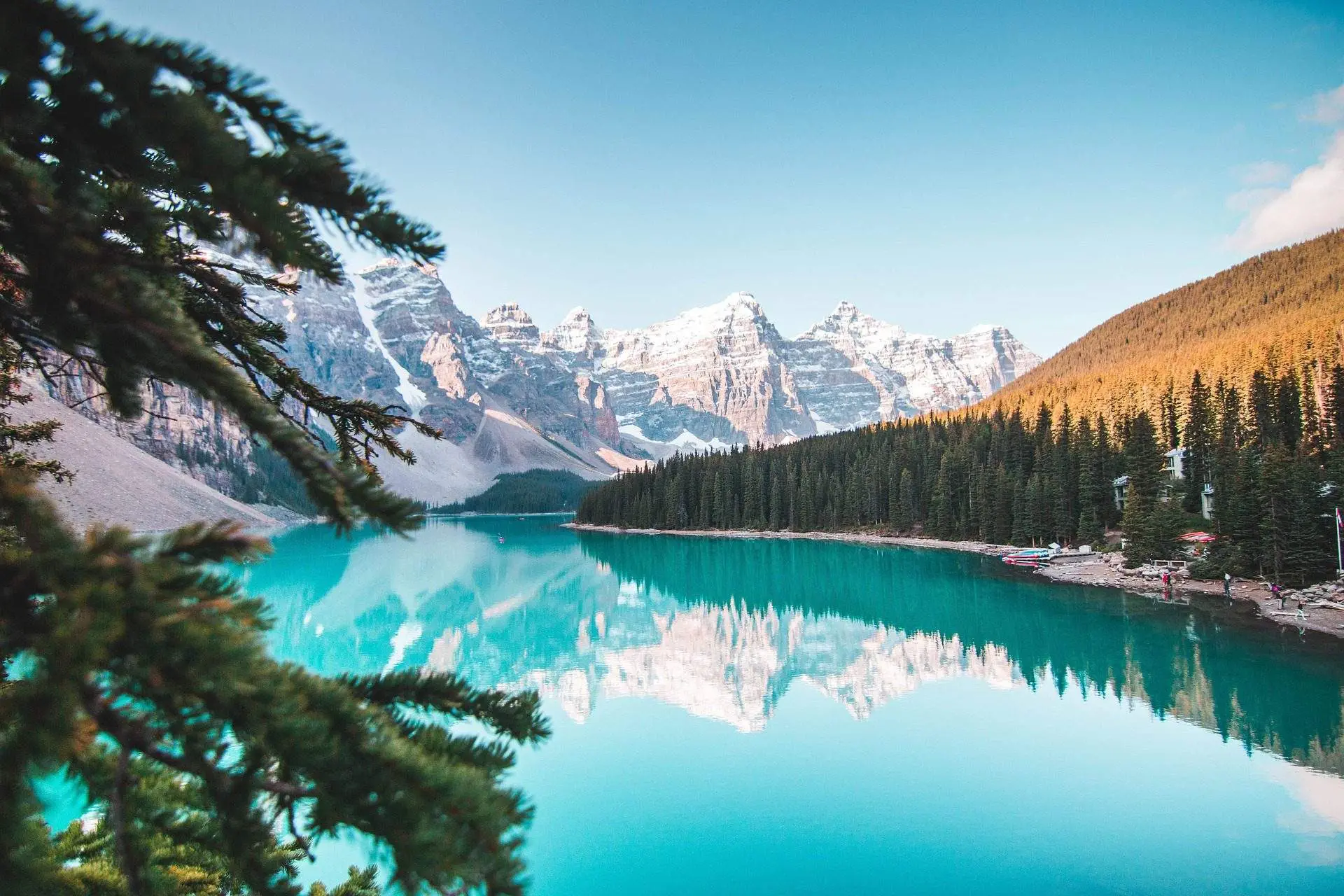 1.1. Banff National Park
Banff is Canada's first established national park. It has over 4000 square miles of area to explore. It is home to incredible wildlife, such as mountain lions, bighorn sheep, elk, wolves, bears, coyotes, moose, deer, and more. You can enjoy outdoor activities here, including mountain climbing, hiking, cycling, fishing, canoeing, skiing, and bird watching.
Click here for more places to visit in Banff.
1.2. Lake Louise
Lake Louise is the most popular spot to visit in Alberta. It has the Lake Louise Lakeshore Trail, a walkable path that surrounds the lake. The trail is busy during peak tourist season, but the beautiful scenery all along the lake is worth the 2 km trip.
The blue lakes get their gorgeous color from glaciers that melt into the lake. The fine rocks in these lakes are ground by moving glaciers that refract the sunlight giving a brilliant blue color to the lakes. These lakes change color depending on how much light they receive and are a wonderful sight.
1.3. The Banff Gondola
The gondolas in Banff seat four people and reach a height of 2200 feet. They take you to the summit of Sulphur Mountain, after which you can tour from the Sulphur Mountain Boardwalk to Sanson's Peak devouring the views over Banff.
2. Canadian Rockies, British Columbia and Alberta
The Canadian Rockies mountains spread through the provinces of British Columbia and Alberta. At the heart of it lies the Banff National Park. The Rocky Mountains are jagged with ice-capped peaks, alpine lakes, exotic wildlife, and various outdoor activities. You can taste some of the world's freshest water at Columbia Icefield, between Banff National Park and Jasper National Park.
Activities include cross-country skiing, snowboarding, wildlife spotting, and exploring glaciers through guided tours. Lakeside activities include fishing, kayaking, canoeing, and swimming. Unwind at the relaxing spring waters of Sulphur Mountain at Miette Hot Springs in Jasper and Banff Upper Hot Springs.
3. Vancouver, British Columbia
Vancouver is a popular filming location for movies and tv shows because of its beautiful mountains and artistic culture. It has urban architecture combining history with futuristic elements. The city has many beaches, restaurants, parks, bars, and spas.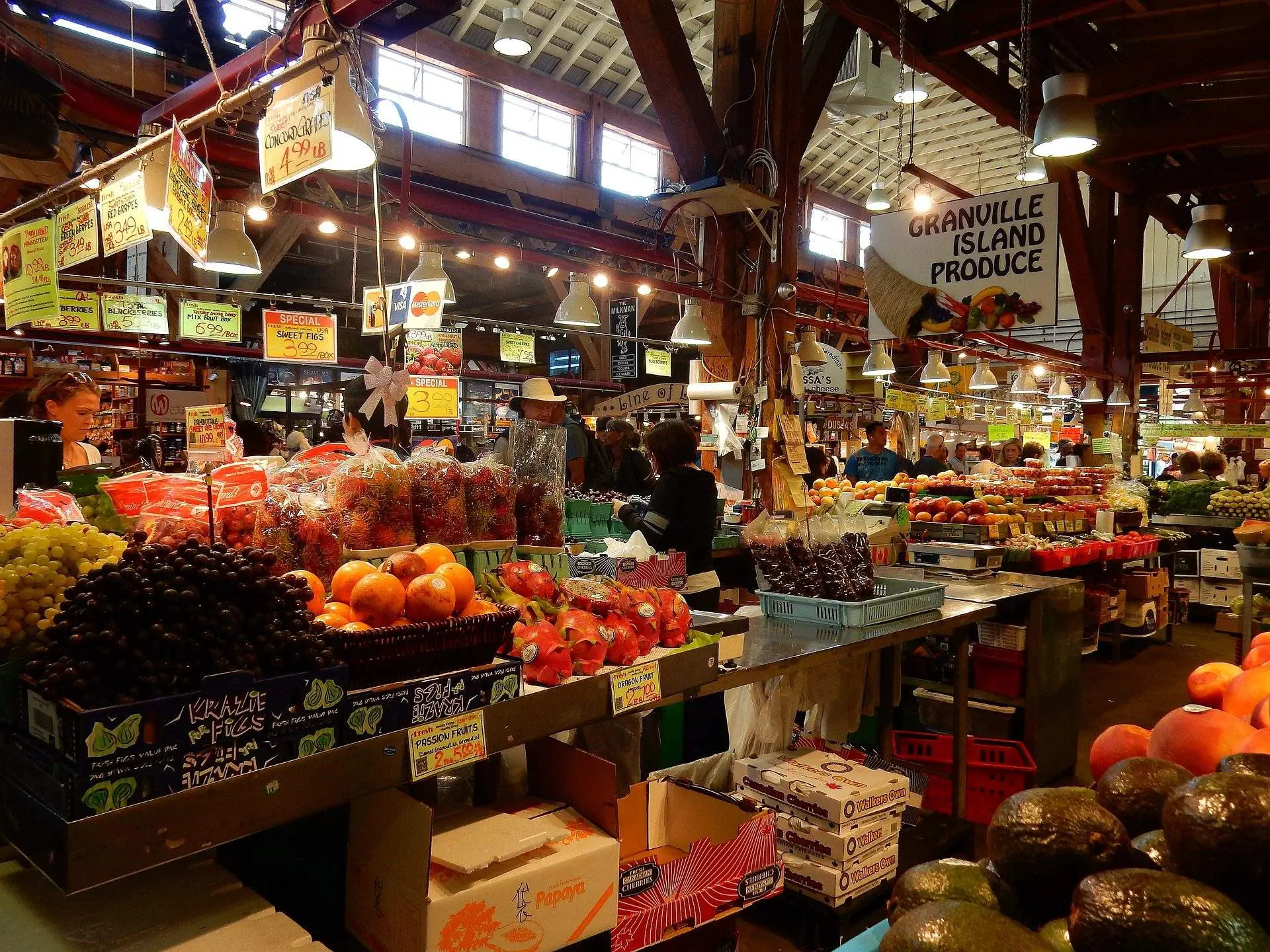 3.1. Granville Island
Granville Island is in the downtown peninsula down the Granville Bridge. It is a public market and a cultural district with many craft studios, workshops, and theatres. You can get to Granville by walking from anywhere in downtown Vancouver to the False Creek Ferries or Aquabus, which will take you directly to Granville.
The biggest crowd drawer at Greenville Island is the Public Market. It is an indoor market with rows and rows of stalls that include gourmet food, baked goods, seafood, and fresh produce. Outdoor activities like paddleboarding and kayaking are available. Tourists can visit an art gallery or watch a show at the theatre.
3.2. Grouse Mountain
Grouse Mountain towers 4100 feet above ground level in Vancouver. A red Skyride offers tourists magnificent views of British Columbia during the eight-minute ride from the Valley Station to the summit.
Eye of the Wind provides jaw-dropping views from a 20-story height large wind turbine. It provides 360-degree views through its glass-encased observation pods.
Along with these, other activities such as mountain ziplining, trekking, paragliding, wildlife watching, night skiing, snowboarding, snowshoeing, ice skating, and sleigh riding can also be enjoyed by tourists.
3.3. Vancouver Whale Watch
This one is for marine animal lovers, especially whales. Whales migrate along the waters of Vancouver each year from March to October. The Gulf and San Juan islands are the main location points for tour operators to take tourists whale watching.
You can spot several whales during the expedition, including orcas, gray whales, minke whales, and humpback whales. On tour, you can also spot seabirds like harlequin ducks, tufted puffins, pacific loons, bald eagles, and brown pelicans. Make sure to take your binoculars to spot these shy animals.
Click here for more places to visit in Vancouver.
4. Victoria, British Columbia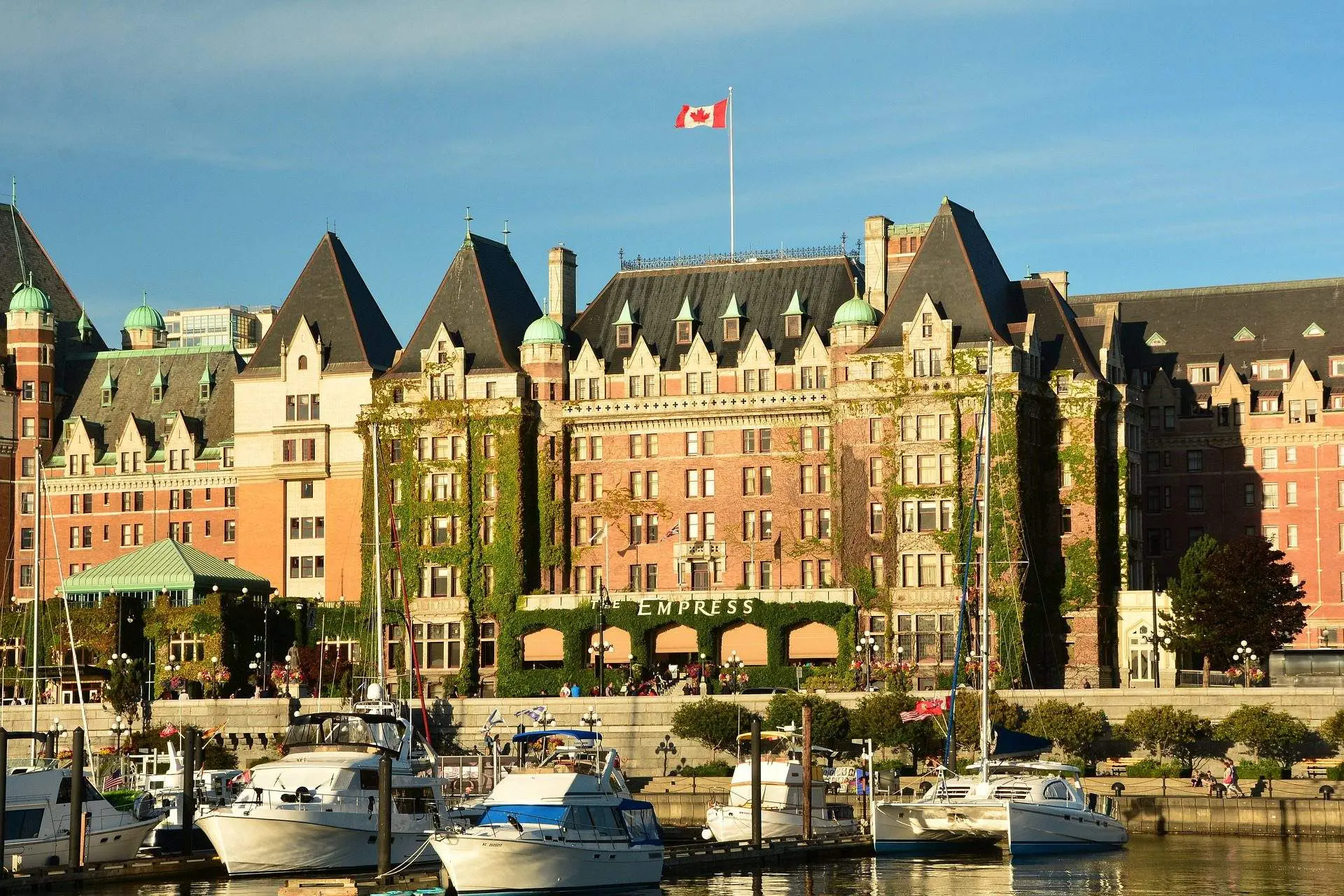 Victoria is the capital of British Columbia. The city reflects its British colonial past through its architecture and culture. It has one of the warmest climates during winter in Canada. Victoria is a small, cozy, friendly city that can easily get around on foot.
The Inner Harbour in Victoria is a great point to start the tour. All the tourist attractions are nearby or located on the harbor. You can take a walk at the harbor admiring parliament hill, Empress Hotel, and street buskers or grab a bite at the plethora of restaurants. Boat tours are available from the docks, and horse-drawn carriages are on the streets. The area is always bustling with festivals and other events.
The Royal BC Museum has a vast array of displays of Canada's natural and cultural history. It has a provincial park, and wildlife can be viewed at the West Coast beaches. The Helmcken House, one of the oldest in British Columbia, can be visited in this museum.
The Fairmont Empress Hotel is one of the most recognized hotels along with the Château Frontenac in Québec City. It is one of the top hotels providing service to celebrities and even members of the British Monarchy. Afternoon Tea, a popular experience at the hotel, is served at the hotel in the Lobby Lounge.
Click here for more places to visit in Victoria.
5. Okanagan Valley, British Columbia
The Okanagan region in British Columbia is famed for its wineries and fruit farms. Pine forests and provincial parks provide the valley with its lush greenery. The main places to visit are Kelowna, Penticton, Kamloops, Lumby, Osoyoos, Peachland, Naramata, Vernon, and Oliver. Okanagan Valley has many beautiful blue-green lakes like the Kentucky Alleyne Lake. It also has hiking trails at the Enderby Cliffs, Pincushion Mountain, Munson Mountain, and more.
The most famous activity here is wine tasting at unique wineries. You can spot alpacas and kangaroos too. Okanagan valley has its own festivals and farmers' markets. More activities include cycling on the Kettle Valley Rail Trail and boating at Okanagan Lake.
Click here for more on Okanagan Wineries.
6. Quebec City, Quebec
Quebec City is Quebec's capital. Quebec city prides itself in withholding its French roots with cobblestone streets, 18th-century French architecture, French cuisine bistros, and Paris-inspired boutiques. Its cultural significance earned it the stamp of being a UNESCO World Heritage site.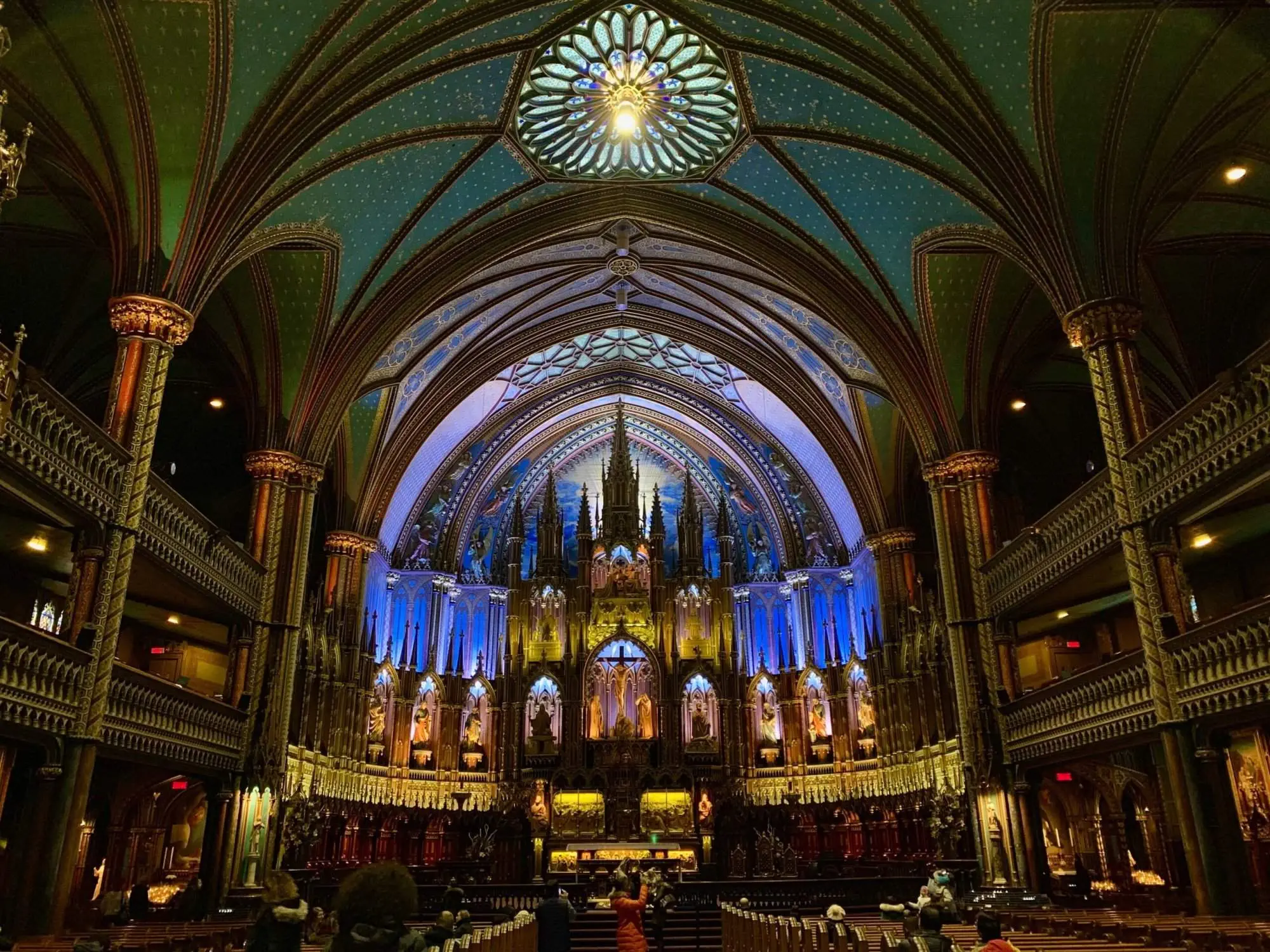 6.1. Notre Dame Basilica de Quebec
Basilica Cathedral Notre-Dame de Québec is situated at the heart of Old Québec. This cathedral is the oldest in Canada. Every year it hosts over 120 baptisms and marriages, with an attendance of 11 million people per year. Notre Dame is a national historic site in Canada. It is known for its historical, religious, and architectural significance. No city tour can be complete without visiting this majestic church.
6.2. Wendake
Wendake is the combined name of the two urban reserves of Wendake 7 and Wendake 7A in Quebec. It is a great place to visit to explore the cultures of the First Nations people of Canada. Visit the Huron-Wendat Museum and experience the history and tradition of the people through dancing, stories, and music. Art galleries and shops offer memorable souvenirs. Complete the indigenous tour by tasting their unique cuisine consisting of corn, fish, and game meat.
6.3. Montmorency Falls
The Montmorency Falls is a huge waterfall on the Montmorency River in Quebec. It is a popular spot for family picnics, and many people visit the falls for a romantic vacation. The Montmorency Falls is about 100 feet taller than Niagara Falls. Morning walks on hiking trails, riding cable cars, and ziplining are popular activities enjoyed here.
7. Montreal, Quebec
Montreal is Quebec's largest city. Montreal inhibits rich French culture like Quebec City but with a modern twist. The city is always bubbling with music and lights. Montreal is known for its exciting nightlife, with many festivals held annually.
7.1. Montreal Botanical Garden
Montreal Botanical Garden is a botanical garden spread over 190 acres of land. It consists of over 22,000 plant species. It is another national historic site of Canada owing to its huge collection of thematic gardens and greenhouses. You can visit the botanical garden and explore the various gardens on display, such as the Chinese Garden, The Japanese Garden, The Alpine Garden, and The First Nations Garden.
7.2. Montreal Museum of Fine Arts
Montreal is home to many museums, but the Montreal Museum of Fine Arts is by now one of the most visited. It is Canada's largest art museum. The museum displays over 43,000 collections and exhibitions spread throughout five pavilions. The place offers art courses, workshops, lectures, concerts, guided tours, and more.
7.3. Montreal MURAL Festival
The Montreal MURAL Festival is a public art festival held annually in June. It aims at democratizing urban art in Montreal. Saint-Laurent Boulevard is transformed into a colorful open museum with wall-tall graffiti art from local and international artists. Walk through the streets and engage yourself in these creative paintings.
8. Mont Tremblant, Quebec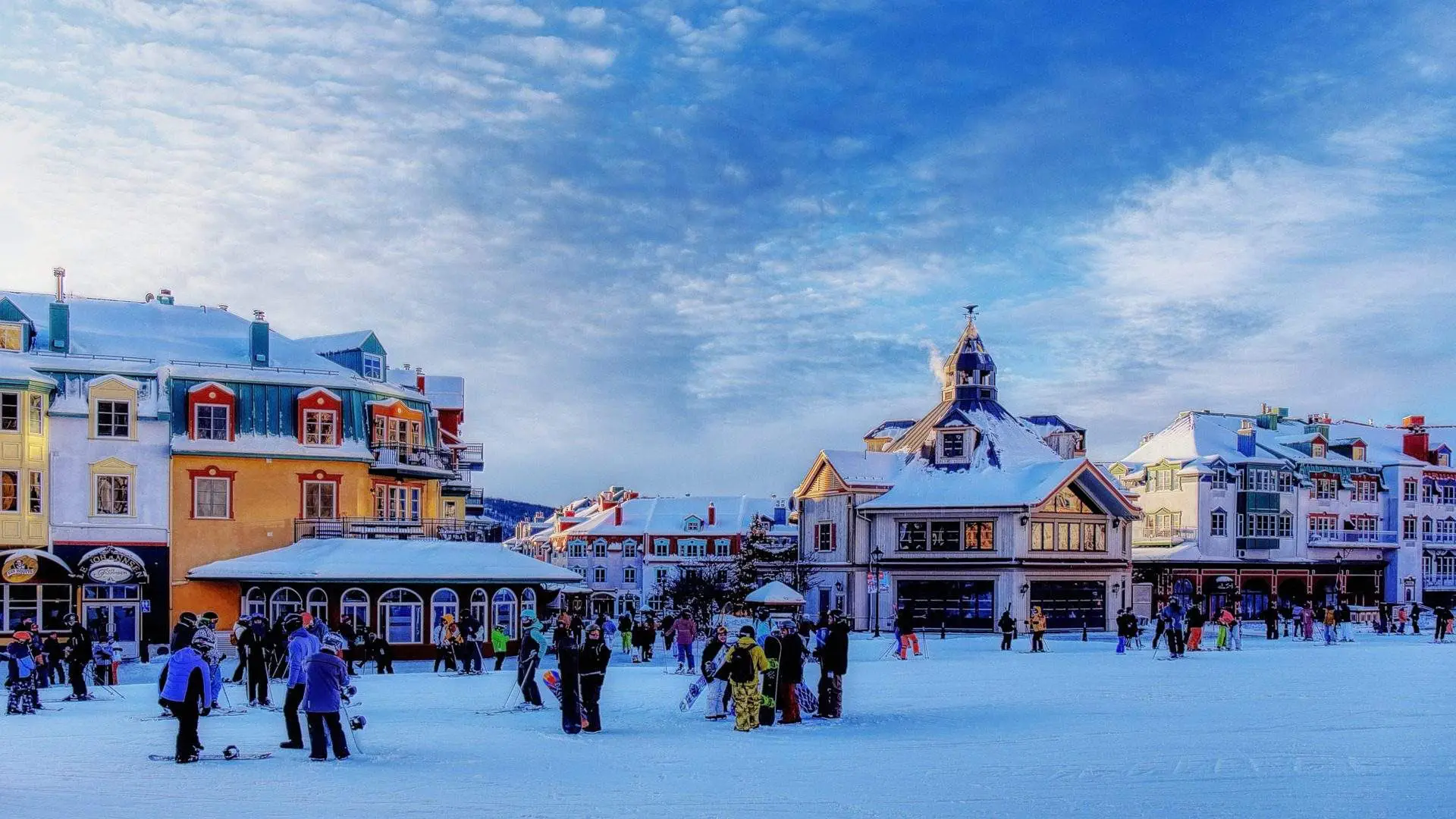 Mont Tremblant is located 1.5 hours north of Montreal in the Laurentian Mountains. It is one of the most popular winter destinations for winter sports because of its majestic mountains. It has golf courses, hiking trails, and a pedestrian shopping village. It is the perfect place to enjoy the great outdoors.
8.1. Mont Tremblant National Park
Mont Tremblant National Park was the first national park in Quebec. It is spread over an area of 1510 square km. It has plenty of lakes and rivers and trails for hiking and climbing. If you're lucky, you can even spot its unique wildlife. This park includes canoeing and kayaking, cross-country skiing, biking, fishing for pike, walleye, and speckled trout, and visiting La Crémaillère beach and Lac-Provost beach in La Diable and La Pimbina sectors, respectively.
8.2. Mont Tremblant Pedestrian Village
It is considered one of the best ski resorts in Canada. It has several wine bars, coffee shops, and bistros offering various cuisines, including French and Asian. The Swiss-style architecture and cobblestone steps to the gondolas make the village look like a scene taken out of a cozy book.
Click here to learn about the best restaurant in Mont Tremblant.
8.3. Mont Tremblant Activities
Activities in Mont Tremblant include Snowboarding, Snow Tubing, Snowmobiling, Snowshoeing, Fat Biking, Ice Skating, Ice Climbing, Dog Sledding, Cross Country Skiing, and more in the winter. Summer activities include White Water Rafting, Rock Climbing, Ziplining, and Mountain Biking.
9. Toronto, Ontario
Toronto is Canada's largest city. It is known for its multicultural diversity reflected in its food and community activities. This major city has many museums, parks, and cuisines to enjoy while exploring.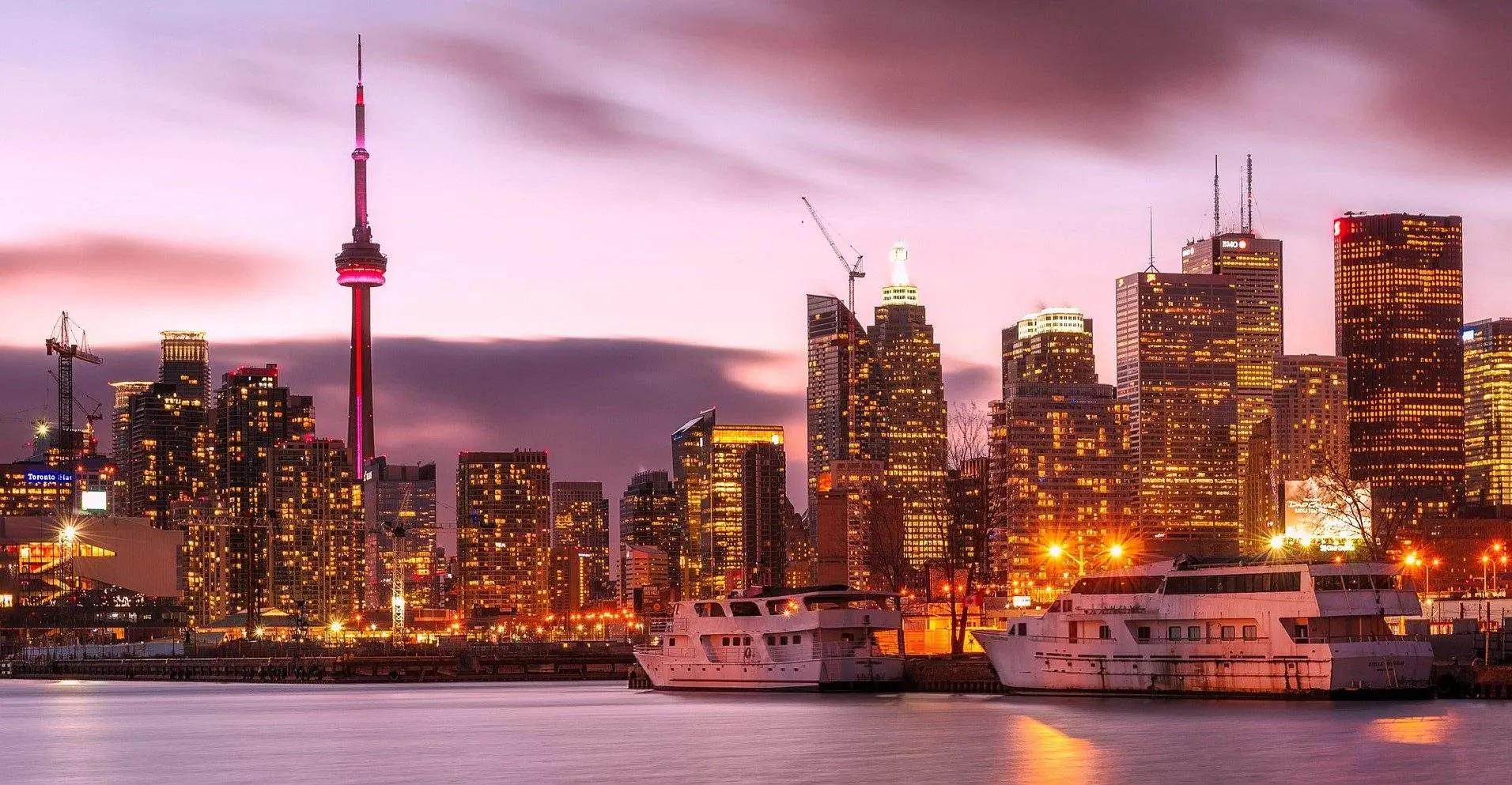 9.1. Hockey Hall of Fame
Hockey is the most popular sport in Canada. So much so that a Hockey Hall of Fame was established in 1943 in the most populous city in the country. It is a non-profit organization that inducts hockey professionals every year.
The Hall of Fame is open as a museum to the public. The Stanley Cup is in Canada, located at this museum. The Hall of Fame is a must-visit for all hockey lovers. Themed merchandise and NHL souvenirs are available in the Hall of Fame gift shop.
9.2. CN Tower
The CN Tower is Toronto's most recognized landmark, standing 1815 feet tall. The tower has a 335-foot antenna to broadcast radio, mobile cell, and television signals. The giant tower has many observation decks. It has an Edge Walk that lets tourists walk at the outside edge of the tower at 1168 feet above ground level. The CN Tower has the record for the tallest wine cellar in the world at 1151 feet. Tickets are required to visit the tower. Different vacation packages provide different experiences.
9.3. Bata Shoe Museum
Sonja Bata was a Swiss Canadian architect-turned-businesswoman. She was very fond of shoes and collected them when she traveled the world with her husband. A few decades later, she and her husband established the Bata Shoe Museum Foundation to display her wide shoe collection.
The museum opened in 1995 and has more than 13,000 shoes and related materials. Some iconic displays include John Lennon's Chelsea Boots, Madonna's platform Dolce & Gabbana, Marilyn Monroe's red leather stilettos, Elton John's silver and red high platform boots, Queen Victoria's silk slippers, and even Dalai Lama's flip flops.
10. Niagara Falls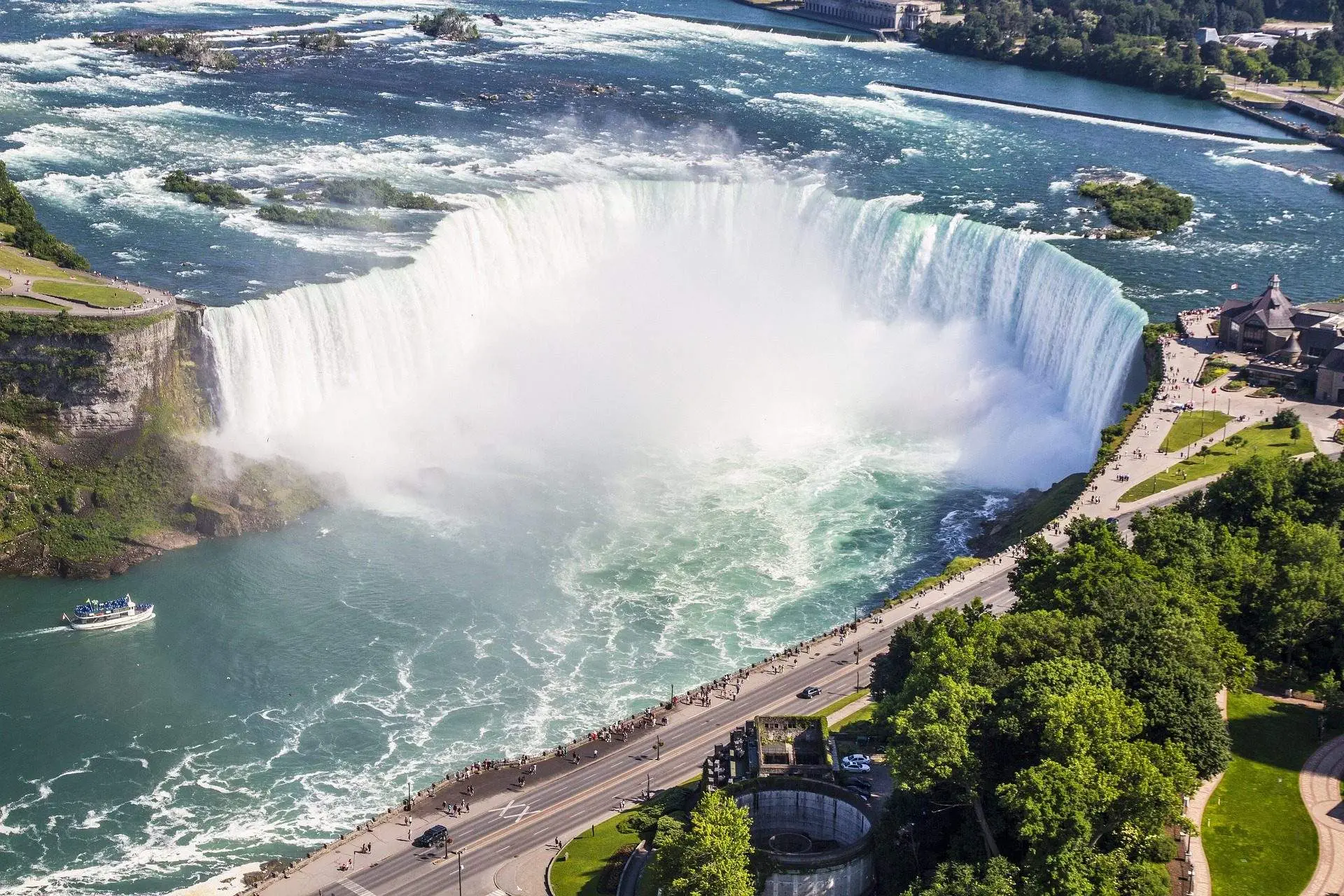 Canada vacations are not complete without visiting Niagara Falls. Niagara Falls consists of three waterfalls between the province of Ontario in Canada and New York state in the United States of America. The Horseshoe Falls, or Canadian Falls, is the largest of the three and is on the border of the two countries. The other two falls, American Falls and Bridal Veil Falls are within the borders of the United States of America and are relatively smaller. The falls are just an hour's drive from the Toronto Pearson International Airport.
Tourists can walk up to the edge of the falls, which are separated by a railing and free of cost. You can also ride a boat at the foot of the falls. Another option is to go behind the falls and watch the water pour from above. These falls are lit at night with multicolored lights mesmerizing audiences with magical views.
The primary viewing area in Canada is on the edge of the Horseshoe Falls. Behind that is the Table Rock Welcome Centre which has a falls view restaurant, souvenir shops, and an information and ticket booth for other tours around the area. Rental cars are available to tour the vast region.
Final Thoughts
Canada is one of the top destinations for a whole family trip. Book the best deals to save money and time before your tour. You may choose your vacation package based on the locations mentioned above. You can also take road trips along the Canadian province if you like. The Canadian dollar is Canada's currency, but major credit cards are widely accepted here. Every city in Canada is a great city with a lot to offer. The northern lights can be seen throughout Canada based on the season and location. It is an enchanting sight. The next time you visit Canada, check out these places to fully immerse yourself in the Canadian experience.
Suggested Reads:
19 Great Things To Do In Vernon For a Memorable Trip
Best Province to live in Canada.