What to see in Whistler? Whistler falls within the province of British Columbia in Canada. Want to try out some adventurous activities? Whistler is for you. It offers the best of alpine skiing, snowboarding, and mountain climbing. Bike lovers can try out mountain biking at Whistler, Blackcomb.
You might be new in Canada, and the question is what to see in Whistler? Whistler holds several top attractions. Tourists visit here mainly for outdoor activities. It's annoying to stay indoors in Whistler.
It's winter and your wishing to try something fun. Come to the city of Whistler to experience winter chills. Snowboarding is a must activity. Summers can also treat you well. There are tons of summer activities to feel the adrenaline rush.
This is an ideal vacation spot in Canada. There's no limit to fun and enjoyment here. But before reaching here, you need to make a list of things under what to see in Whistler? This article serves you right.
Whistler is much more than just skiing. Points below shall help you out. Have a read.
Before visiting Whistler, check out some cold facts about Canada.
Top 15 Sights to see in Whistler, Canada
Now, as we finish with the directions and best time to visit, let's move on to what to see in Whistler?
1. Whistler Village
Centered under the shadows of magnificent mountains, Whistler village is the heart of the city. A sweet town that attracts tourists from all around.
Their culture and architectural style are pretty decent. You'll find dozens of shopping outlets, restaurants, and bars along the streets.
This village is shiny in summers and frosty in winter. An ideal place to chill around a bonfire at night. Whistler village stores everything up for tourists.
It's located at the foot of Blackcomb with various lodging facilities. You can rest at luxurious guest houses. Services offered are customer friendly. The room's window view shows you the city at a glance.
A village where visitors meet the locals. You can befriend the locals and create memories with them. Don't forget to carry your cameras. Check out Whistler Olympic Plaza.
Explore the Olympic and Paralympic mementos on display. Enjoy skiing on the ice skating rink open for the public. Also, this area hosts live concerts, and music lovers can join it.
It is an ideal picnic spot during summers. Tourists are more attracted to the village Plaza. Whistler village is nothing without the Plaza.
The town is open for 24 hours. Prices may vary according to time. The street is available for a limited time. It's better to visit here via local transport.
If your hotel is in the village's downtown area, then do visit the Audain Art Museum and Squamish Lil' Wat Cultural Centre.
So what are you waiting for? Add this place to your bucket list soon.
2. Peak to Peak Gandola
Have you seen Gandola lift ride in movies? Well, your dream comes true in Whistler. This city holds the world's highest and longest Gandola lift. It covers 2.73 miles over 1,400 feet above the valley.
Wondering what to see in Whistler? Experience the city's panoramic view from Gandola lift ride. A ride that makes your dream come true.
You'll feel as if you are flying high amidst the whitish-blue nature. The trip connects Blackcomb to Whistler mountains. An incredible fact is you can see through the floors of some cars.
Remember, this car isn't for weak hearts. Swaying at a huge height can be scary for acrophobic people. This ride will surely chill your spines. However, the views are amazingly stunning. You can create a great video out of such views.
Tickets are quite expensive but worth riding. Ride fees cost around 106 CAD for adults. Remember tickets need to be prebooked before two days before the ride. Keep in mind while making a list.
3. Floatplane Ride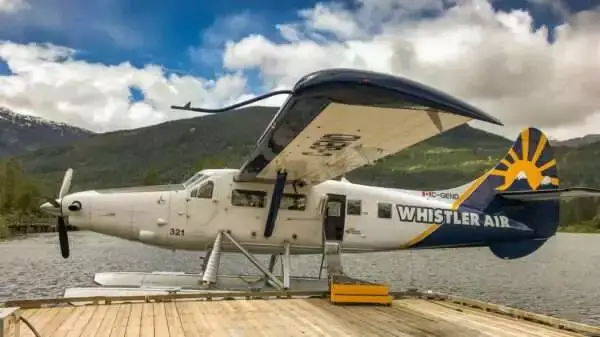 Floatplanes are a type of floating planes. It lets you view the city's surroundings. Something very thrilling and adventurous.
Have you always wished to board anything different than just airplanes? Your wish comes true through floatplanes at Whistler.
Whistler floatplanes are incredible. You can view the city at a glance. It's a private flight. You won't have any company except the driver.
Hold on tight and watch the beauty. This flight takes you over the lakes, mountains, and glaciers. Watch the snow-capped peaks from above. Such a brilliant sight to store in your memory.
A unique experience that Whistler offers. The perfect gift for your loved ones on a special occasion. There is beauty when viewed from the ground, but above beauty is just overwhelming.
Floatplanes are available between June to October. Tickets are expensive. They differ in terms of places to view. A single person should save 200 CAD for the ride.
4. Scandinave Spa
Whistler's Spa offers a unique experience to its visitors. Everyone wishes for a relaxing, comforting spa treatment. Scandinave Spa in Whistler is all for you. Enjoy a relaxing spa treatment here. This Spa holds a variety of Nordic-inspired spa treatments.
Enter the eucalyptus steam room to heal your inner soul. Enjoy the baths amidst the thermal waterfall and Finnish Sauna. Once done with a steam bath, move on to a cold shower.
And finally, relax peacefully on the terrace in a hammock. A variety of massages are available on the patio.  It's an incredible experience to see and feel.
Though Japan is more famous in terms of a hot steam bath, but Whistler's Scandinave Spa won't disappoint you at all. The Spa maintains it's ecological standards.
Spa waters contain phytochemicals that are checked six times a day. And it doesn't fail to satisfy its customers. Best quality service is provided.
After a refreshing spa, enjoys lunch at Scandinave Cafe. The cafe windows offer an overwhelming view of cedar forests and Blackcomb valleys.
Make sure to watch out for mountain views. Daily opening hours are between 10 am to 9 pm.
5. Hiking at Galore
What to see in Whistler? Whistler Valley offers lovely views of mother nature. Our mother nature provides us so much, only if we explore it.
Hiking and climbing at Galore is a visual treat and 3D experience. Stunning vistas, ancient glaciers, and alpine lakes cover this whole valley. Watch out for slopes filled with wildflowers.
Try out the hike towards Lost Lake that starts from Whistler village. It's a family-friendly hike that gives breathtaking views Blackcomb and Whistler mountains.
In summers, you can explore more hiking trails. There are about 30 hiking trails. Diving deep into alpine trails by climbing upwards.
Hiking is available for all age groups. The Whistler Summit Interpretive Walk is an easy hike with stunning views of Black Tusk, Tantalus Range, and the portions of Coast Range.
You can several days exploring the mountains, lakes, and meadows. These experiences are like a 3D treat. There are more than 100 trails outside the mountain area.
More outdoor activities like ice climbing, rock climbing, and indoor climbing are available.
If your an adventure seeker, then don't miss Galore at all.
6. White Water Rafting
Want to feel the adrenaline rush? Join in Whistler's white water rafting. Its both spine chilling and fun water sport activity.
Make sure this activity isn't for weak hearts. Try rafting on rivers like Green, lower Cheakamus, Elaho, and Squamish.
Elaho River offers you an 18 km rafting of class 4 white water rapids. River rapids are named under each class. Class 1 to 2 is mid-range rapids best for family river rafting. And class 3 to 5 is high range rapid best for adventure seekers.
Underclass 2 try out Cheakamus River rafting. This river is perfect for families. Feel the calm float as you enjoy the surroundings.
What to see in Whistler? Explore the Green River nearby, which is easier to access. Don't worry about safety; it's their priority. Safety belts and life jackets are well maintained here. White water rafting during summers is the best option in Whistler.
7. Hike Towards Train Wreck
Are you a graffiti art lover? And what to see in Whistler? As told above, Whistler offers more than just a city. The train wreck isn't a usual junk down in the forest, but now a graffiti art gallery. Earlier, this train was an old junkie, and now it got transformed into a tourist attraction.
Seven cars are decorated creatively; perfect for Instagram diaries. The trail towards this train starts from Olive Community Market.
Walk for 30 minutes straight to reach here. It is advised not to go alone since there are bears sometimes. Carry a bear spray for safety purposes.
The trail passes along the Cheakamus River, taking you under the highway and railway tracks. Views are captivating. Every spot needs a picture capture.
This trail falls under the list of offbeat tracks. Why explore only the top attractions when there are such offbeat beauties.
8. Paddling on the River of Golden Dreams
Here is something for the nature fanatics. The river of golden dreams is for you. Ever wished to spend quality time with nature alone? This river is an ideal spot to get more close to nature. Get wet in the waters and explore the countryside of Whistler.
Rent a kayak from Backroads Whistler and join for kayaking at Alta Lake. What to see in Whistler? Close your eyes and feel the freshness of nature.
The river route starts from Atla Lake and finishes at Green Lake. You'll never know just when Green Lake reaches. It's so magical as a fairy ride.
Carry your life jacket with some snacks, and ride of dreams starts here. The water is quite cold. Rent a suitable watercraft as the river is long.
9. Whistler Sliding Centre
Whistler Sliding Centre is a non-profit organization that held the Olympic Winter Games back in 2010. It is home to the world's fastest ice track about 1.5 km long.
Tourists can stroll here all around. Daring ones can try riding Bobsleigh and skeleton. Experience the speed of 125 km/hr.
A smaller version of Bobsleigh is also there. It's available from June to September. The place remains crowded almost the whole year. Apply for reservations due to high popularity—spine chilling experience for a lifetime.
The center opens during winter between December to March. And again in summers between June to September. Tickets include 226 CAD per person.
So what are you waiting for? Come and feel the adrenaline rush.
10. Excellent Fishing
What to see in Whistler for fish lovers? Here's a treat for the fish lovers. Whistler offers excellent fishing. For the ones who love fishing and wish to learn, try out here. What to see in Whistler? Watching the fishes swim in freshwater is a unique feeling.
There are several lakes and rivers available for fishing. Fishes are found in plenty. Camp near the lakeside and start fishing. You can even join a fishing competition.
Fishing is an enjoyable activity. You don't need any safety gear or any mental preparation for this outdoor activity.
Book a full guided fly fishing, either a Spey or spin fishing trip. These trips are marvelous that gives you captivating memories to cherish forever.
Spot fishes like Dolly Varden, Rainbow Trout, Bull Trout, Coastal Cutthroat Trout, Kokanee, and Steelhead. Also, check out the three species of Pacific Salmon: Pinks, Cohos, and Chum.
The trip is based on your conveyance, either severe or laid back.
11. Bear Sighting
We all love bears, isn't it? Then why not have a close view of it. About 70 black bears and cubs reside in Whistler and Blackcomb mountains.
Take a tour safari that explores bear dens. The tour even passes through beautiful alpine meadows and searches for bears in the old Hemlock forests.
Lucky ones can spot bears climbing down from Blackcomb from the village itself. Bears are rarely seen, they are usually shy animals.
These tours take you amidst dense forests, high mountains, and into the valley. It's a visual treat to have a close glimpse of these bears. The tour cost is quite affordable and safe.
12. The Fun Thrilling Ziplining
Must have watched ziplining in movies. But in Whistler, try this adventurous activity for real. Ziplining gives you an ever chilling experience.
Whistler's Zipline Ecotours offers a stunning exploration of the ancient rain forest for three hours. Ziplining ranges from 200 feet to 2000 feet in length. And land over 180 feet above the ground. Speed is 100 miles per hour.
Ziplines are suspended cables across a particular platform. While on it, experience the combination of suspension bridges, treetops, and ground trails. This center follows strict principles. They provide max safety and equipment for tourists.
There are 5 to 10 ziplines, and it's up to your choice on which package you choose. A daring activity but a must try one. You don't know the wanders unless you try it for real.
For the ones who are afraid and young, they can choose the Tree trek tour. It's a tour through the forests upon suspension bridges—another spine chilling activity.
Check out Sasquatch; North America's longest zipline spreading over 2 kilometers. Before trying out, learn more about wildlife between zips. Prices vary by tour.
Explore the forest scenery and enjoy every moment of ziplining. Opening hours are from 8 am to 7 pm. Save around 230 CAD for ziplining.
13. Whistler Museum
Whistler Museum holds the history of Whistler. This incredible museum was found by Florence Peterson back in 1986. The museum offers us history and stories of Whistler valley.
This place is located behind Whistler Public Library on the main street. Children can participate in activities like exhibitions, activity books, sessions, and much more.
Educations programs are conducted in classrooms. They are helpful for children. Not only children, but there are also programs for adults.
They can join events like Peterson Film Collection, Valley of Dreams Walking Tour, Crafts in the park, and upliftment of spirit. The museum remains open daily.
Whistler city is not only about outdoor activities but best known for its cultural heritage.
14. Whistler Breweries
Whistler tour is incomplete without Whistler Brewing Company. This company was established back in 1989. Join a trip to look at how beers are made.
And if your a beer lover, then taste these beers. They offer you the latest and popular beers. Tasting a pint of beer won't affect your health, right?
Tours take place twice a day that includes tasting them. The Tap Room offers live music once a week. People believe each bottle smells like Whistler.
Each beer's name is inspired from around the village. Varieties like Lost Lake Unfiltered IPA, Powder Mountain Lager, and Whiskey Jack Ale are common here.
15. Whistler Mountain Bike Park
The last under what to see in Whistler? An ideal summer activity that offers best descending bike trails. Visit the world's best downhill bike parks.
It's a 1.5 km descending trail and spreads for 80 km in four different zones. Rides differ in terms of riders. Forest rides are perfect for beginners. Daring ones can try riding from flying leaps to precipitous rocks.
Adrenaline junkies can choose to ride from among 70 fantastic trails. This area offers more terrains than any bike park in North America.
Whistler Bike Park draws bikers from all over the world. Except for mountain zones, the park also holds few green trails, many technical double blacks, jump trails, and indoor biking.
The park is like a heaven for bike lovers. Several bike events are hosted here throughout the summer. Also, there are individual bike schools for children and adults.
Watch for occasional bear. While riding bears are seen in the mountains occasionally.
The park remains open from 10 am to 7 pm between May to October. Starting prices are 39 CAD per adult.
FAQs
1. How to Reach Whistler, Canada?
Before knowing every detail first, let's check on how to reach Whistler. To reach this city, you can opt for a drive direct from the US. Nearby US airports are Seattle and Bellingham.
If you choose to stop in Vancouver, Canada, it's just a few hours' drive to Whistler. A better option is to take a drive from Vancouver. The road that connects Whistler is called the 'Sea to Sky Highway,' and the stunning views won't disappoint you.
The cool breeze will accompany you while driving. Earlier, the roads were overcrowded. But soon after roadwork, the streets were widened for both people and transport use.
If you aren't comfortable with the car drive, other options are train and bus. Both are quite affordable with fun. Choose according to your convenience.
2. Which is the best time to visit Whistler?
You can visit Whistler both in summer and winter. But there's always the best months to enjoy the place. Visit this city in between the months from June to August.
And again during peak winter months from December to March. To enjoy snow activities, you must visit during winter.
In summers, glacier skiing opens at Blackcomb. You can choose to camp over vast green meadows. Explore outdoor nature and field on the greenery.
Hiking and biking are perfectly done in April and May. Leaf peeping can be done in September, October, and November. Whistler is all in one for you. Both summer and winter welcome you.
3. How Much You Need to Save For a Trip to Whistler?
Are you planning a Whistler trip right away? Before what to see in Whistler? You need to know the traveling cost. The expense for vacation per day in Whistler costs 187 CAD.
It's the average daily price spent by a tourist in Whistler. Save 33 CAD for per day meals and 22 CAD for local transport. A hotel for couples costs 143 CAD.
Save an estimate of 1950 CAD for a week. This is an average calculation based on tourists. This will help to plan your budget.
A single person should save 961 CAD for a week in Whistler. A trip for two people will cost 3,843 CAD. Visiting Whistler with family are less costly.
Hotel rooms can be shared, and children's tickets are quite cheaper. Traveling slowly will lower your budget.
It's better to visit Whistler with family or two people together. Traveling costs can be shared rather than burdening your self.
Conclusion
At last, we can conclude that Whistler is one of the most wonderful places to visit in Canada. Above mentioned 15 places are beautiful and you can include them in your list.
Suggested Reads:
6 Reasons Why You Should Visit Blue Mountain Village
15 Best Things To Do In Seattle On Your Vacation
As an Amazon Associate, Icy Canada earns from qualifying purchases.